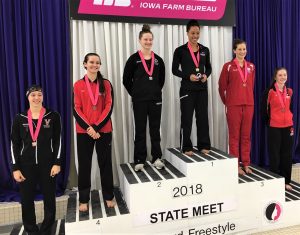 Before turning their clocks back on Saturday night, the members of the Ankeny girls' swimming team turned back the clock on Saturday afternoon during the state meet at Marshalltown, repeating some of their performances from last year.
Jasmine Rumley defended her state title in the 50 freestyle and repeated her second-place finish in the 100 freestyle. She led the Hawkettes to a second consecutive fourth-place finish in the team standings.
The top five teams finished in the same order as last year. Second-ranked Ames racked up 372 points to capture its eighth title in nine years, finishing 53 points ahead of No. 1 Dowling Catholic.
No. 4 Bettendorf took third with 194 points, while No. 3 Ankeny finished with 185. The gap between those two teams was 32.5 points a year ago.
"We were nine points away from third so it was close, and it feels really good," said Ankeny senior Erin Doruska. "Last year we got fourth, but it was by a larger margin. So this is great for our team."
Rumley's victory in the 50 freestyle prevented Dowling and Ames from winning every event. The Maroons had six first-place finishes, one more than the Little Cyclones.
Rumley cruised to an easy win, earning automatic all-American honors with a time of 22.64 seconds. Katie Broderick of Dowling was the runner-up in 23.55.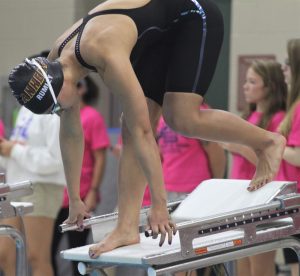 "I was (confident), but I wasn't confident that I'd get first because Reilly Shaner (of Valley) always puts up a good race," Rumley said of the sixth-place finisher. "But winning by that much was kind of fun."
Rumley fell just short of the state-meet record of 22.51, which was set by Waukee's Maddie Gehrke in 2014. The junior already set the all-time Iowa best of 22.29 during last year's regional meet.
"I was shooting for the state record, but I've got next year to break it," Rumley said. "So I'll be back."
Rumley nearly captured another state title in the 100 freestyle. She swam the first 50 yards in 23.82 to build a commanding lead, but was unable to hold off defending champion Amy Feddersen of Ames.
The two sprinters touched the wall almost simultaneously. Feddersen posted a time of 49.75, while Rumley was clocked in 49.77.
"I can't be mad about it because I broke a 50 and that's all I was really shooting for," said Rumley, who set a school record while also earning automatic all-American honors. "(Feddersen) is a very strong finisher, so I tried to take it out faster than I normally do just to see if I could hold her off. It just came down to that very last (stroke), and she just got me. I had no idea (who won). It was pretty much in sync, so I had to look up (to the clock) and see."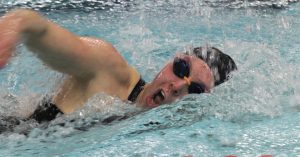 Doruska placed third in the same event. She turned in a time of 50.91, earning all-American consideration.
"I felt super smooth," Doruska said. "I saw (Rumley and Feddersen) were ahead of me, and that was super exciting to watch. It was just a super fun race."
Ankeny coach Michelle Stout also enjoyed the race.
"Our two girls really showed their strength as sprinters," Stout said. "Jasmine is incredibly powerful and stunning to watch race, while Erin has worked hard again this season to improve. It's hard to imagine that she missed qualifying for state her sophomore year and has gone on to being one of the state's finest."
Doruska earlier placed sixth in the 200 freestyle in 1:51.52. She posted a time of 1:51.05 during Friday's preliminaries, breaking her own school record by nearly 2 seconds.
"(Saturday) was a really great day," Doruska said. "Being on the podium all four times, that was my goal coming into the season and it was great to achieve that."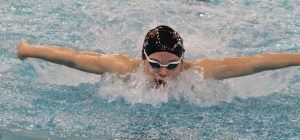 The Hawkettes also got a fifth-place finish from junior Scout Bergwall in the 100 butterfly. She set a school record with a time of 57.15 seconds.
"My goal this year was to podium and I did, and I got the school record, which was another goal," Bergwall said.
Ankeny opened the meet with a fourth-place finish in the 200 medley relay. The foursome of Alexis Henning, Andrea Rodriguez, Bergwall and Mia Pearson was clocked in 1:48.91.
The Hawkettes moved up from fifth place after Bettendorf was disqualified in the event, which could have been a crucial factor in the battle for third place overall.
"We were really happy that they got disqualified, but obviously not for them," Bergwall said. "We knew it was going to be a battle (for third)."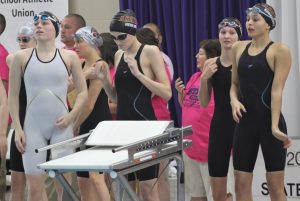 Ankeny later placed third in the 200 freestyle relay, an event that the Hawkettes won last year. Pearson, Henning, Doruska and Rumley teamed up to post a time of 1:35.77, earning all-American consideration.
"I know last year we won it and it was really exciting, but this year we changed up the people on the team and it's always different seeing how it is," Doruska said. "But it ended up being a really fun race, and third place isn't too bad."
Rumley swam the anchor leg in 22.72 seconds, but she was unable to catch Brinley Horras of Ames and Emily Van De Wiele of Bettendorf. The Little Cyclones won the race in 1:33.50, setting an all-time Iowa best and breaking the state meet's oldest record.
"I thought we could win it again," Rumley said. "I had full confidence in my team, and you can only control what you can do. Everybody else just put up a good fight for it, but I'm proud of my team and what we did."
Ankeny later closed out the meet with a fourth-place finish in the 400 freestyle relay. The quartet of Doruska, Madi Carleton, Pearson and Rumley posted a time of 3:30.84, earning all-American consideration.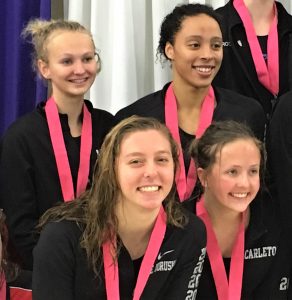 Rumley swam the anchor leg in 49.63 to pass Bettendorf for fourth place.
"Our 400 free relay had a great performance. We went into the meet seeded seventh," Stout said. "And all three of our relays were able to place in the top four, which has been a goal since the early weeks of the season."
Ankeny scored points in four other events on Saturday. Erica Peters placed 14th in the diving competition on Saturday morning with 386.35 points, then later took 16th in the 100 breaststroke in 1:11.64.
Rodriguez placed 13th in the 500 freestyle with a time of 5:16.27, while Carleton took 15th in the same event in 5:19.24. Henning finished 14th in the 100 backstroke in 59.38 seconds, matching her time from Friday's preliminaries.
Dowling's Berit Quass was named the meet's outstanding performer. The junior won her third consecutive 500 freestyle title, defended her butterfly crown and was part of the winning medley relay that smashed the state record.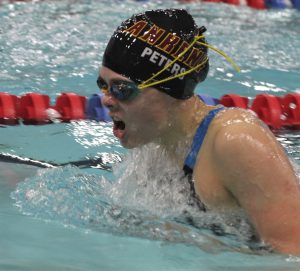 The Hawkettes also finished behind Ames and Dowling at the CIML Central Conference meet on Oct. 18.
"We swim one of the toughest schedules in the state so we have a great opportunity to see what we need to accomplish as a team if we want to improve our standings for both individual and team finishes," Stout said. "We set our goals extremely high and we always want to surpass the previous year's accomplishments on various levels. Aiming for a third-place finish was on our list of goals, but breaking school records, podium finishes for all three relays and a number of individual events, and meeting all-American time standards were also on that list.
"In the end, a season's success is defined by bringing our best to the team through focused, goal-driven training, supporting teammates and inspired racing. We accomplished that (Saturday) both as individuals and a team," she added.
Seven of Ankeny's 11 state qualifiers will be back next season, led by Rumley and Bergwall.
"I think we're going to have some good freshmen, too," Bergwall said. "I know some of them from Y swim, and hopefully they'll help us and we can pull it back together and come back again."