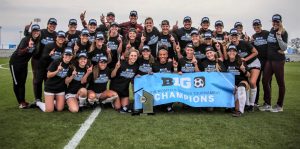 Megan Gray and the Minnesota women's soccer team are headed to the NCAA Tournament.
The Gophers were on the NCAA bubble before knocking off 15th-ranked Penn State in penalty kicks, 5-4, to win the Big Ten Tournament title and automatic bid to the NCAA Tournament on Sunday at Grand Park in Westfield, Ind.
"It was always something we were working toward this whole season, but these past few weeks have been surreal," said Gray, a freshman forward and former Ankeny Centennial standout. "I don't think it has set in yet that we are the Big Ten Tournament champs. We have the selection show (Monday) so that will be an experience in itself, and to even get to play in the NCAA Tournament is a dream come true."
Seventh-seeded Minnesota (11-8-2) upset No. 21 Rutgers in the quarterfinals of the Big Ten Tournament before defeating Nebraska, 2-0, in the semifinals on Friday. The Gophers then won a shootout against defending tournament champion Penn State (15-5-1) after the two teams battled through 110 minutes of scoreless action.
"I love this group," said Minnesota coach Stephanie Golan. "Our senior group is one that logs a lot of minutes and they are super invested. The younger players are stepping up and helping them with that."
Senior forward April Bockin was named the tournament's Most Outstanding Offensive Player after scoring all three of Minnesota's tournament goals. She also connected on a penalty kick in the final.
Sophomore goalkeeper Maddie Nielsen, who made a diving save to give the Gophers their second tournament title in three years, was named the Most Outstanding Defensive Player. Senior midfielder Emily Heslin was also selected to the all-tournament team as the Minnesota captain played in every single minute of the tournament.
Nebraska junior midfielder Meg Brandt, another former Ankeny Centennial star, was also named to the all-tournament team. The Huskers finished the season at 9-7-5.
The Gophers will find out their first-round opponent and location during Monday's selection show at 3:30 p.m. CT. The show will air on NCAA.com.