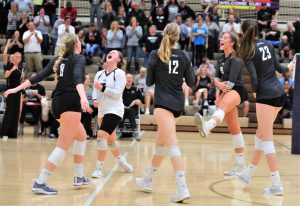 The second-ranked Ankeny Centennial volleyball team will face a familiar opponent in the quarterfinals of the Class 5A state tournament on Tuesday.
So will sixth-ranked Ankeny.
The Jaguars (38-3) will play No. 7 Dowling Catholic (29-12) at noon on Court Two at the U.S. Cellular Center in Cedar Rapids. The match will be followed by a showdown between the Hawkettes (31-12) and No. 3 Valley (40-3) at 2 p.m.
While Centennial has won both previous meetings against the Maroons, Ankeny will be looking to avenge three earlier losses to the Tigers.
"I think we'll give them a run for their money at state," said Ankeny middle hitter Sara McCullough. "All the times we've played them this season, it was a close match. And we're not about to back down now."
The Hawkettes won the first set against Valley before dropping the next two at the Centennial Invitational on Aug. 25. The Tigers defeated Ankeny again at the Valley Invitational one week later, then swept two more sets against the Hawkettes at the Waukee Invitational on Sept. 15.
"We have lost to them three times this year, but we did take a set early on," said Ankeny coach Joe Morton. "We are a middle hitter-dependent team and early on we were not able to make that connection. I think this matchup will be a whole different story."
Valley is led by senior Madi Kubik, who leads all Class 5A players with 480 kills. The Nebraska recruit was named an Under Armour first-team all-American last week.
"We have to remember we aren't trying to stop Madi Kubik but rather control her and make someone else beat us," Morton said. "If we can do that I like our matchup, but as you know all of the teams at state are good so we will have to be at our best as well."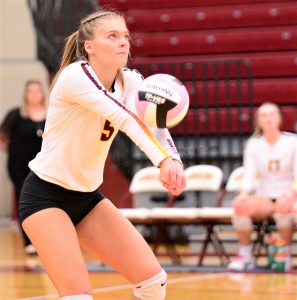 Ankeny is making its second trip to the state tournament in four years under Morton. The Hawkettes reached the semifinals in 2016 before losing to Cedar Falls.
This is the sixth consecutive state-tournament appearance for Centennial, which is seeking its fourth title in five years. The Jaguars won three straight crowns before being swept by Valley in last year's semifinals.
"We're excited to get to Valley, if we get the chance," said Centennial setter Riley Morgan. "We want to show them what we got."
The Jaguars will first have to get past Dowling. They swept the Maroons on Sept. 25, then defeated them again in the semifinals of the Westside Invitational on Oct. 6 at Cedar Rapids Jefferson.
Centennial coach Jessica Rinehart said her team won't overlook the Maroons.
"I feel like we're ready," she said. "The last two weeks of practice we've looked significantly different in a great way. The last two matches we've played to get here we're seeing pieces of what we want to look like at state. I couldn't feel better about how we're playing right now."
If the rankings hold up, Centennial and Valley would meet in the semifinals for the third straight year on Thursday at 10 a.m. The Jaguars won a five-set thriller in 2016 en route to their threepeat.
Centennial handed Valley two of its three losses this season, but the Tigers won the last matchup in the finals of the Urbandale Invitational on Sept. 29.
"Revenge is good," Rinehart said. "We didn't like the way it ended last time, so hopefully we'll come out on a mission to make that better or to get a different outcome."
No. 1 Cedar Falls (44-0) is the defending champion and looms on the other side of the bracket. The Tigers, who will face No. 10 Waukee (29-14) on Tuesday, enter the state tournament with a 70-match winning streak.
"We've seen them in tournaments, and I think we're ready to match up with them in the state environment," Centennial senior Megan Lively said of potential matchups against Valley and Cedar Falls. "It's just a different type of game, but I think we'll be ready for it."
Cedar Falls defeated the Jaguars, 25-19, 25-20, to win the Centennial Invitational earlier this season. But Rinehart's team was not at full strength–junior middle hitter Devyn Robinson was playing with the USA Volleyball youth national team in Honduras at the time.
"Both Cedar Falls and Valley are very strong teams, but I feel like we've worked very hard this season and we have the power to beat them," Robinson said. "We're going to give it our all."
Senior Kenna Sauer leads Centennial's attack with 386 kills. She was named an Under Armour second-team all-American.
"We have a great scout team, and they've really been pushing us in practice. We've been pushing each other," Sauer said. "I feel like if we play our game, there's not a lot of people who can stop us. Valley and Cedar Falls are both good, but we're going to come out with our best game and show them what we got."
Rinehart wouldn't mind seeing history repeat itself. After Centennial outlasted Valley in the 2016 semifinals, the Jaguars swept No. 1 Cedar Falls in the final.
Since then, however, the Tigers have gone 87-2. Both losses came last year to Dike-New Hartford.
The Class 5A final will be played on Friday at 10 a.m.
"It does feel good (to not be the favorite)," Rinehart said. "All year you're defending and people are coming after you, and now finally you get to state and there's somebody for you to go after. But really, the rankings don't matter once you get to state. Everybody has to play good ball."