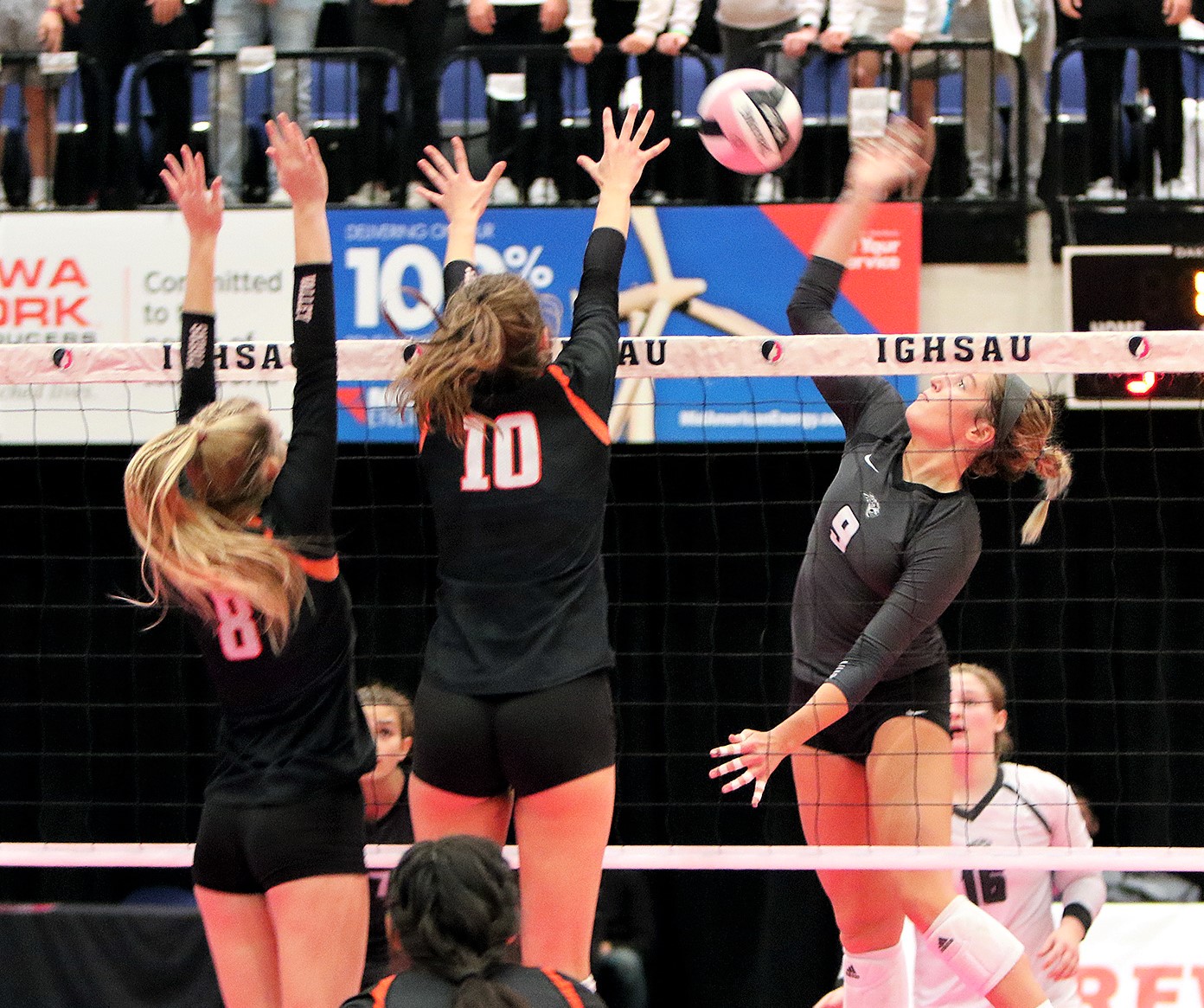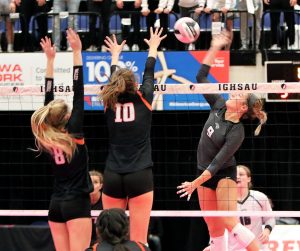 The jubilant voices of Ankeny Centennial volleyball players Devyn Robinson and Kenna Sauer could be heard in the bowels of the U.S. Cellular Center long before the duo entered the media interview room on Thursday at the state tournament in Cedar Rapids.
When Robinson and Sauer finally made their entrance along with Centennial coach Jessica Rinehart, all three of them beamed with joy.
Just moments earlier, the second-ranked Jaguars survived an epic battle against No. 3 Valley in the Class 5A semifinals, posting a 25-16, 24-26, 25-19, 20-25, 17-15 victory in a 1-hour, 58-minute marathon.
"It feels great. I'm so excited," Robinson said. "It's such a relief to know we're going to the finals."
Robinson and Ari Winters teamed up for a block on the final point, sending Centennial (40-3) to the championship match for the fourth time in five years. The Jaguars won three consecutive crowns in 2014-16 before being swept by Valley in last year's semifinals.
"It feels amazing," Rinehart said. "We knew it was going to be hard. It was such a roller coaster, but we just kept fighting. And when that last block went down, there's no better feeling."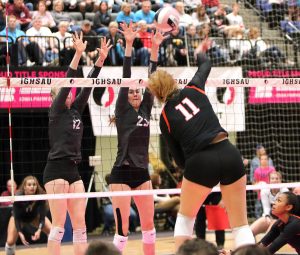 Robinson had 17 kills and Sauer added 16 as Centennial advanced to Friday's title match against No. 1 Cedar Falls (46-0), the defending champion. The Tigers will take a 75-match winning streak into the 10 a.m. contest.
"I think we went out in that game and basically left everything we have out there–we left our hearts out there," Sauer said. "We fought really hard. This is our big goal for the season so to make it there is huge for us. We're so excited to get this opportunity to do it again because we know what we're doing out there–we've been there before. So we're excited to give Cedar Falls a shot."
The Jaguars relied on a balanced attack to end Valley's 25-match winning streak. Megan Lively had eight kills, including two huge ones in the fifth set, and Winters added seven more.
Madi Kubik pounded a match-high 21 kills for the Tigers (41-4), but it wasn't enough.
"I really thought we were going to be able to push and be able to win those last couple of points," Kubik said. "But they're a tough team, and they can run their middles and bounce balls like that when we're in a tight spot in that fifth set."
Centennial won two of the first three sets, then appeared to be on the verge of victory after jumping out to a 12-4 lead in the fourth set. But Valley then answered with a 21-8 run to even the match.
"I think we got a little comfortable, and you can't do that here against anyone because everyone is really good," Sauer said.
The Tigers then carried their momentum into the fifth set. They took an early 4-0 lead on a kill by Olivia Curry.
"We've had leads in the past against Valley, and they do come back," Rinehart said. "I saw a little bit of doubt and maybe hesitation, but at the same time I knew it was because our team wanted it so bad. And you've got to use that to your advantage–manage your emotions–and I think we did that from the middle of game 5 on."
After a timeout, the Jaguars answered with a 6-0 run. They took a 6-4 lead on back-to-back aces by libero Josie Magner, who had four of Centennial's 10 aces.
The Jaguars eventually built a 12-7 advantage on a kill by Robinson, but Valley then responded with a 6-1 run to tie the score at 13. Kills by Lively and Sauer gave Centennial a pair of match points, but the Tigers answered each time to stay alive.
"It takes a little bit of grit to come out on top," Sauer said. "Jess always tells us, 'Be brave 5 seconds longer.' So when it's 15-15, you've got to take a deep breath to get the next point because there might only be three or four more points in the game. So just believing in ourselves for an extra 5 seconds and leaning on each other was huge in deciding that fifth set."
Another kill by Lively put the Jaguars ahead, 16-15. Robinson and Winters then teamed up for the decisive block, Centennial's 13th of the match.
"We had more grit than they did, and we wanted it more," said Robinson, who had four solo blocks and three assists. "We had more energy, and it took every single person on that court."
The Jaguars outhit Valley by a .137 to .094 margin. Kubik, a Nebraska recruit and Iowa's Gatorade player of the year, had to work for all of her kills, committing 15 hitting errors in 74 total attacks.
In the end, Centennial did just enough to offset Kubik's brilliance.
"I never get tired of playing next to the people I love," Kubik said. "We came in it from the beginning and were like, 'We're going to be relentless. No matter what the score is.' It just stinks that it's over."
Calea Jones had seven block assists for the Jaguars, while Lively added five more. Magner had a team-high 16 digs, including one in the second set where she dove to her left after a spike attempt by Kubik and batted the ball over the net for a kill.
"We knew what Madi was going to do, and we tried to contain her as much as we could," Rinehart said. "I thought Josie did a fantastic job–she probably had the game of her life at the right time–to be able to slow Madi down. (Kubik) is phenomenal, and it's always scary to play (against) her because she can keep (her team) in any game."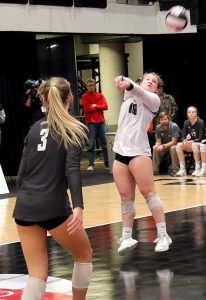 Setter Riley Morgan had 48 assists as Centennial defeated the Tigers for the third time in four meetings this season. The Jaguars also won a five-set battle against Valley in the 2016 semifinals before sweeping No. 1 Cedar Falls in the final.
That means history could repeat itself on Friday.
"This is huge for us just because we fell a little short last year," Sauer said. "We've been joking about how we have the same exact road as two years ago, and now let's do the same thing. Why not us? We haven't seen Cedar Falls since the very beginning of the season, but we're a lot different now. It's the last game of the season, so we might as well leave everything out there."
Cedar Falls defeated the Jaguars, 25-19, 25-20, to win the Centennial Invitational on Aug. 25. But Robinson was not on the court that day–she was playing with the USA Volleyball youth national team in Honduras at the time.
"We're going to go out there and give it everything we've got," Robinson said.
Cedar Falls will try to become the first unbeaten state champion since Dike-New Hartford in 2012. The Tigers have dropped only two sets all season.
"We have to serve aggressive, and we have to come with the same fight that we had against Valley," Rinehart said. "It's going to take a great game out of everybody on our team."