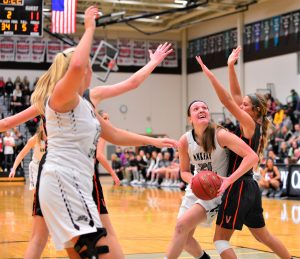 A year ago, the Ankeny Centennial girls' basketball team overcame a slew of injuries to post a 19-4 record.
Centennial coach Scott DeJong is hoping to have better luck this season, but the Jaguars have already been bitten by the injury bug. Junior guard Meg Burns, one of the team's top returning players, has been sidelined since July due to a foot problem.
"That's a big setback for us so far," DeJong said. "Meg is one of our better players, so her status will be huge for us."
Burns averaged 8.2 points per game on 40.4 percent shooting from 3-point range (42-of-104) as a sophomore. She was named to the CIML Central Conference second team along with Rachel Schon, who is also back for the Jaguars.
Schon, a 6-foot-1 post player, is one of only three seniors on the squad. She averaged 11.3 points and 6.2 rebounds last season.
Schon could be relied upon even more this season following the graduation of Chloe Olson. Olson was the team's leading scorer and rebounder.
Senior forward Kenna Sauer should also pick up some of the slack. She played in just five games a year ago before her season was cut short due to a leg injury.
Sauer, who averaged 10.6 points and 5.3 rebounds as a sophomore, is now healthy and coming off an outstanding volleyball season. She led Centennial to its fourth state title in five years and was named the captain of the Class 5A all-tournament team for the second time in three years.
"I'm excited to get going," Sauer said. "Everyone keeps asking me why I don't just focus on volleyball because I'm playing (that sport) in college, but I just love to compete and I love basketball. I've played since I was in fifth grade. I love competing for this team, and I might as well go out and spend my senior year with my friends."
Sauer, who signed a national letter of intent with Missouri on Wednesday, is versatile enough to play inside or on the perimeter.
"We are elated to have Kenna back this year," said DeJong, whose team is 10th in the Class 5A preseason rankings. "She brings an elite level of athleticism to our team, along with having successful experience in high-level pressure situations that will be a huge boost to our team. Her ability to guard multiple positions and her explosiveness on the offensive end will hopefully give us an edge."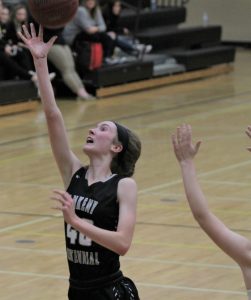 The other upperclassmen on the team are senior guard Lily King, junior guard Taylor Runchey and junior post player Alexandria Keahna-Harris. Both Runchey and Keahna-Harris started at times last season.
Runchey earned all-conference honorable mention after averaging 4.5 points as a sophomore. She made 14-of-39 3-point attempts and placed second on the team with 57 assists.
Keahna-Harris averaged 5.0 points and 2.2 rebounds.
"The practices are going well–our team is working hard, and they want to improve," DeJong said. "We have a mix of experienced players and also some not so much, so we've had lots of learning and trying to see what kind of identity this team might have. Our team attitude has been great."
DeJong has filled out his roster with three sophomores and three freshmen. The younger players may be forced into action out of necessity.
"Bella Robben and Jackie Pippett were on the team last year so we are hoping they will continue to progress this year," DeJong said. "As for the freshmen, they are young but we hope they will be able to contribute in making us a better team through practice and games."
The Jaguars will host Fort Dodge in their season opener on Tuesday. Freshmen Olivia Anderson, Cleao Murray and Elle Street could see their first varsity action against the Dodgers.
"We have a lot of young people coming up for us," Sauer said. "They're athletic basketball players who play basketball all year round, so I think that will be big for us."
DeJong said it will be crucial for the Jaguars to get Burns back onto the court and to remain healthy for the rest of the season.
"We can't afford the laundry list of injuries we had last year," he said. "I think we are the only team in our conference without a Division I basketball player, and some teams have as many as three. So, the competition is fierce. It will be important for us to do many of the little things really well if we want to be successful. (There are) maybe no marquee names on our roster, but I like our work ethic and think we may have a group that will come together and compete hard."
The CIML will again boast some of the top high school players in the nation, including Zoe Young of Valley and Caitlin Clark of Dowling Catholic. The league has been strengthened by the addition of Iowa State recruit Maggie McGraw, who transferred from Indianola to Southeast Polk, which will play at Centennial on Nov. 27.
The Rams are No. 1 in the preseason rankings, followed by Johnston and Waukee.
"It seems like every year, (the CIML) is the strongest ever," DeJong said. "But, you would be hard-pressed to find a conference with six more talented teams than ours. Legitimately, you could finish fifth or sixth in our conference and be a strong state tournament contender. The number of really good players in central Iowa is crazy.
"But at the end, you compete as a team, and we think by the end of the year we will be in the mix," he added.