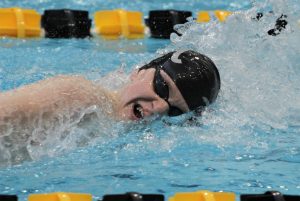 It's going to be difficult for the Ankeny boys' swimming team to surpass the accomplishments of last year's squad.
However, the Hawks may just have the talent to do it.
Most of the top performers from a team that tied for third place at the state meet are back this season. It was the Hawks' highest finish ever under coach Justin Crouch.
"Finishing third last year was a pretty special year for our team," Crouch said. "I am excited for this year's team, but also realize that it is going to take a lot of work to improve on that third-place finish. I am excited for the potential of this team."
Ames edged CIML rival Valley by one point, 221-220, to win last year's state title. Ankeny and Bettendorf each finished with 166.5 points.
The Hawks boast eight returning state qualifiers. Sophomore Trent Frandson is one of the state's premier distance swimmers, while junior Max Martin and senior Adam Vaske are among the top sprinters in Iowa.
Frandson placed second in the 500 freestyle with a time of 4:32.42, earning all-American consideration. He also placed fifth in the 200 freestyle in 1:42.11.
Martin took fourth in the 50 freestyle in 21.40 seconds. Vaske was ninth in the same event in 21.71 and finished 17th in the 100 freestyle in 48.29.
"The strengths of this team will be all freestyle events. We are very freestyle rich," Crouch said. "It will be interesting to see if we can develop some breaststrokers as that was our weakness last year. It could continue to be a place where we need to improve."
The other returning qualifiers are seniors Mason Keinroth and Noah Westercamp, junior Jae Swanepoel, and sophomores Weston Miner and Brek Stukerjurgen. Senior Noah Odson and sophomore Anders Peterson were both state-meet alternates a year ago.
Keinroth placed 18th in the 200 individual medley and 23rd in the 100 breaststroke. Miner tied for 15th in the 100 butterfly, while Swanepoel finished 24th in the 50 freestyle.
Westercamp and Stukerjurgen placed 13th and 14th, respectively, in the 500 freestyle. The duo also took 17th and 23rd in the 100 backstroke.
Ankeny returns all four swimmers from its third-place 400 freestyle relay. The team of Frandson, Vaske, Westercamp and Martin posted a time of 3:11.15 at the state meet.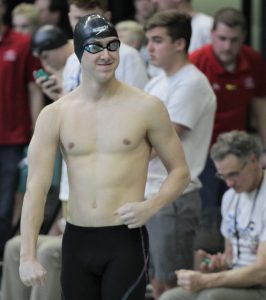 Martin, Vaske and Frandson also swam on the third-place 200 freestyle relay. That squad earned all-American consideration with a time of 1:26.13.
The Hawks placed ninth in the 200 medley relay in 1:37.39. Westercamp, Keinroth and Martin are back from that unit.
"The practices are going as expected," Crouch said. "Getting back into the groove for another season can be hard, but the boys are starting to get a feel back for the water. We are very blessed that a lot of the boys on the team are highly motivated and have very lofty goals."
There are 43 boys on the roster, including some talented newcomers. Freshmen Nathan Neppl (breaststroke), Carter Smith (breaststroke) and Devin Thornton (backstroke) could make an immediate impact for the Hawks.
"We have a nice group of freshmen with lots of potential," Crouch said. "We may not have the experience that our current sophomores had last year, but they are working hard and getting better."
Ankeny will open the season on Tuesday by hosting the Sprint Classic at Trail Point Aquatics Center. Des Moines Lincoln, Dowling Catholic, Southeast Polk and Valley will also compete in the meet, which begins at 5:30 p.m.
The state meet is slated for Feb. 9 at the Campus Recreation and Wellness Center in Iowa City.
"I have had talks with many swimmers on the team about personal goals," Crouch said. "The first (goal), obviously, is to win the state team championship. But I know some of our guys are also looking to be individual state champions or (to set) state records.
"It should be a lot of fun to try to reach those goals," he added.