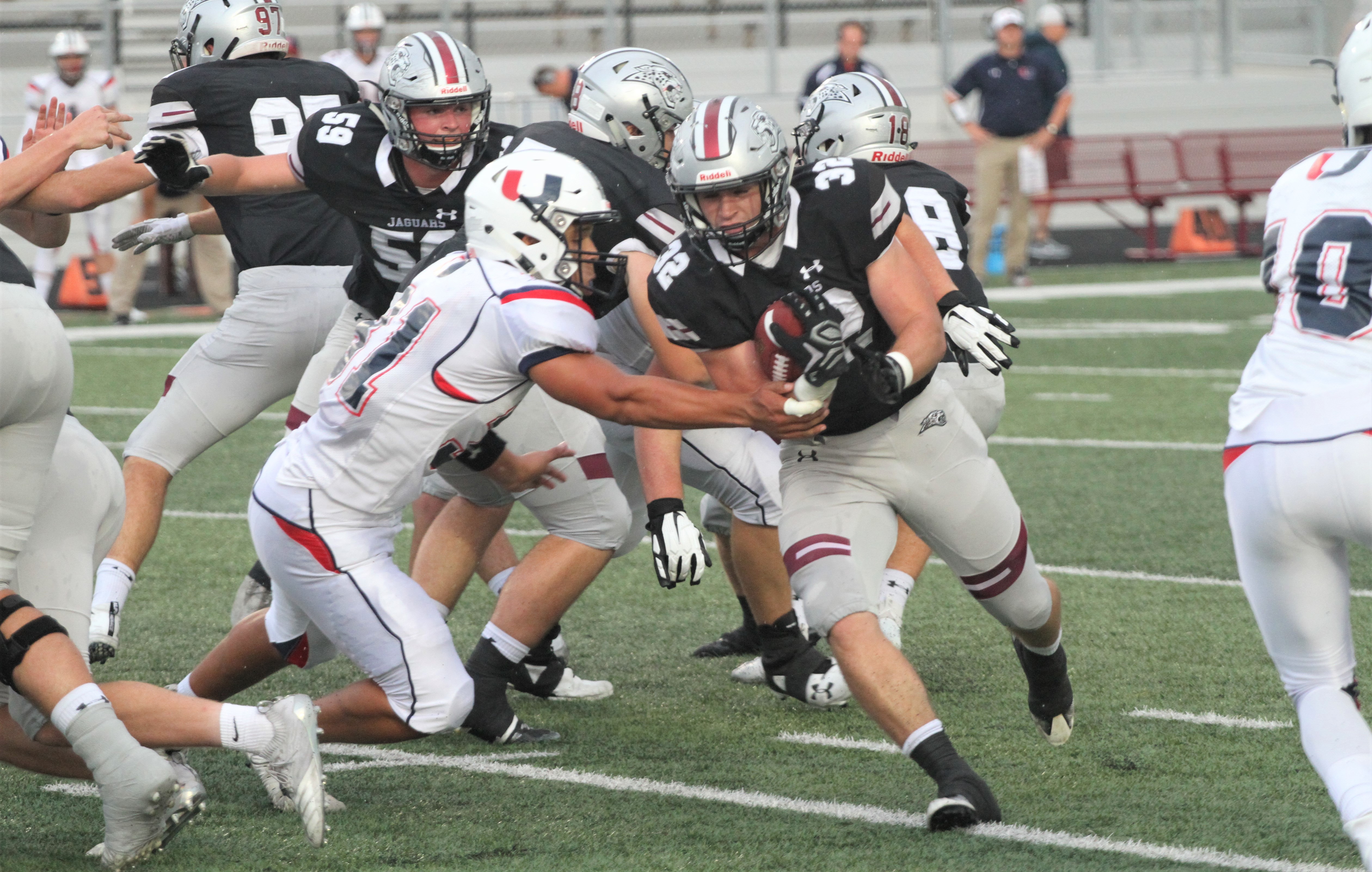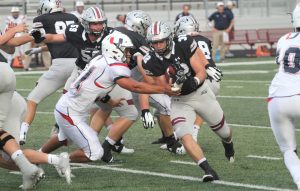 Senior running back Gabe Godwin helped the Ankeny Centennial football team to a 9-1 record this season. He rushed for 745 yards and eight touchdowns on 121 carries.
Godwin had four 100-yard games on the season. He ran 24 times for 181 yards and three touchdowns in the Jaguars' 49-44 victory at Fort Dodge on Oct. 5.
Here is some inside info on Godwin:
Congratulations on an outstanding season and being named to the Class 4A District 2 first team. What will you remember the most about this year?
The thing I will remember most would have to be beating Dowling (Catholic) just because it's Dowling and anytime you beat them it's a huge accomplishment.
Obviously, your team's season didn't end the way you wanted it to. What do you think was the difference in the first-round playoff loss to Southeast Polk?
I thought the difference in the way we played Southeast Polk the second time is we couldn't get much going offensively and also on the defensive side of the ball they outplayed us physically. It's always hard to beat a team two times in the same year and (with Southeast Polk) being a very talented team, that just adds to it.
Still, your team had the first undefeated regular season in Centennial school history. Do you feel like your team raised the bar for the Jaguars in the future?
I feel like not only this year alone but the past three years of Centennial football have set the bar high for the future just because we got to the UNI-Dome two years in a row and then had an unbeaten regular season. The expectation in the future will be no different, though, and that's to win every game.
Your team defeated Dowling for the second straight season. Why do you think your team has been able to accomplish something that very few other squads have done?
Dowling is a great team and they will play you tough no matter what, but if you stick in there and fight and fight, you start to get some momentum going and things start happening. It all starts with coaching though–the coaches set us up for victory every week and prepare us to win, and we execute. I think also when people play Dowling they expect to lose, and they're beat in their head before they even get in the game so you have to go into the game expecting to win.
I'm sure you would have liked another crack at the Maroons in the playoffs. Are you surprised at all that they made it back to the Class 4A final?
No, I'm not surprised at all that Dowling is back in the finals. They always come around in the playoffs and look like a different team. The pressure that is on those kids to win another state title is a lot and they seem to be handling it well.
You were asked to shoulder a heavy load this season, averaging a team-high 12 carries per game–many of them on tough runs up the middle. Was your body pretty beat up by the end of the season?
Coming into the season I knew I would be getting the ball a lot so all offseason I trained very hard both lifting and running to be in the best shape I could be. Coach liked running me up the middle because I was a bigger back and maybe not as quick on the outside as Avery (Gates) or Tyler (Cahill) so it fit well right into our offense even though I would have liked more outside carries. Physically, my body felt great at the end of the season compared to the beginning when I suffered a hamstring injury and sat out of practice for the first four weeks or so.
You also saw some action at defensive end following an injury to teammate Kyle Gustafson. Did you enjoy playing defense, too?
Yes, I love playing defense and to be honest with you, I think that I'm a better defensive player than offensive player and that's kind of how I've been since third grade. My junior year I was playing linebacker at the beginning of the season until I was moved to running back the week of our first game. I do think if I decide to play in college I will play on the defensive side of the ball.
Although it's the defense that usually delivers the hard hits, you seemed to relish the contact as a running back. Do you like running over people?
I love running over people! Ever since I was little I've always been super physical. I can remember in third grade we were doing tackling drills and they put a kid about twice my size up against me, and I laid him out and ever since then I've loved the contact.
Plans for next year? Would you like to play football, and have you looked at any schools?
I'm undecided on my plans for next year. I'm leaving my options open because I'm not for sure what I want to do yet. Some smaller schools have talked to me, but I haven't been too aggressive in the recruiting process.
What are you going to study?
I'm going to study criminal justice or criminology to become a cop or be in a branch of law enforcement.
Do you play fantasy football?
No, but I wish I would have! I tried joining a league, but it was too late. There's always next year, though.