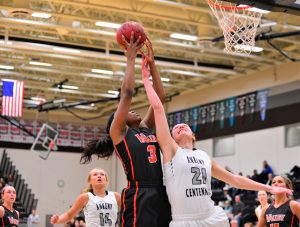 Rachel Schon and Codee Myers were once crosstown rivals.
Beginning next year, the duo will become teammates.
Schon, an Ankeny Centennial senior, has committed to play basketball at William Jewell College in Liberty, Mo. She will join a roster that includes Myers, a former Ankeny standout.
"I am happy to have made my decision," Schon said. "The schools that I had looked at and visited other than William Jewell were Northwestern College in Iowa, Benedictine College, and the University of California-San Diego."
Schon, a 6-foot-1 post player, averaged 11.3 points and 6.2 rebounds per game as a junior, when she helped the Jaguars to a 19-4 record. She was named to the CIML Central Conference second team.
Schon's brother, Jay, previously played at Grand View University. One of Jay's former teammates at Centennial, Byron Harp, is a senior on the William Jewell men's team.
"All of the people at William Jewell were really welcoming," said Schon, who also played for Centennial's state championship volleyball team this fall. "I know a few people that attend there, and they love it. I want to pursue the medical field, and there are a lot of opportunities for me to do that at William Jewell as they are partnered with a hospital and offer programs abroad where I could work with medicine. The campus is beautiful and feels like a really close community. I also really like the coaches and players. They were all very down to earth and passionate about the game of basketball, so the fit felt right to me."
Myers is a redshirt freshman guard for the Cardinals. She sat out her first collegiate season at Sioux Falls before transferring to William Jewell, where she has played in all three games and is averaging 4.7 points.
Schon, meanwhile, is preparing for her final high school season. The Jaguars will host Fort Dodge in their opener on Tuesday.
"I am ready to put all my focus into my senior season and give it all that I have got," Schon said. "We have a really hard-working group of girls, and I am excited to see what we can do."