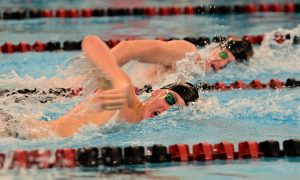 Trent Frandson and the Ankeny boys' swimming team are already in midseason form.
Frandson won two individual events, anchored two winning relays and led Ankeny to the team title in the season-opening Sprint Classic on Tuesday at Trail Point Aquatics Center. The Hawks racked up 454 points to win the five-team meet.
"It was a great start to the season," said Ankeny coach Justin Crouch. "With this meet kind of being an experiment in format, I didn't know what to expect. This sprint-style swim meet was just a fun way to race early in the season. I received good feedback and hope to continue it in the future."
Valley placed second with 415 points, 14 more than Dowling Catholic. The Tigers also took second at last year's state meet, where Ankeny tied for third place.
"It was a total group effort and finishing first shows that we are out to improve on last year's finish," Crouch said. "The coaching staff is very humbled to have such great people to work with. From the athletic director, coaches, parents, swimmers, volunteers to the fans, I am very blessed to have such great people to work with."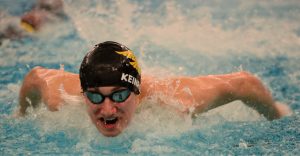 Frandson won the 200 freestyle in a time of 1:44.84, finishing nearly 8 seconds ahead of teammate Brek Stukerjurgen (1:52.47). He also captured the 100 freestyle in 47.88 seconds.
Weston Miner took the 50 butterfly in 24.18, edging Gage Agnew of Dowling by .05 seconds. Miner was the runner-up in the 100 individual medley, posting a time of 56.26.
Max Martin took second in both the 50 and 25 freestyle events, turning in times of 22.24 and 10.51. Valley standout Jacob Keller won both of those races.
Ankeny's Adam Vaske placed fourth in the 50 freestyle in 22.49. He was third in the 25 freestyle in 10.66.
Mason Keinroth took third in the 50 butterfly in 24.95. Jae Swanepoel finished third in the 100 freestyle in 50.48.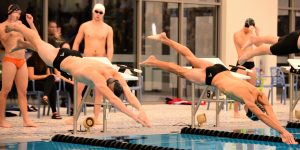 "Being able to come out and swim the way we did is a testament to the work a lot of the boys have put in during the offseason," Crouch said. "Swimming isn't an easy sport, but it is awfully rewarding when you swim with intent and purpose."
Ankeny opened the meet by winning the 200 medley relay. The foursome of Stukerjurgen, Keinroth, Miner and Swanepoel posted a time of 1:41.09, finishing .22 seconds ahead of Dowling.
The Hawks won the 200 freestyle relay in a time of 1:29.93. That team consisted of Martin, Vaske, Swanepoel and Frandson.
Ankeny later captured the 400 freestyle relay in 3:18.36. That squad was comprised of Martin, Vaske, Keinroth and Frandson.
Frandson, a sophomore, swam the anchor legs of those two races in 21.69 and 47.43.
"I have a lot of boys that enjoy being here and in this season of Thanksgiving I am thankful for that because we do work awfully hard," Crouch said. "The coaching staff has high expectations, and I think there are some boys that are starting to realize their potential. That is a recipe for a successful season."