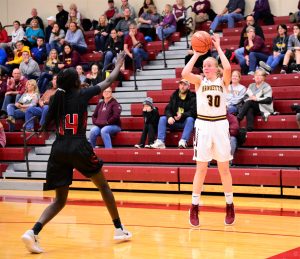 Dru McAnelly wiped the sweat off his brow after watching his Ankeny girls' basketball team open the season with a hard-fought victory.
The Hawkettes took the lead for good with a 14-2 run in the second half and then held off 13th-ranked Des Moines East, 45-38, in a CIML non-conference game on Tuesday at Ankeny.
"East is an extremely long, athletic, physical basketball team," said McAnelly. "What a test on night one, and the main thing is that we stuck together. I saw some things that we haven't seen around here with our enthusiasm and communication. It was beautiful."
Sara McCullough scored 16 points and grabbed 14 rebounds in the win, while Abby Johnson added 11 points. Ankeny defeated a ranked opponent after winning just one of 12 games against rated foes a year ago.
"This is a great way to start off the season," Johnson said.
The Scarlets led, 27-25, before Kayla Pitz made a 3-point goal from the left corner with 37 seconds left in the third quarter. Johnson then hit another 3-pointer from the same spot at the buzzer to give Ankeny a 31-27 advantage.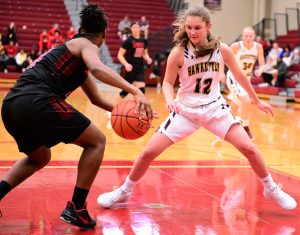 The Hawkettes scored a lot of their points in transition after beating East's pressure defense.
"We play best when we play fast and push the ball, so that was really a key," said Johnson, who had two of Ankeny's five 3-pointers. "We just had to stay positive."
The Hawkettes later increased their lead to 39-29 on a 3-pointer by McCullough with 3:10 left to play, but East answered with a 7-0 run. However, Jaelynn Kueker then scored a basket with 1:42 remaining to halt the Scarlets' rally.
"We never put our dobbers down," McAnelly said. "Every time adversity struck, we responded and rose up."
East's Justice Ross converted a steal into a layup with 42 seconds left to cut Ankeny's lead to 41-38. The Scarlets then fouled Ashley Harrington, who made two free throws with 35 seconds to go.
"I've been working on free throws after practice constantly, and I've just been working hard," said Harrington, who went 4-for-6 at the line. "The little things matter."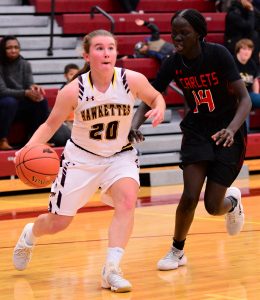 The 5-foot-4 Harrington then harassed the 6-foot Ross into a miss at the other end of the court, leading to a pair of free throws by Pitz that sealed the victory.
"My soccer footwork has helped a lot," said Harrington, who will play that sport in college at Northern Iowa. "I was just trying to stay in front of (Ross) and just make sure she had a hard shot."
Harrington finished with six points off the bench. Pitz dished out six assists.
"That's the growth process right there," McAnelly said of his team's strong finish. "How do you respond to a situation like that? And we made a couple of silly turnovers there, but we stuck together and made plays when we had to and hit some clutch free throws."
Ankeny won't have to wait long to get another opportunity to knock off a ranked opponent. The Hawkettes will play at Mason City, the No. 3 team in Class 4A, on Monday.
"We're looking for big things in the future," Harrington said.