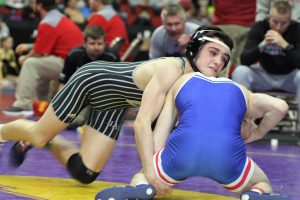 The Ankeny Centennial wrestling program has been making strides every year under coach Jay Groth, gradually increasing its win total from 10 in its inaugural season in 2013-14 to a school-record 22 victories last season.
Now, the Jaguars may just have their best team yet.
"We have very high expectations for this group," said Groth. "We have three returning (state) placewinners and two other returning qualifiers. We also have a lot of talented kids who were a win away from the state tournament and several freshmen who are going to make a difference for us. I believe we have what it takes to bring a trophy home from the state tournament."
There are 61 boys on the roster, including two of the state's top wrestlers in juniors Ben Monroe and Logan Neils. That duo led the Jaguars to a tie for 12th place in last year's Class 3A state tournament, the best finish in school history.
Monroe is a two-time state runner-up with a career record of 80-11. He is expected to compete at 138 pounds this season.
Groth said Monroe is ready to become Centennial's first state champion.
"Ben lost to two of the toughest kids in the country in his two finals matches–Cullen Schriever (of Mason City) and Kyle Biscoglia (of Waukee)," Groth said. "The finals matches were close, and we fought hard. Ben trains as hard as any athlete I have ever coached, lifts hard, trains hard and with kids from all over Iowa. He goes to High Altitude Wrestling Club, competes all year long, trains and learns with anyone he can and really loves the sport and loves getting better. I have no doubt that Ben will win a title this year and next."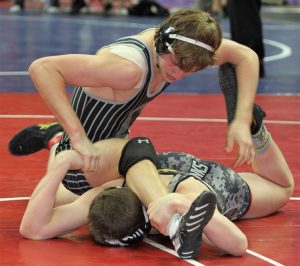 Neils posted a 36-9 mark and placed fourth at 160 last year. He won a title at the CIML Invitational, becoming the Jaguars' first conference champion.
Neils will likely move up to 170 this season.
"Logan is a very talented and smart wrestler," Groth said. "He does not panic on the mat–if he gets in bad position, he recovers and goes on to score the next point."
Neils is coming off a successful season on the football field, where he helped the Jaguars to a No. 1 seed in the Class 4A playoffs.
"Logan is a multi-sport athlete–he excels in football and baseball and of course wrestling," Groth said. "We need leadership; we need people who can take their teammates with them down the road to success, and I think that Logan is very capable of being a leader on this team. We have a number of kids that can take a leadership role and make a difference for us this year. I think leadership is something I need to get better at developing–it is a learned skill much more often than an innate trait."
Senior Eric Owens, who will likely wrestle at 145, is Centennial's other previous state placewinner. He took sixth at 113 as a sophomore in 2017.
Seniors Noah Blubaugh and Nic Leo were among the Jaguars' eight state qualifiers last year, the most in school history. Blubaugh posted a 35-14 record at 113, while Leo went 20-11 at 170.
Blubaugh will move up to 120 this season. Leo will wrestle at 182.
"Practices have been going very well," Groth said. "We have a lot of returning talent and a talented freshman class. The room is crowded and we are still learning a few names, but these are good problems to have."
Among the other returning varsity regulars for the Jaguars are sophomore Kyle Janssen at 106, junior Ethan Carter at 126, junior Jacob Cuppy at 132, junior Ethan Frazier at 195 and senior Lane Pruisner at 285.
"I do feel like we have some solid depth, and this lineup is going to change as the season moves forward," Groth said. "Kids improve, weight classes change, things happen. We have depth that will help us compete all season."
Centennial will host defending state champion Fort Dodge in its season opener on Thursday. The Jaguars will then try to defend their title at the Dallas Center-Grimes Invitational on Saturday.