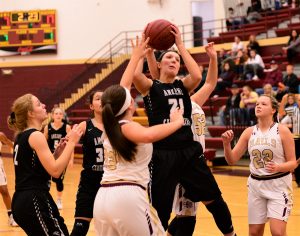 If the Ankeny Centennial girls' basketball team misses a shot, there's a good chance that the Jaguars will grab an offensive rebound.
That proved to be the case on Saturday afternoon at Des Moines Lincoln, where 10th-ranked Centennial won the battle of the boards, 43-12, and rolled to a 75-20 victory over the Railsplitters.
"We were really strong on the boards again," said Centennial coach Scott DeJong. "We missed a lot of shots inside, but we got a lot of them back and put them back in. That's a strength for us right now."
Rachel Schon and Kenna Sauer each had a double-double despite playing barely half the game. Schon scored a career-high 20 points and grabbed 14 rebounds, while Sauer added 13 points and 13 rebounds.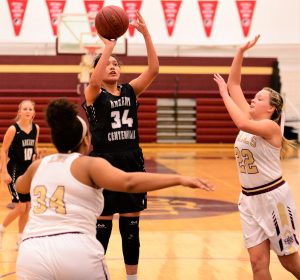 Centennial's other primary post player, Alexandria Keahna-Harris, nearly had a double-double, too. She scored a career-high 16 points and had eight rebounds.
That's a total of 49 points and 35 rebounds from the trio.
"I don't know how strong of a performance it was," DeJong said. "We were playing a team that we were probably better than."
Centennial jumped out to a 25-7 lead in the first quarter and held a 46-14 advantage at halftime. Taylor Runchey dished out five assists as the Jaguars (2-0) cruised to their second straight lopsided win.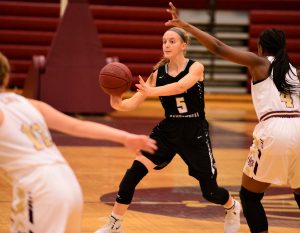 Lincoln (0-2), meanwhile, has lost twice by an average of 58 points. The Railsplitters opened their season on Tuesday with a 95-34 loss at No. 9 Dowling Catholic.
Centennial will face its biggest challenge of the season on Tuesday. The Jaguars will host No. 1 Southeast Polk (1-0), which romped to a 63-30 win over Indianola in its opener.
Iowa State recruit Maggie McGraw had 13 points against her former team. She helped the Indians to the semifinals of last year's Class 5A state tournament before transferring to Southeast Polk, which also boasts one of the state's top sophomores in Grace Larkins.
"Obviously, the competition is going to step way, way up," DeJong said. "It'll be a good test to see where we're at."