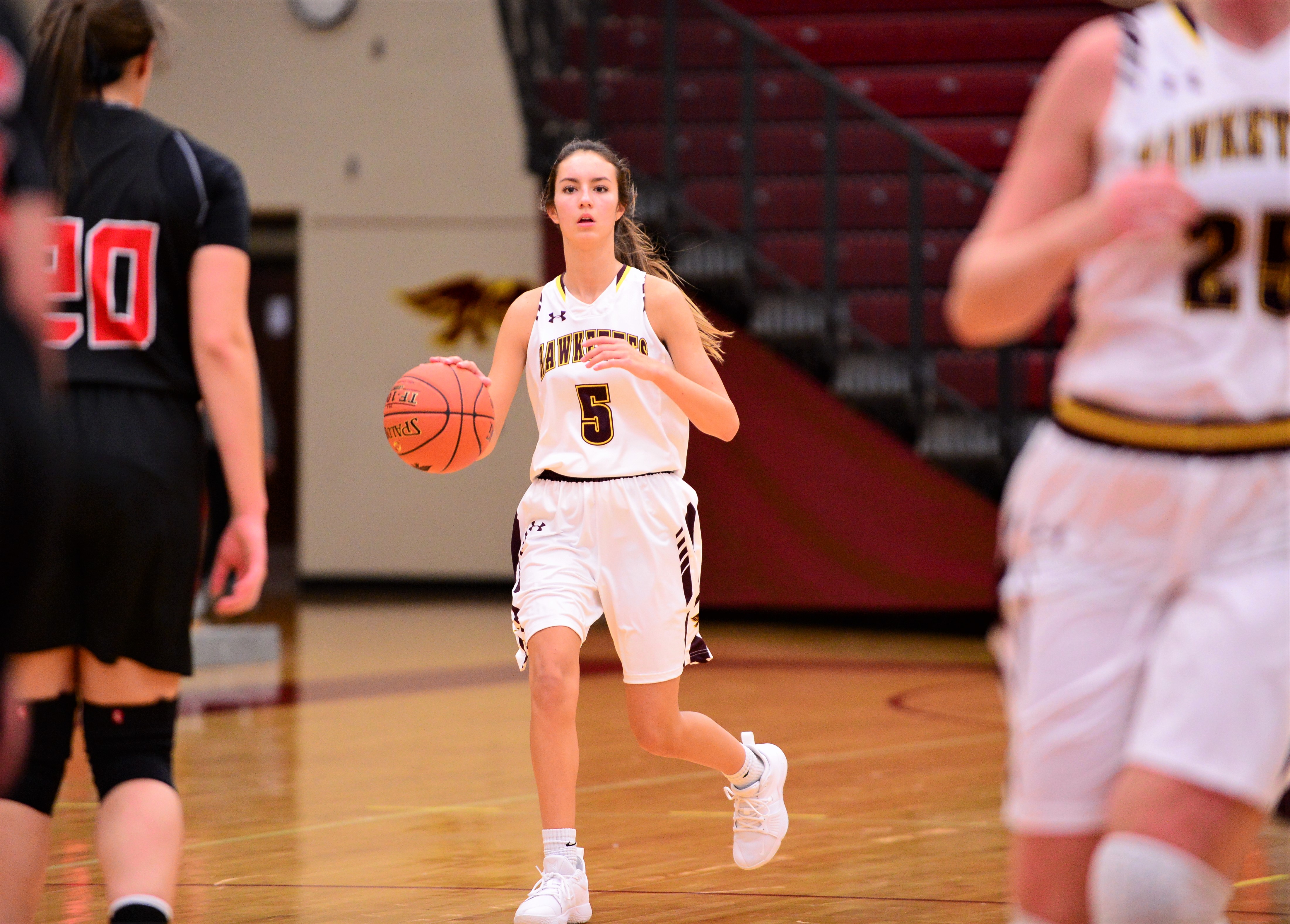 Junior guard Kayla Pitz scored five points and had six assists to help the Ankeny girls' basketball team to a 45-38 victory over 13th-ranked Des Moines East in its season opener on Tuesday at Ankeny. The Hawkettes will play at Mason City, the No. 3 team in Class 4A, on Monday.
Pitz started every game for Ankeny as a sophomore, when she averaged 5.7 points per game and made 25 3-point goals. She helped the Hawkettes to an 11-12 record.
Here is some inside info on Pitz:
Congratulations on the win over East. How important do you think it was for the team to start out the season with a victory?
Starting out the season with a win over a ranked opponent was very rewarding and reflects the hard work our team has put in throughout the offseason. I am very excited for this season as Coach Mac (Dru McAnelly) and the rest of the coaching staff have worked very hard in rebuilding our program.
The Scarlets put a lot of defensive pressure on you with their speed and athleticism. Do you think you handled it pretty well?
Our team had limited turnovers against East's very athletic defense which was key to our victory. East had a strong press which we were able to handle well because of the work we put in on press break in practice.
Do you feel like the team took a big step last year, reaching double digits in victories for the first time since the split into two high schools, and do you think you can carry that momentum into this season?
Double-digit wins last year was definitely a step in the right direction for our program. We have very high goals and expectations for ourselves this year with our quality coaching staff and deep roster.
Do you think your team should have been ranked in the preseason, or did you even care?
It would have been an honor to be listed in the preseason rankings, but that does not define our team. The key is how we finish the season, and hopefully we can earn our spot in the rankings.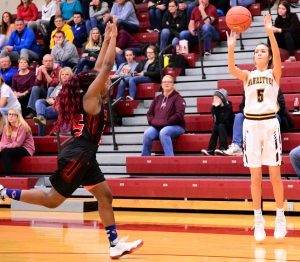 What are your goals for the season?
One of my main goals for the season is to become more of a leader on and off the court. I have been working on being more encouraging and positive with my teammates. My hope is that in doing so, we will gain more team chemistry which will allow us to play better together.
There are some tremendous guards in the CIML, including two of the nation's top players in Caitlin Clark of Dowling Catholic and Zoe Young of Valley. Who has been the most difficult player for you to defend, and why?
The CIML consists of a lot of Division I talent. It takes a team effort to contain players like Caitlin and Zoe. Trying to guard these players one-on-one is very difficult because of their ability to attack as well as hit a jump shot. When playing against these guards, it is very important to know where they are on the court at all times as well as be on help-side defense. With that being said, it is hard to say who the most difficult is to defend as they are all so talented.
Your team also boasts one of the CIML's best players in senior forward Sara McCullough. How much do you rely on her to lead the team, especially during difficult times?
Sara is a great leader in both practice and games. She is a huge factor in the success of our team. Sara is definitely a girl we look to during difficult times as she is a knock-down shooter and can score very well in the post as well.
How are you trying to become more of a leader?
I think the key part of any successful team is a vocal point guard that leads the team. I will try to improve my leadership skills throughout the year and hopefully that will impact our record this season.
Would you like to play basketball in college?
Playing basketball in college has always been a goal of mine, but I am currently focusing on this high school season.
Do you play any other sports? Why did basketball become your favorite?
I participate in cross country and tennis as well, but basketball has always been my favorite sport because I love the team aspect of the game. Basketball has introduced me to some of my best friends and has allowed me to meet so many new people. I'm very thankful to be able to play this sport alongside all of my friends.
Did you do anything special for Turkey Day? What's your favorite part of the Thanksgiving meal?
My family has the tradition of going up to my grandparents' house and spending time with family each Thanksgiving. My aunt always makes the best pudding pie, which would have to be my favorite part of the Thanksgiving meal.