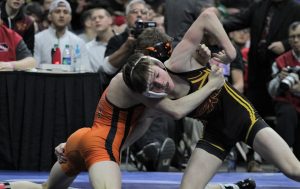 It has taken awhile for coach Jack Wignall to rebuild the Ankeny wrestling program following the split into two high schools.
This could be the year that there's a huge payoff for the Hawks.
Ankeny returns several varsity regulars from a team that posted an 11-9 record last year and placed 21st in the Class 3A state tournament with 26.5 points.
"We have a lot of potential," Wignall said. "We have the best wrestling room and partners we have had. It's great to watch the battles in the room every day. This is a difference-maker for us–good workout partners are essential to success."
Ankeny boasts one of the state's top wrestlers in sophomore Caleb Rathjen, who went 20-2 and placed second at 113 pounds a year ago. He missed nearly two months of his freshman season due to an injury, then returned to the lineup for the district tournament and cruised all the way to the Class 3A championship match, where he dropped a 10-8 decision to Valley's Nick Oldham.
Rathjen, who won a title at the Valley Invitational, will move up to 126 this season. He is ranked second behind Oldham in the preseason rankings by The Predicament.
"Considering the timing of his injury, and the way he came back, I look for huge things from Caleb," Wignall said of Rathjen. "He had a great spring and summer of freestyle and Greco wrestling. He wrestled on Team Iowa for the Cadet Duals, and made a great run to the Cadet National Finals. After his runner-up at state and runner-up at Fargo, I look for this to be a breakout season."
The Hawks return seven other starters, including Rathjen's older brother, Cole. Cole Rathjen is ranked ninth at 195, where he won a title last year at the Rollin Dyer Invitational at Atlantic.
The other returnees are Cael Cox at 113, Sam Kallem at 132, Derek Anderson at 138, Mo Watson at 170/182, Nick Scherle at 170/182, and Romello Gray at 285. Anderson is fifth in the preseason rankings, while Gray is seventh.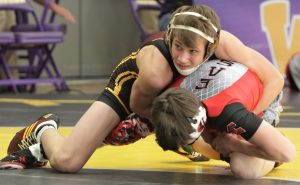 Anderson posted a 3-2 victory over Ankeny Centennial's Ben Monroe to win a title at last year's Bob Sharp Invitational. Monroe went on to become a state runner-up for the second time.
Anderson and Cox both placed fourth at the CIML Invitational. Those two later took third at the district tournament along with three other Hawks–Kallem, Cole Rathjen and Gray.
Kallem earlier won a title at the Atlantic tournament, where he led Ankeny to the team crown. He was named the tournament's most outstanding wrestler.
"We have had really good practices," Wignall said. "We have done some things differently early this season as far as practices and practice times. We went two-a-days for a week and a half, so we were burning the candle at both ends and pushing our limits. We have a room full of experienced wrestlers, and it shows in our live matches. It's so much fun to watch."
Among the other returnees are Joey Reichenbacker and Wyatt Carl at 145, and Daniel Rose at 152. Those three all have some varsity experience.
Ankeny will have to replace Spencer Anderson, who graduated after placing seventh in Class 3A at 132. However, the Hawks will be strengthened by the addition of Spencer's younger brother, freshman Trever Anderson.
Anderson was a Fargo Cadet qualifier and was on the Cadet Dual team with Caleb Rathjen. He is ranked eighth at 106.
"I feel like we have more balance in all of our weights," Wignall said. "Trever is the only ninth grader in our room, but there are several other ninth graders that will give us some depth."
Ankeny will host Mason City in its season opener on Thursday. The Hawks will then compete in the Cliff Keen Invitational on Friday and Saturday at Independence.
Wignall said it will be important for the Hawks to avoid injuries.
"Staying healthy will be the key to our success," he said. "We have tough kids up and down the lineup. We are due to catch a break and stay healthy this season."
If that happens, Ankeny has the potential to succeed both on and off the mat.
"I want these kids to be good students, friends, sons, brothers, and to represent Ankeny wrestling values when they are in the community. At the end of the day, that matters most," Wignall said. "As far as a wrestling team goal, we want to win state dual and traditional team trophies."