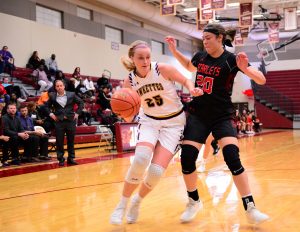 The Ankeny girls' basketball team won't have time to dwell on its first loss of the season.
The Hawkettes, who dropped a 72-58 decision at Mason City on Monday, will be back on the court less than 24 hours later. They will host Des Moines North on Tuesday at 6:15 p.m.
Mason City, the No. 3 team in Class 4A, built a 40-27 halftime lead in Monday's game. Ankeny closed to within 51-41 after three quarters before the Mohawks (3-0) pulled away.
All-state guard Megan Meyer scored 27 points and had four of Mason City's 10 3-point goals. The Iowa recruit also had six rebounds, five assists, three steals and one block.
Anna Deets had 19 points for the Mohawks, who have won their first three games by an average of 29 points. Jaeda Whitner added 14 points.
Sara McCullough led three Hawkettes in double figures with 14 points. Ashley Harrington had 13 points, and Abby Johnson added 12.
"That's a great job on the offensive end," said Ankeny assistant coach Seth Hagarty. "We just need to clean up a few things on the defensive end, and it would be a different game."
Both Ankeny and North will take a 1-1 record into Tuesday's game. The Polar Bears defeated Perry in their opener, 54-52, before losing at Mason City, 71-25.