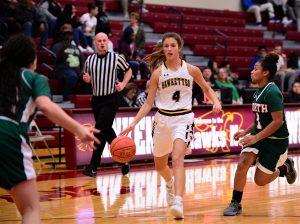 For the second time in two nights, the Ankeny girls' basketball team had a balanced scoring attack, putting three players in double figures.
This time, it resulted in a win.
The Hawkettes bounced back from Monday's loss at Mason City with a 63-24 victory over visiting Des Moines North on Tuesday. They raised their record to 2-1 on the season.
"The last two years we've been trying to get to that level where we can have three players in double figures most nights, and we're only three games in but in two of the three we've had three in double digits," said Ankeny coach Dru McAnelly. "So that's a nice little early stepping stone for us."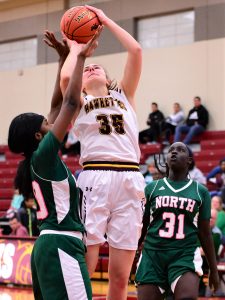 Sara McCullough led Ankeny with 15 points, Abby Johnson had 14, and Isabelle Vacek added 10. Both McCullough and Johnson have been in double figures all three games.
Vacek, meanwhile, had contributed two points in each of the first two games.
"She had a great game," McAnelly said.
Ankeny got off to a slow start Tuesday after falling behind at Mason City, 20-4, the night before. But the Hawkettes pulled away to a 19-8 lead at the end of the first quarter, then increased their advantage to 36-13 at halftime.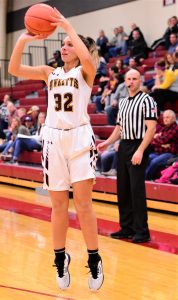 "I wanted to see how we'd respond (to the back-to-back games)," McAnelly said. "The second quarter was a little better than the first, and I really challenged the girls at halftime about some fundamental things defensively. And they responded very well. Our attention to detail at the defensive end was much better, and we got out and ran in transition. We just did some little fundamental things that we have to do on a nightly basis if we want to get to where we want to go."
Ihari Oromo scored nine points to lead North. The Polar Bears fell to 1-2.
Ankeny will play at Fort Dodge (0-3) on Friday.