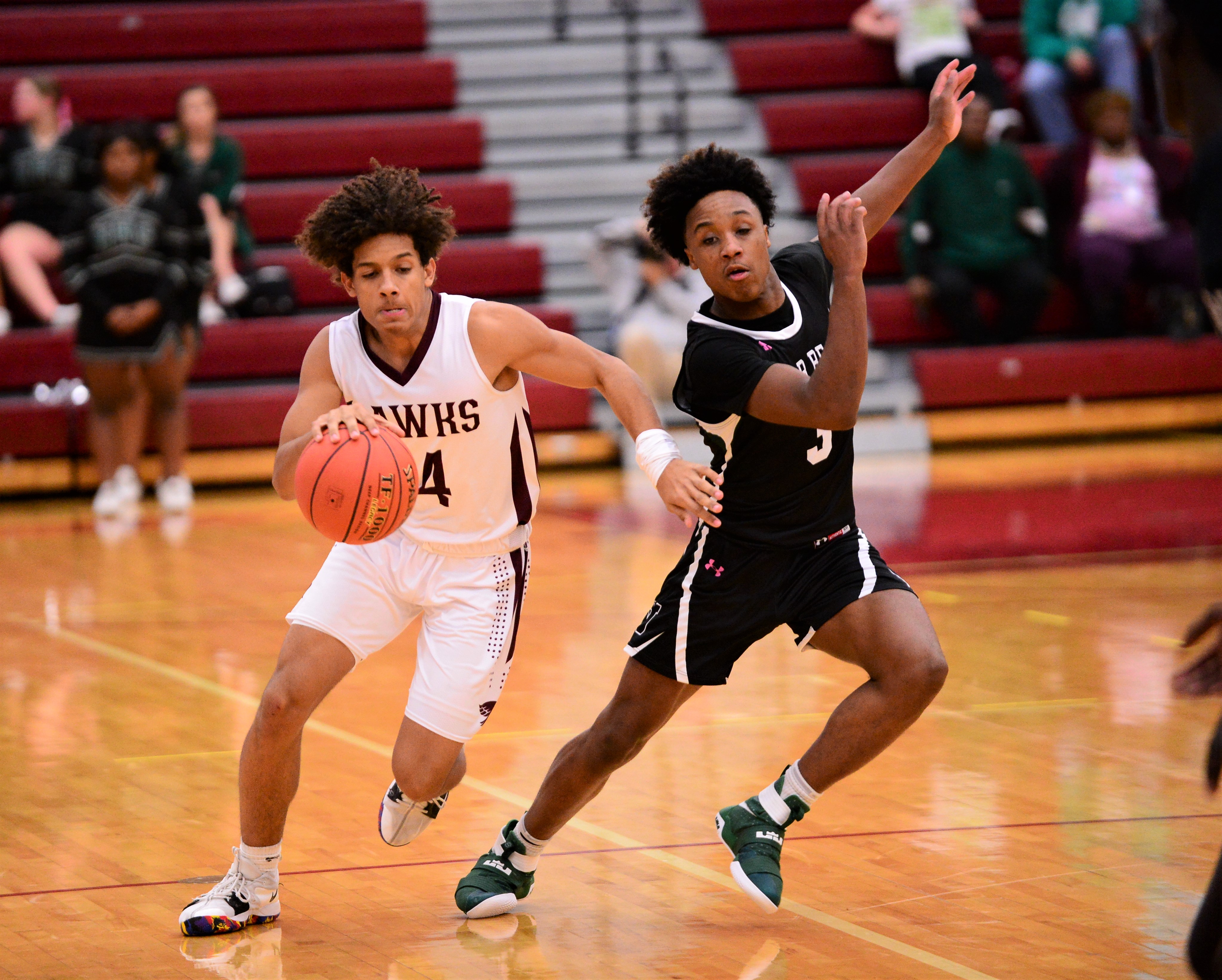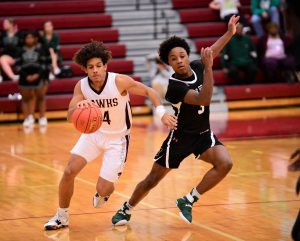 The wait was worth it for Braxton Bayless.
The 6-foot-1 junior guard finally made his debut for the Ankeny boys' basketball team on Tuesday, and he led the Hawks to a thrilling victory.
Bayless, who sat out last season after transferring to Ankeny from Valley, scored 24 points as the Hawks opened their season with an 85-78 triumph over visiting Des Moines North. He made 5-of-6 free throws in the final 9 seconds to seal the win before a boisterous crowd.
"It was real tough sitting out, but it's nice to be back," said Bayless, who is considered one of the state's top prospects in the Class of 2020. "We've just been working hard in practice and getting better every day. We showed what we can do. I think we're one of the quickest teams in the state."
Dillon Carlson scored seven of his 20 points in the final 1 minute 15 seconds, when Ankeny closed the game with a 14-4 run to erase a 74-71 deficit. His 3-point goal with 50 seconds left put the Hawks ahead for good, 76-74.
"It's definitely a good feeling to win that first game of the season," Carlson said. "I think we saw on Twitter where North was ranked second in the state and we were 31st overall, and that kind of put a fire behind us. We said, 'Why not us?' And we went out and got it done."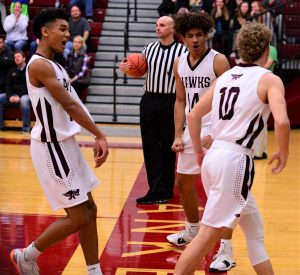 Ankeny avenged last year's 87-73 loss at North in a Class 4A substate semifinal. Tyreke Locure had 36 points for the Polar Bears in that game.
On Tuesday, the Hawks overcame a 40-point effort by Locure, who became the Des Moines public school career scoring leader. The South Alabama recruit also had five rebounds, seven assists and four steals before fouling out with 9 seconds left.
"They're such a tough team and so well coached, and Tyreke is awesome," Ankeny coach Brandt Carlson said. "We're pretty honored to win this one, but we've battled these guys the last couple of years and these young kids have kind of learned a lot of lessons on the other side of it. We'll humbly enjoy this one."
Ankeny jumped out to an 11-0 lead before North stormed back. Locure had 17 points in the first half as the Polar Bears built a 47-35 advantage.
"I think Tyreke said, 'Enough of this,' and he started going off," Brandt Carlson said. "But that's the way basketball is. It's a game of runs. We learned a lesson there real quick."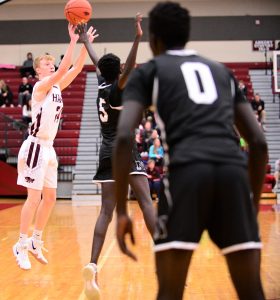 The Hawks opened the third quarter with a 9-0 run to close the gap to 47-44. North later pushed the lead back up to eight points at 55-47, but Ankeny eventually tied the score at 69 on a coast-to-coast layup by Jaxon Smith with 2:32 left.
Carlson then made two free throws with 1:57 remaining to give Ankeny a 71-69 lead.
"They're a great team–you've got to give it to them," Dillon Carlson said. "But we were battling too, and it worked out for us."
Locure briefly put the Polar Bears back in front with a 3-pointer at the 1:47 mark, his fourth of the game. He then converted a steal into a layup 12 seconds later, but Bayless hit a baseline jumper shortly thereafter to spark Ankeny's strong finish.
"You've got to let (Locure) do his thing because he's going to get his 30 (points or more)," Bayless said. "But we couldn't let other people score. We couldn't let Tyreke get his assists. That's what we had to do."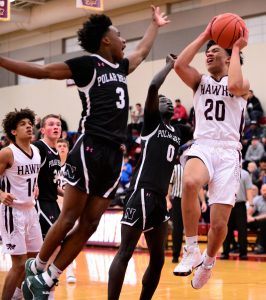 Bayless made two free throws with 9 seconds left to give Ankeny an 82-78 lead. He was fouled again with 3.8 seconds to go, then made 3-of-4 attempts after a technical foul was also called on the Polar Bears.
"It feels really good obviously," Brandt Carlson said. "What I loved about our team was the unity. We had some guys get rotated out, and there was no pity party–it was back to clapping and encouraging the teammate who went in for him."
Smith had 15 points for the Hawks, and Jaron Crews added 12. Several other players also made some key contributions.
"We had some great play from our seniors–Reece Pitz came to the offensive glass a ton, Payton Fay took care of the ball, and Drake Bennett had a big offensive rebound," Brandt Carlson said. "Our seniors are so key to our team, but they don't always get the credit so we're real proud of them."
Lino Malual had 15 points, eight rebounds and three blocks for the Polar Bears. Gatdoar Bijiek added 10 points.
The Hawks will play at Fort Dodge on Friday. The Dodgers are off to an 0-2 start.