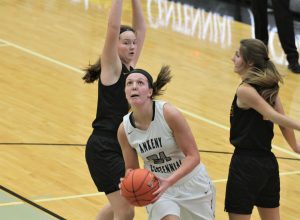 A slow start proved costly for the Ankeny Centennial girls' basketball team on Tuesday.
Or, maybe, it was just a fast start by Southeast Polk.
The top-ranked Rams jumped out to a 23-10 lead in the first quarter and led all the way en route to a 51-44 victory at No. 10 Centennial. The Jaguars dropped to 2-1 on the season.
"They came out on fire–they were really shooting well," said Centennial coach Scott DeJong. "We've got a veteran team but a young team too…I just think we weren't ready for the speed of that. And they came out making shots, which didn't help."
Maggie McGraw scored 18 points to lead Southeast Polk (2-0). McGraw and Rylie Kruse each had a pair of 3-point goals in the Rams' first-quarter flurry.
"I think playing Southeast Polk was a good test for our team because it showed us what we need to work on and what we are doing well," said Centennial senior Rachel Schon, who led the Jaguars with 15 points. "I feel confident that we will compete with any team out there."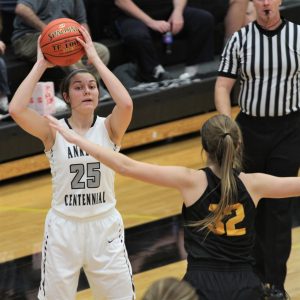 Meg Burns had 11 points for the Jaguars, including a trio of 3-pointers. Alexandria Keahna-Harris added 10.
"I was proud of how we came back because we were competitive," DeJong said. "The game could have been over in the first quarter, but we kept chipping away. We certainly have a lot of things to build on."
After the Rams closed out the first quarter on a 7-0 run, Centennial responded with an 8-0 run to open the second quarter. Schon converted a three-point play and then added two more free throws to pull the Jaguars within 23-18.
Keahna-Harris later scored six consecutive points off the bench to cut Southeast Polk's lead to 28-24. Burns hit a 3-pointer to pull the Jaguars within 30-27 with 1 minute 33 seconds left in the half, but that was as close as they could get.
The Rams got a 3-pointer from Grace Larkins with 33 seconds remaining to take a 33-27 halftime lead. Larkins scored 11 of her 13 points in the first half.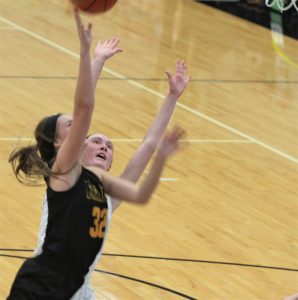 McGraw, who transferred to Southeast Polk after helping Indianola to the Class 5A semifinals last season, scored seven straight points for her team midway through the second half. The Iowa State recruit then passed to Jessica Stuart for a layup with 3:35 left to give the Rams a 46-38 lead.
"I think we have a lot to build off of," Schon said. "We have only had our entire team together practicing for a week, so we are still building chemistry. I think that we have identified things that need to improve, and we are excited to get back in the gym and get better."
Centennial forward Kenna Sauer was held to three points on 1-of-6 shooting. She didn't start practicing until last week after leading the Jaguars' volleyball team to a state title.
"We've had our whole team for a week and two days," DeJong said. "We're just going to keep getting better and better."
The Jaguars will play at Des Moines Hoover (1-3) on Friday.