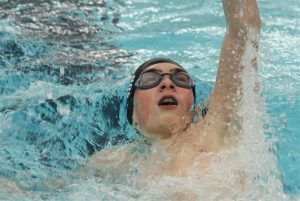 Some of the best races on Thursday at Trail Point Aquatics Center were between teammates on the Ankeny boys' swimming squad.
The Hawks won all 11 events and rolled to a 110-60 victory over visiting Des Moines Roosevelt. They swept the top three places in the 100 butterfly and took the top two spots in two other events.
"I think that the hard work the boys are putting in will definitely pay off at the end," said Ankeny coach Justin Crouch. "But as we get to the middle of our schedule, we will have to continue to strive to get better. No one is going to hand us anything–we are going to have to earn it because there are a lot of good teams out there."
Ankeny's Weston Miner won the butterfly in 55.50 seconds and later captured the 100 backstroke in 58.44. Teammates Anders Peterson and Noah Odson took second and third, respectively, in the butterfly.
Max Martin won the 50 freestyle in 22.27 seconds. Jae Swanepoel was the runner-up in 22.80.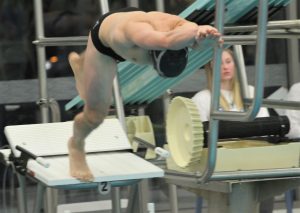 Martin later placed second behind teammate Adam Vaske in the 100 freestyle. Vaske posted a winning time of 49.67, while Martin was clocked in 51.45.
Vaske earlier won the 200 freestyle by more than 6 seconds. He posted a time of 1:54.38.
Mason Keinroth also won two individual events for the Hawks. He captured the 200 individual medley in 2:03.83, then later took the 100 breaststroke in 1:03.67.
"I felt like we struggled in a few areas," Crouch said. "I saw some races in which the effort was there, but the times did not correlate with the effort that the boys went through. They had to earn every time they got."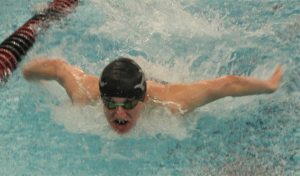 Ankeny opened the meet by winning the 200 medley relay in a time of 1:43.53. That team consisted of Miner, Keinroth, Peterson and Martin.
Martin swam the leadoff leg on the winning 200 freestyle relay. He teamed up with Vaske, Swanepoel and Odson to post a time of 1:34.19.
The Hawks later won the 400 freestyle relay in 3:30.98. That team was comprised of Vaske, Swanepoel, Miner and Keinroth.
"We have had an extremely good week of practice, and the boys seemed lethargic," Crouch said. "We even had some boys cramp during their races. That shows the determination to not feel great but persevere through."
Ankeny will compete in the Mike Wittmer Invitational on Saturday at Ames.