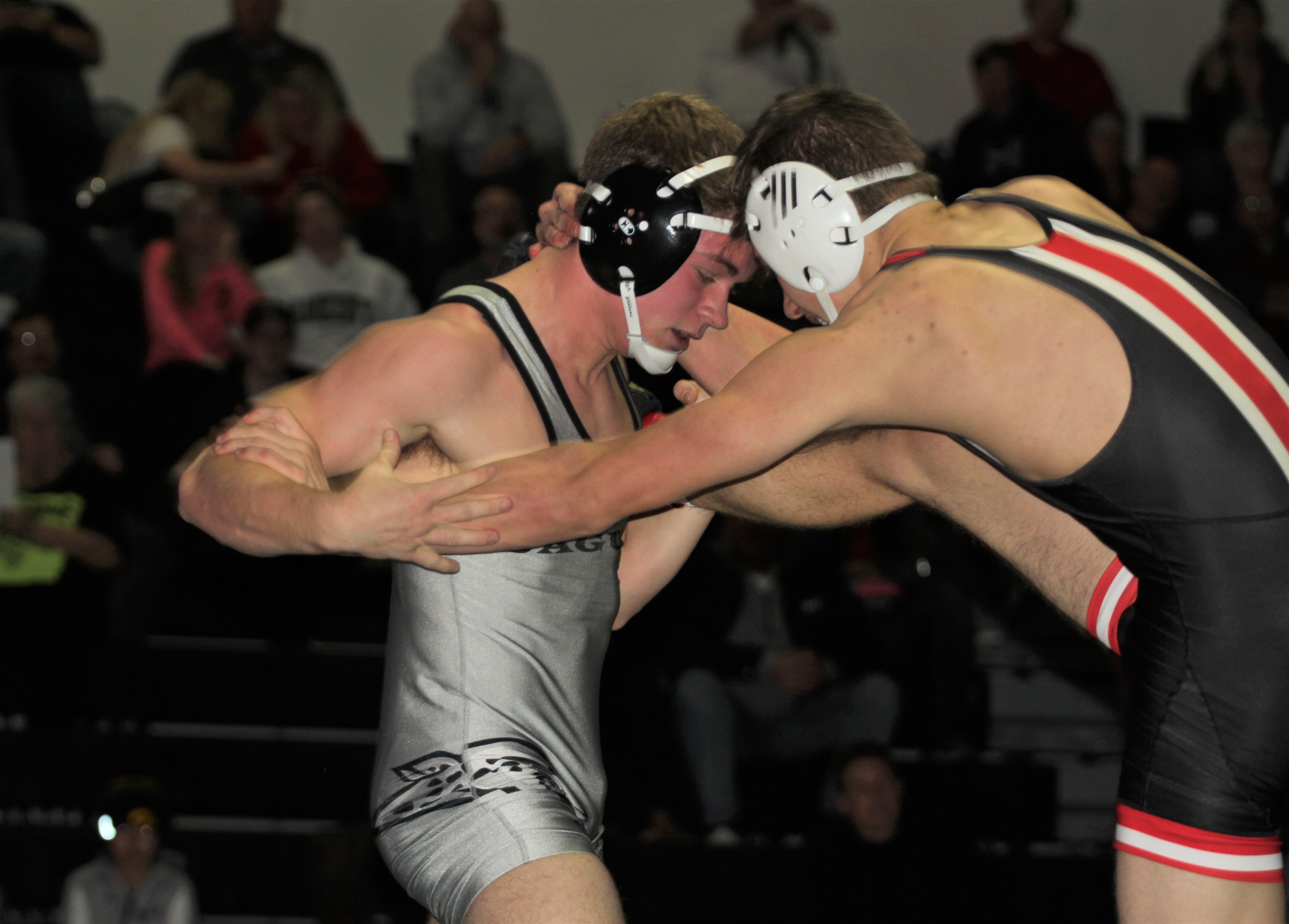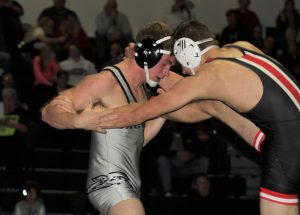 Lane Pruisner crouched on the wrestling mat and waited for the referees to make a call.
"No doubt, I thought I had a takedown," Pruisner said.
The Ankeny Centennial heavyweight was tied with Fort Dodge's Logan Finowski, 2-2, as the final seconds of their match ticked off the clock during Thursday's season-opening dual meet at Centennial. Pruisner then got a takedown as time expired, but the two referees huddled together for about a minute to discuss the call.
"It was a toss-up really," said Centennial coach Jay Groth. "The ref gave him the two (points) and I looked at the clock, and I'm just not going to question it. He gave us the two, so we'll go with that."
The referees eventually confirmed that it was a takedown, giving Pruisner a 4-2 decision that allowed the ninth-ranked Jaguars to defeat No. 4 Fort Dodge, 33-32. The Dodgers are the defending state champions in Class 3A.
"That's what a wrestling meet is supposed to be about–come down to the last match at heavweight," Groth said. "That brings me back to the old days when I was wrestling and we started every meet at the lowest weight and finished with the big guys. That was fun."
Pruisner said he typically doesn't like the meet coming down to his match.
"But today I thought it was a big deal, so I liked it actually," he said. "I knew there was a chance possibly that it could happen. There were some matches that we probably should have won, but we still got the win."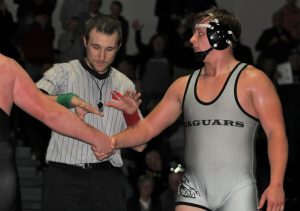 Fort Dodge took a 32-15 lead when fifth-ranked Kaden Smith posted an 11-5 decision over second-ranked Logan Neils at 170 pounds. The Dodgers won seven of the first 10 matches before Centennial rallied.
"Our conditioning still needs to get better, but we weren't focused on that right now," Groth said. "It's a long season, and our conditioning will be where it needs to be when it needs to be. I'm not worried about that."
The Jaguars won by forfeit at both 182 and 195, closing the gap to 32-27. Ethan Frazier then followed with a 7-2 decision over Sawyer Springer at 220, setting the stage for the dramatic finish.
"It felt great," Pruisner said. "I loved it, especially winning against Fort Dodge. We're ranked pretty close to each other so it's pretty big."
Fort Dodge got pins from third-ranked Carson Taylor at 120, 10th-ranked Brooks Cowell at 126 and fifth-ranked Drevon Ross at 145. The Dodgers also got a technical fall from top-ranked Drake Ayala at 113, but it wasn't enough.
"It's tough giving up two forfeits, but our kids out-hustled them and I thought for the first match of the year, it was a good measuring stick," Dodgers coach Bobby Thompson told the Fort Dodge Messenger. "We gave up a lot of bonus points and left a lot on the table. We're probably ahead of where I thought we would be at this point, though."
Fort Dodge built a 20-0 lead before Centennial's Noah Blubaugh, who is ranked eighth at 120, posted a 13-8 decision over Dreyzon Phillips at 132. Ben Monroe, who is ranked No. 1 at 132, then pinned eighth-ranked Kody Cook in 3 minutes 14 seconds at 138.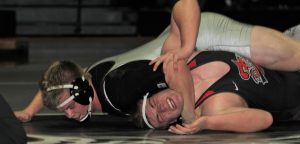 The Jaguars also got a huge win from freshman Carter Cahill in his varsity debut. He pinned Dylan Zimmerman in 3:05 at 152.
"I think we're capable of going to the state duals tournament," Pruisner said.
Centennial will compete in the Dallas Center-Grimes Invitational on Saturday. Monroe is a two-time defending champ for the Jaguars, who also won last year's team title.
"We had a couple of veterans who didn't perform (Thursday) the way that I know they can and that they know they can," Groth said. "But I look for them to get a little redemption on Saturday at Dallas Center and then go from there."
Here are the match-by-match results:
Centennial 33, Fort Dodge 32
106: L. Cowell (FD) beat Helmkamp, 6-0; 113: Ayala (FD) won by technical fall over Bresson, 19-4; 120: Taylor (FD) pinned Carter, 1:44; 126: B. Cowell (FD) pinned Mayer, 2:23; 132: Blubaugh (AC) beat Phillips, 13-8; 138: Monroe (AC) pinned Cook, 3:14; 145: Ross (FD) pinned Owens, 2:41; 152: Cahill (AC) pinned Zimmerman, 3:05; 160: Wheat (FD) beat Nehring, 17-14; 170: Smith (FD) beat Neils, 11-5; 182: Leo (AC) won by forfeit; 195: Doup (AC) won by forfeit; 220: Frazier (AC) beat Springer, 7-2; 285: Pruisner (AC) beat Finowski, 4-2.