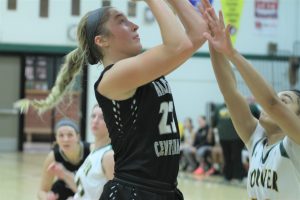 Ten different players scored for the Ankeny Centennial girls' basketball team in an 84-24 victory at Des Moines Hoover on Friday.
Unfortunately, junior guard Meg Burns wasn't one of them.
Burns sat on the bench in street clothes as she continues to battle a lingering foot injury that she suffered in July.
"Her foot's just been bad, and it needs to get better," said Centennial coach Scott DeJong. "She's been out, and in my opinion if it doesn't get better, we're going to pull the plug on her for awhile because otherwise we'll be going back and forth. We'll be in January, and we'll be going through the same thing."
Burns played in the Jaguars' first three games of the season despite the injury. She averaged 10.3 points and made 8-of-18 3-point attempts.
"She's a big part of what we do," DeJong said. "Getting her out there is going to be huge for us, but we'll have to be patient. First she had the turf toe injury, and now it's a tendon that is acting up."
Kenna Sauer scored 14 points as 10th-ranked Centennial raised its record to 3-1. The Huskies dropped to 1-4.
Sauer, a senior forward, said it will take a team effort to replace Burns if she's out of the lineup for an extended period of time.
"I think everybody's picking up in practice, and we have people filling in for that spot," Sauer said. "We'll miss her leadership, but just having her around helps. We're encouraging her, and I think she'll be fine."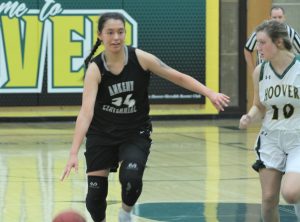 Alexandria Keahna-Harris had 13 points and 13 rebounds in the win. Cleao Murray and Jackie Pippett each had 10 points, while Rachel Schon and Bella Robben each added nine.
Murray and Robben each had a pair of 3-pointers.
"Hoover is just a team that we're better than," DeJong said. "I thought we just played ok, to be honest. We missed some shots that we need to make, but we got a lot of putbacks in the first half."
Sauer made 7-of-16 shots from the field. The all-state volleyball player is still trying to find her rhythm after transitioning from one court to another.
"It's getting there. I know it'll come," said Sauer, who led the Centennial volleyball team to a fourth state title in five years. "It's a little frustrating at first, obviously, coming off such a high with volleyball. I just have to find myself again."
The Jaguars will host No. 4 Valley (4-0) on Tuesday. The Tigers defeated Centennial in a regional final last year.
"This game (against Hoover) was kind of a fool's gold game for us, so we just kind of wanted to work on ourselves before (playing) Valley," Sauer said. "We know they're going to be super tough, but we kind of have a chip on our shoulder with them beating us last year. We're going to give them what we've got."
Valley rallied from a 10-point deficit to beat No. 8 Dowling Catholic, 70-68, on Friday. Maryland recruit Zoe Young had 27 points in the win.
"Player-for-player, they're as good as any team," DeJong said. "They look like they've improved since last year, so it'll be a really tough test for us."