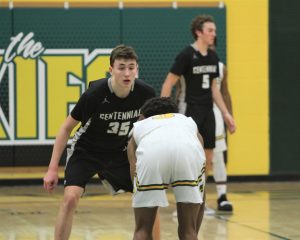 Des Moines Hoover's Hosea Treadwell pulled up at the top of the key and lofted a shot over the outstretched arm of Ankeny Centennial defender Cody McCullough.
Swish.
Treadwell made a 3-point goal with 1 second left to give the Huskies a 42-39 victory in a CIML boys' basketball game on Friday at Hoover.
"I got my left hand up," said McCullough. "It was just a great shot."
Treadwell's game-winning basket spoiled a late rally by Centennial. The Jaguars–who never led–went on an 8-2 run to tie the game after trailing, 37-31, with 2 minutes 25 seconds left.
"We felt we lost the game in the first quarter," said Centennial coach Bob Fontana. "We had seven turnovers in the first quarter, and we were just 3-of-8 from the free-throw line in the first half. I thought we were playing hesitant–maybe playing scared–at times. I thought the second half was better, but we just came up a little short."
McCullough scored 17 points and grabbed 14 rebounds in the loss. The 6-foot-7 junior made 7-of-9 shots from the field.
"We just went with whatever was there pretty much," McCullough said. "We knew we had a really big size difference, so we were looking for that all game."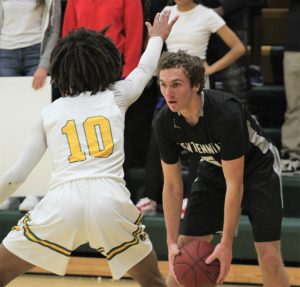 The rest of the Jaguars shot just 32 percent (8-for-25). They went 2-for-11 from behind the arc, but both of their makes came in the late rally.
Preston Kelling hit a long 3-pointer to cut Hoover's lead to 37-34 with 1:40 left. After Manny Austin scored on a drive for the Huskies, Garret Severseike connected on another 3-pointer with 1:07 remaining to pull Centennial within 39-37.
On the ensuing possession, the Jaguars (1-1) forced Hoover into a turnover that led to a tying layup by Severseike with 33 seconds to go. The senior guard finished with eight points off the bench.
"I thought our defense was pretty dang good at times," said Fontana, whose team allowed just 16 points in the second half. "Defensively, we gave ourselves a chance, and we out-rebounded them by eight boards. But we had 16 turnovers and went 7-of-15 at the line, so those were the two telling statistics."
After a timeout with 14 seconds left, Hoover inbounded the ball to Treadwell, who patiently waited for the clock to tick down before making his move. The senior was then mobbed by his teammates after his shot splashed through the net.
"He's a good player," Fontana said of Treadwell. "He had 24 against Urbandale (on Tuesday). We held him to six, but he hit the big shot at the end. Cody did a good job on him most of the night."
The officials put .7 seconds on the clock following Treadwell's basket. Centennial tried to throw a long inbounds pass, but the ball was knocked away as time expired.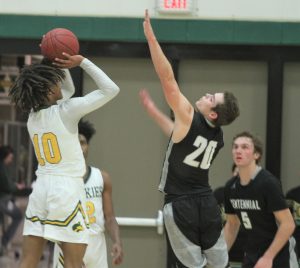 Austin, a sophomore, scored 19 points to lead Hoover (2-0). He had 17 of his points in the first half as the Huskies built a 26-17 advantage.
"We just have to come out better," McCullough said. "We have to come out stronger the next time."
Tyler Rodgers had three steals in the loss. Lathan Brandt dished out four of the Jaguars' 10 assists.
"We did a better job of reversing the ball in the second half, but there were key possessions when we didn't get it reversed," Fontana said. "We either took a quick shot or tried to force it (inside). It's a process, and we just have to continue to work on it."
The Jaguars will host Valley on Tuesday. The Tigers are 1-1 after posting a 63-36 victory over Dowling Catholic on Friday.