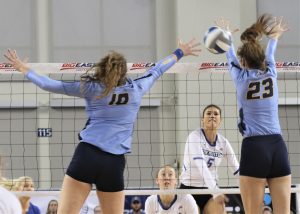 Jaali Winters' record-setting collegiate volleyball career came to a sudden end on Saturday in Omaha.
Ninth-ranked Creighton saw its memorable 2018 season come to a close at D.J. Sokol Arena, falling in straight sets to No. 22 Washington in the second round of the NCAA Tournament. The Huskies won by scores of 25-19, 25-21, 25-23.
Creighton had a chance to extend the match in the third set, building a 23-20 lead. But Washington (20-12) then answered with a 5-0 run to punch its ticket to the Sweet 16, where the Huskies will play the No. 8 national seed, Penn State, on Friday.
"Washington has a really big block, and they definitely made us struggle," said Winters, a former Ankeny Centennial star. "Props to them."
Winters had eight kills and hit just .027 for the match, well below her season averages. Former Ankeny star Megan Ballenger had seven kills and three block assists for the Bluejays, who hit .113 overall.
"Obviously, we're pretty devastated," said Creighton coach Kirsten Bernthal Booth. "Our hitting efficiency really struggled, and I think Washington caused a lot of that. But it doesn't take away what an incredible year these young women have had."
Creighton ends the season at 29-5, tying the program record for most wins in a season. The loss snapped the Bluejays' 21-match winning streak as well as their school-record 15-match home winning streak.
Winters finished with a school-record 1,843 kills and 5,093 career attacks among more than 80 school records. The Big East Conference Player of the Year tied Creighton records for matches started and matches played in a career on Saturday.
Along with fellow senior Taryn Kloth, Winters has also played in more NCAA Tournament sets (44) and matches (11) than any players in program history.
"It's been amazing," Winters said. "This journey we've been on these last four years has been so much fun, just the relationships we've made and just the friendships that I know we'll keep forever. I mean, if the hardest thing we have to do in our whole lives is to lose in the Round of 32, then it's been a really good life. It hurts right now, but we'll get through it. But overall, I couldn't have asked for a better experience.
"It's crazy that it's over–four years goes so fast. But we're all excited for the future," she added.
Winters is planning to graduate this month and will then head overseas in January to play professionally. The Bluejays will also have to replace Kloth, Samantha Bohnet and Kelsey O'Connell.
The quartet helped Creighton win four Big East regular-season titles, four Big East tournaments, and 111 matches over a four-year span while helping the Bluejays to the program's first Sweet 16 (2015) and Elite Eight (2016).
"These girls will be sorely missed for their play and for the people they are," Bernthal Booth said.