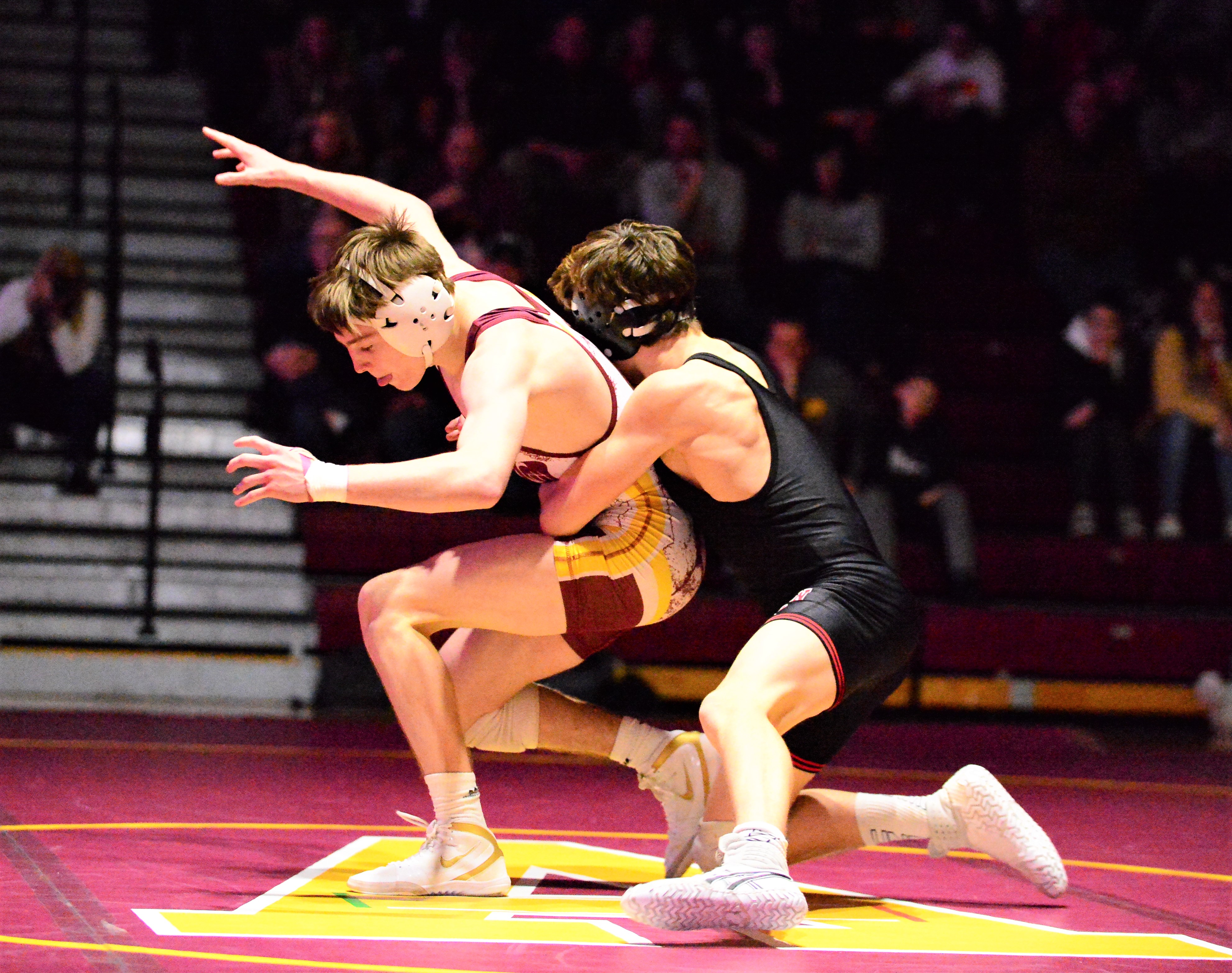 The Ankeny wrestling team competed in one of the toughest tournaments in the Midwest on Friday and Saturday at Independence.
The Hawks placed eighth among 32 teams in the prestigious Cliff Keen Invitational. They finished with 227 points.
Christian Brothers College (Mo.) won the team title with 299 points. Scott West (Minn.) was the runner-up with 271.5.
"We were happy with how we wrestled," said Ankeny coach Jack Wignall. "We had a couple guys that ended up injury defaulting out–nothing serious, just precautionary–but if those guys stay in the tournament and end up winning another match or two, we're probably looking at placing in the top five or six. There were a lot of good teams there, and our kids wrestled really hard."
Ankeny was led by the duo of senior Romello Gray at 285 pounds and sophomore Caleb Rathjen at 126. They both placed second at their respective weights.
The second-ranked Rathjen advanced to the finals before dropping a 6-4 decision to Cael Happel of Lisbon. Happel, a two-time state champion, is ranked No. 1 at 132 in Class 1A.
Both Happel and Rathjen were named last week to the Iowa Eight by The Des Moines Register. It's a list of the eight best wrestlers in Iowa.
"It was a great match," Wignall said. "Caleb gave up an escape with about 12 seconds left in the first period, and it came back to bite him. I feel bad for him. He's lost four big matches in the last year, and this was his fourth one. He's getting frustrated."
Rathjen almost got a takedown at the end of the third period that would have sent the match into overtime.
"Caleb had a great shot," Wignall said. "It couldn't have been any closer to being a takedown, but it was just too late."
The seventh-ranked Gray, meanwhile, also lost to a nationally-ranked wrestler in the finals. Spencer Trenary of Clarion-Goldfield-Dows, who is ranked No. 1 in Class 2A and is also a member of the Iowa Eight, recorded a fall in 28 seconds.
Still, it was a great tournament for Gray, who rebounded after losing by a technical fall to fourth-ranked Troy Monahan of Mason City in a season-opening dual meet on Thursday.
"For Romello to wrestle that kind of a tournament and get into the finals was incredible," Wignall said. "He didn't wrestle any different in the finals. (Trenary) is just really good."
Ankeny freshman Trever Anderson took third at 106. He dominated Cade Siebrecht of Lisbon in the third-place match, posting a 17-2 technical fall in a matchup of eighth-ranked wrestlers.
Anderson dropped an 8-4 decision in the semifinals to Carter Fousek of Crestwood, who is ranked third in Class 2A.
"Trever has wrestled (Fousek) many times and just has never gotten over the hump to beat him," Wignall said. "But he will."
Ankeny led the tournament with 41.5 points after the second round. The Hawks went on to earn seven top-10 finishes.
Fifth-ranked Derek Anderson placed seventh at 138, while ninth-ranked Cole Rathjen took eighth at 195. Sam Kallem placed ninth at 132, and Cael Cox finished 10th at 113.
Ankeny will travel to Des Moines Lincoln for a double dual meet on Thursday, beginning at 6:30 p.m. The Hawks will face the host Railsplitters and Southeast Polk, the No. 1 team in Class 3A.