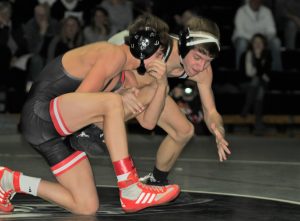 Ben Monroe is making a habit of winning an individual title at the Dallas Center-Grimes Invitational.
The Ankeny Centennial wrestlers are doing likewise in the team race.
Monroe captured his third consecutive crown on Saturday at the Dallas Center-Grimes tournament, four of his teammates also captured titles, and the ninth-ranked Jaguars easily defended their team championship. They racked up 234 points to finish 63.5 points ahead of the host Mustangs in the 14-team event.
"Overall, we wrestled pretty well," said Centennial coach Jay Groth. "We still have a few things to work on, but it's early so we'll keep plugging away and working hard to get better."
Monroe, who is ranked No. 1 at 132 pounds in Class 3A, posted a 15-6 victory over Urbandale's Cal Baethke in the title match at 138. He previously won crowns at 126 last year and at 106 as a freshman.
"Ben just dominated–his closest match was a major decision in the finals," Groth said. "He's going to drop down (to 132) eventually, but there's no rush. It's a long season, and he's working his way down there."
Centennial's other champions were Jackson Bresson at 113, 10th-ranked Eric Owens at 145, second-ranked Logan Neils at 170 and Lane Pruisner at 285. Bresson pinned Kieran Shawhan of Dallas Center-Grimes in 4 minutes 15 seconds to claim his first varsity crown.
"Bresson had a really good week for us," Groth said. "He got tech falled by the No. 2 kid in the nation (Drake Ayala of Fort Dodge) on Thursday, but that helped us to win the dual meet. If he had gotten pinned, we would have tied and then lost the meet on criteria."
Owens got a last-second takedown to post a 4-2 victory over Colby Tool of Prairie City-Monroe, who is ranked third in Class 2A. Neils posted a 3-2 decision over Jarron Trausch of Prairie City-Monroe, who is ranked fourth in Class 2A.
Both Tool and Trausch are returning state placewinners.
"Those were two big wins for Eric and Logan," Groth said.
Pruisner earned his title with a 3-2 decision over Taylor Schwartzman of Des Moines East. On Thursday, he got a takedown in the final second of the last match to seal the Jaguars' 33-32 victory over No. 4 Fort Dodge, the defending state champion.
Centennial got runner-up finishes from Jackson Helmkamp at 106 and Ethan Frazier at 195. They both lost in the finals to rated opponents from Webster City.
Placing third for the Jaguars were eighth-ranked Noah Blubaugh at 120 and sixth-ranked Nic Leo at 182.
"I thought Leo should have been in the finals, too, but he was seeded third and had to wrestle the eventual champion in the semifinals," Groth said. "But I can't complain too much. Twelve of our 14 guys were placewinners, so it was a good day."
The Jaguars will travel to Ottumwa on Thursday for a dual meet against the Bulldogs before hosting the Centennial Duals on Saturday.