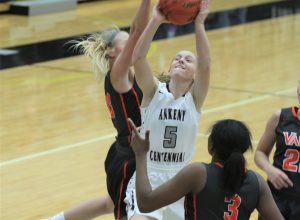 At times on Tuesday, the Ankeny Centennial girls' basketball team forced Valley star Zoe Young into a turnover or a missed shot.
Whenever the Jaguars threatened to take the lead, however, the Maryland recruit came up with a huge play for the fourth-ranked Tigers.
Young scored 19 of her 29 points in the second half to lead Valley to a 63-50 victory at No. 10 Centennial. The senior guard went 11-of-20 from the field, grabbed six rebounds and dished out four assists.
"She's certainly an improved version from last year," Centennial coach Scott DeJong said of Young.
Alex Honnold had a double-double with 20 points and 10 rebounds as the Tigers raised their record to 5-0. Centennial dropped to 3-2.
Alexandria Keahna-Harris, Taylor Runchey, Kenna Sauer and Rachel Schon each had eight points to lead the Jaguars. Both Sauer and Schon fouled out in the fourth quarter.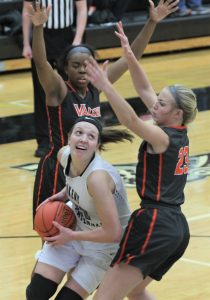 "I thought Kenna's defense on (Young) was a really good matchup," DeJong said. "Unfortunately, she couldn't play that much."
Valley took the lead for good, 29-27, on a pair of free throws by Shea Fuller with 6 minutes 11 seconds left in the third quarter. Centennial closed the gap to 36-35 midway through the period before Young answered with a 3-point goal, one of her four in the game.
The Jaguars later pulled to within 46-44 after three quarters, but Young then opened the final period with a traditional 3-point play. She then converted a Centennial turnover into a layup to give Valley a 51-46 lead with 5:40 remaining.
"We could have beat them, but we have to do everything so much better," DeJong said. "The turnovers were certainly the story of the game."
It also didn't help that Sauer fouled out in the opening minute of the fourth quarter. Schon then departed with her fifth foul with 4:40 to go.
"We had the advantage inside but it was hard with them sitting out, but that's part of (the game)," DeJong said. "We have to not foul like that."
Cleao Murray had seven points for Centennial. Jackie Pippett added six points off the bench, but it wasn't enough.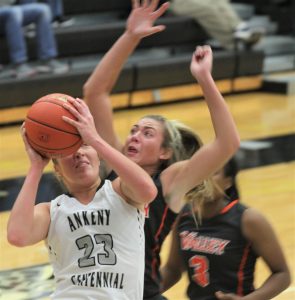 "Jackie came in and did a good job," DeJong said. "I liked a lot of the things we did."
Meg Burns saw some limited action for the Jaguars after sitting out Friday's game at Des Moines Hoover with a lingering foot injury. She went 1-of-4 from 3-point range.
The Tigers defeated Centennial in a regional final last year on the same court. In that game, Valley outscored the Jaguars in the fourth quarter, 25-14, to pull away for a 58-44 victory.
On Tuesday, the Tigers outscored Centennial in the final period, 17-6.
"We can play with anybody, but our margin of error is slim," DeJong said. "We just have to keep building our team up."
The Jaguars will play at crosstown rival Ankeny (4-1) on Friday. It's the CIML Central Conference opener for both teams.