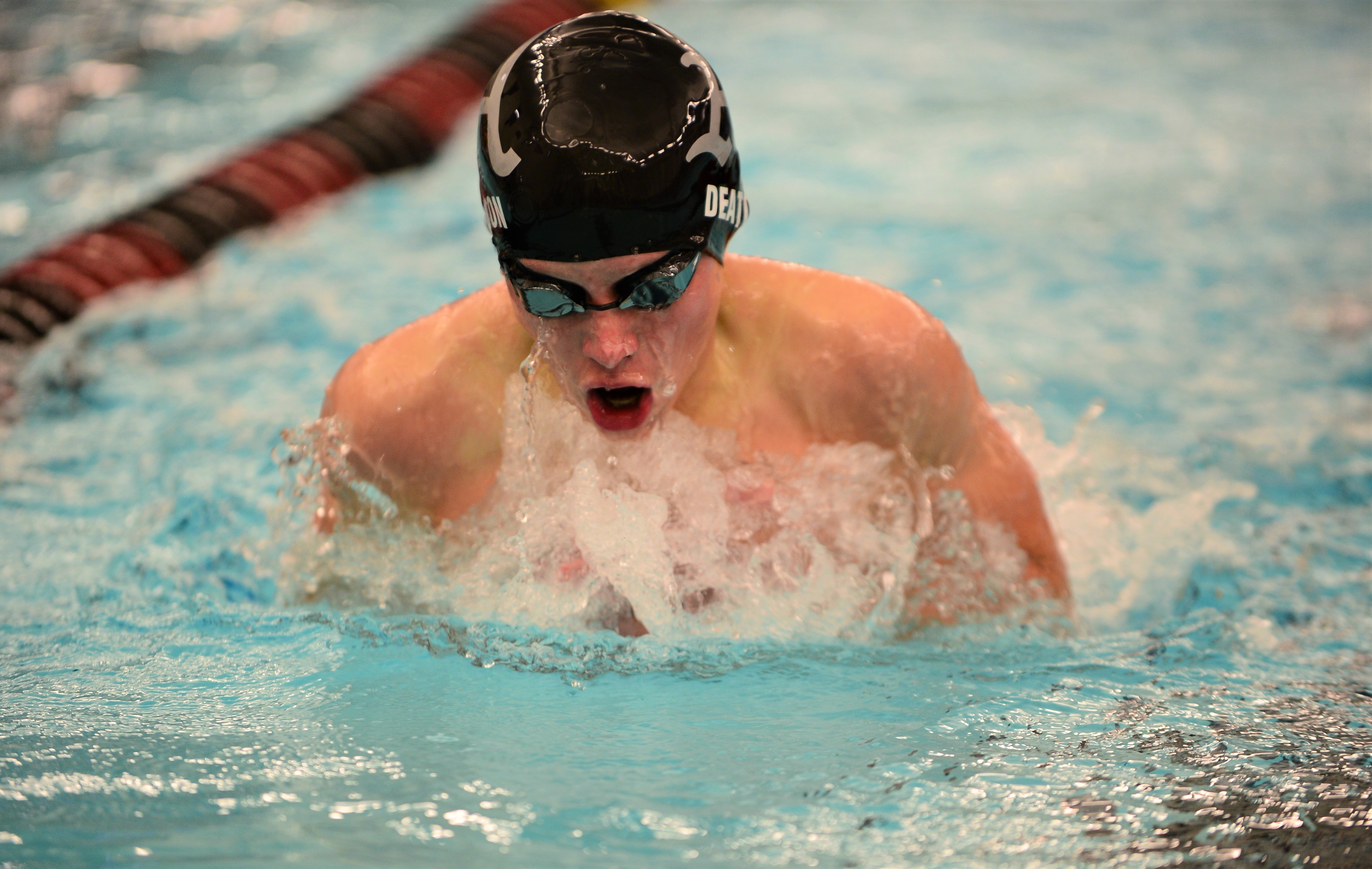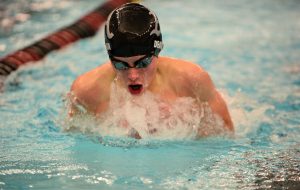 There wasn't any margin for error during Thursday's dual meet between the Ankeny and Dowling Catholic boys' swimming teams.
The fifth-ranked Maroons and the No. 6 Hawks battled to an 85-85 tie in the CIML Central Conference opener for both teams at Dowling. It was Ankeny's first dual-meet tie since Jan. 21, 2014, when the Hawks finished in an 85-85 tie with Waukee.
"It was an extremely close meet," said Ankeny coach Justin Crouch. "Give Dowling credit–they battled. No one led the meet by more than a couple of points either way. I liked the intensity and effort we swam with. I also liked the encouragement I saw throughout the meet."
Every point was crucial. Perhaps no race was more important than the 100 backstroke, which saw Ankeny's Weston Miner out-touch Dowling's Zach Rinke for the victory. Miner posted a time of 56.80 seconds, while Rinke was clocked in 56.81.
The Hawks won six of the 11 events, including two of the three relays. Dowling won the opening race, the 200 medley relay, after the start of the meet was delayed by 30 minutes due to technical problems.
"I felt like we came out flat in the medley," Crouch said. "I wasn't expecting to swim extremely well, but in some areas we swam better than I thought we would. I feel like our second and third varsity swimmers swam really well, and that kept us in the meet."
Ankeny's Jae Swanepoel won the 200 freestyle with a time of 1:52.46. Mason Keinroth took the 200 individual medley in 2:03.44, and Max Martin captured the 50 freestyle in 22.46.
Adam Vaske was second in the 50 freestyle behind Martin, turning in a time of 22.60. He also took second in the 100 freestyle in 49.21, while Martin finished third in 49.84.
Miner added a second-place finish in the 100 butterfly in 56.24. Anders Peterson took third in the same event in 57.18.
Keinroth was the runner-up in the 100 breaststroke. He was clocked in 1:02.83.
Josh Deaton placed third in the 500 freestyle. He posted a time of 5:29.82.
"Guys who really stepped up were Anders, Payton (Griffin), Josh and Devin (Thornton)," Crouch said. "They all had huge races in which they got a higher place than I was expecting. In duals it isn't always about the time but the placing to score points. Those extra points were huge."
Ankeny won the 200 freestyle relay with a time of 1:31.64. That team consisted of Martin, Vaske, Swanepoel and Noah Odson.
The Hawks later ended the meet with a victory in the 400 freestyle relay, allowing them to secure the tie. The foursome of Vaske, Swanepoel, Miner and Keinroth was clocked in 3:21.45.
"We will continue to work as we have a daunting week next week with three meets," Crouch said. "It will be important to manage practice, meets, rest and school. I'm excited for the meet in Iowa City (on Dec. 15) because we'll see a lot of great competition there."