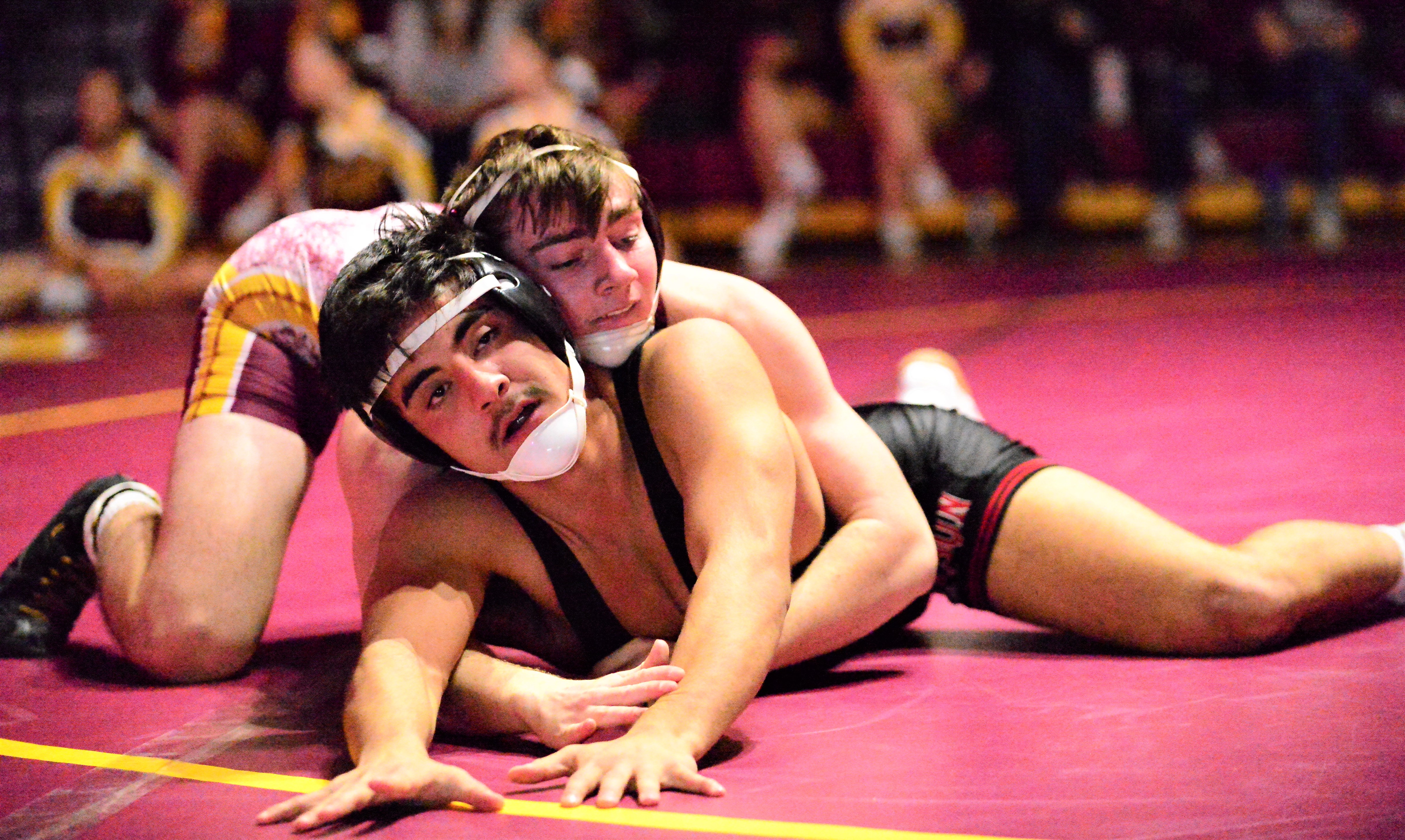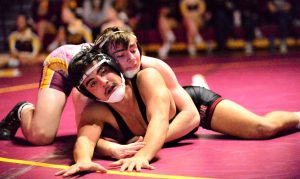 The Ankeny wrestling team bounced back from a loss to Southeast Polk with a victory over host Des Moines Lincoln in a double dual meet on Thursday.
The Hawks dropped a 54-14 decision to Southeast Polk, the No. 1 team in Class 3A. They then posted a 47-26 win over Lincoln to improve their record to 2-1 on the season.
"Southeast Polk is good, but it was kind of a frustrating night," said Ankeny coach Jack Wignall. "We were flat, and we have been all week. It was not our best performance for sure."
Ankeny wrestled without senior Derek Anderson, who is ranked fifth at 138 pounds. He had surgery on Thursday to repair a broken thumb that he suffered during the Cliff Keen Invitational on Saturday at Independence.
"I don't want to make excuses, but Derek was a leader for us and to have him get hurt like he did, I think it just took the wind out of our kids' sails," Wignall said. "That was a really big blow, but we're hoping it's not a season-ending injury. We'll just have to wait six weeks and then see where we're at."
Ankeny won three matches against Southeast Polk, including a fall by seventh-ranked Romello Gray at 285. Eighth-ranked Trever Anderson recorded a technical fall at 106, while second-ranked Caleb Rathjen won by a major decision at 126.
That trio also provided three of the Hawks' nine victories against Lincoln. Gray and Rathjen each had a fall, while Anderson won by forfeit.
Sam Kallem posted a major decision at 132 after being pinned by Southeast Polk's eighth-ranked Camden Baarda in 55 seconds.
"Kallem had a good match against Baarda," Wignall said. "It didn't look like a pin to us, but they called it a fall. I think he could have wrestled well, and he came back later and beat a good kid from Lincoln."
Ankeny's Mason Thomas lost a pair of one-point decisions at 220.
"He really scrapped hard, but just came up a little bit short," Wignall said. "We'll just chalk it up to one of those nights."
The Hawks will compete in the Valley Invitational on Saturday at Johnston. Rathjen and Valley's top-ranked Nick Oldham could meet for the first time since last year's Class 3A championship match at 113, which was won by Oldham, 10-8.
Here are Thursday's match-by-match results:
S.E. Polk 54, Ankeny 14
138: Marchand beat Carl, 13-4; 145: Strickland pinned Lansing, 1:32; 152: L. Runyon pinned Bales, 1:10; 160: DeVos pinned Goldner, 1:32; 170: Montgomery pinned Watson, 1:35; 182: Brindley beat Scherle, 11-2; 195: Christenson won by technical fall over Co. Rathjen, 22-7; 220: K. Runyon beat Thomas, 8-7; 285: Gray (A) pinned Brown, 4:23; 106: T. Anderson (A) won by technical fall over K. Anderson, 17-1; 113: Harmison beat Cox, 7-0; 120: Jesuroga won by technical fall over Coulthard, 18-1; 126: Ca. Rathjen (A) beat Martinson, 13-3; 132: Baarda pinned Kallem, :55.
Ankeny 47, D.M. Lincoln 26
145: Harris Jr. (L) pinned Reichenbacker, :36; 152: Tofanelli (L) pinned Bales, 2:36; 160: Goldner (A) beat Julius, 6-4 (OT); 170: Griffith (L) pinned Watson, 5:13; 182: Scherle (A) pinned Lahvic, 5:01; 195: Co. Rathjen (A) pinned Gomez-Buentello, 4:43; 220: Tullay (L) beat Thomas, 5-4; 285: Gray (A) pinned Hawkins, :35; 106: T. Anderson (A) won by forfeit; 113: Cox (A) pinned Bell, 5:16; 120: Kahoe (L) pinned Coulthard, :45; 126: Ca. Rathjen (A) pinned Albright, 1:30; 132: Kallem (A) beat Blawou, 11-3; 138: Carl (A) pinned Alvarado, 4:51.