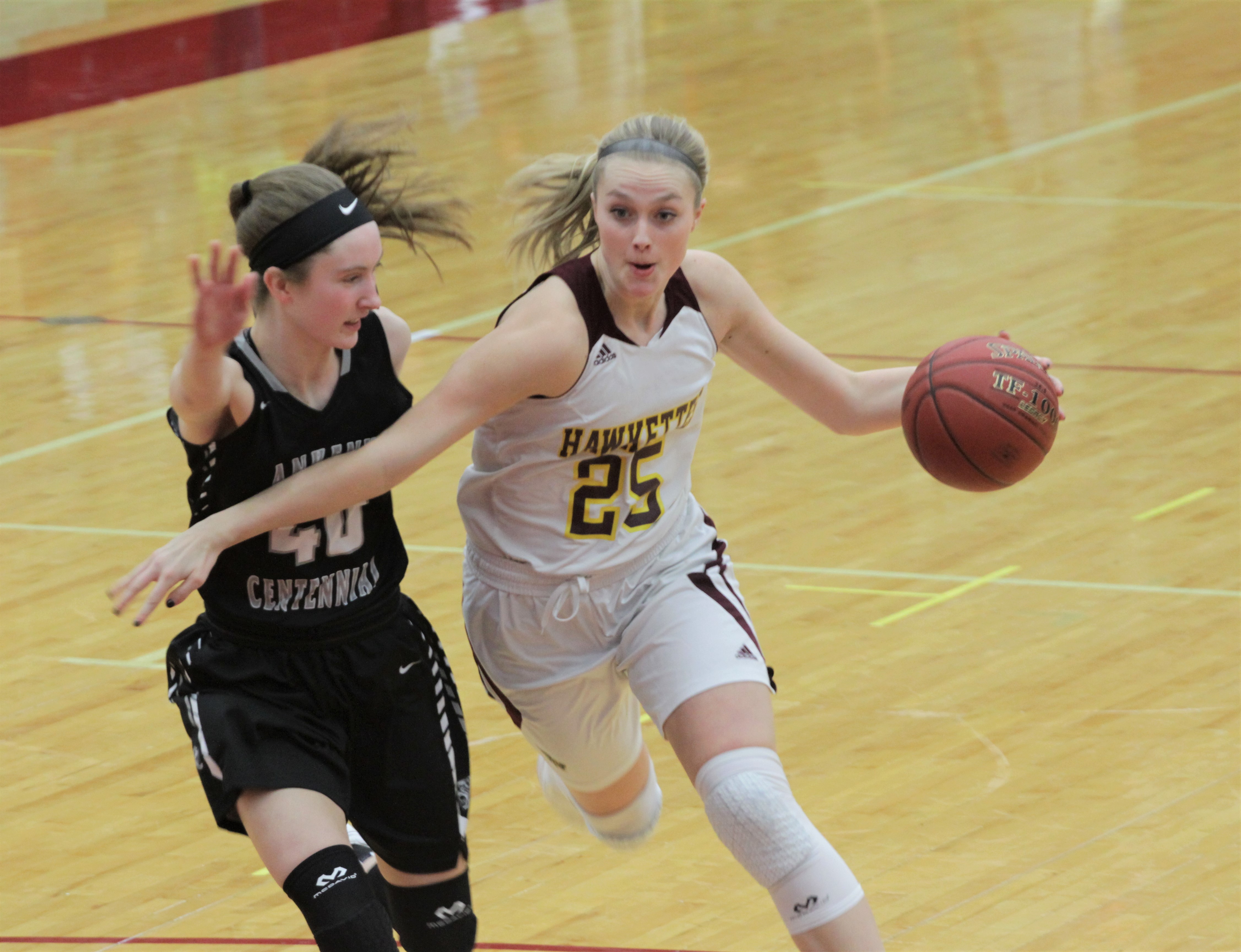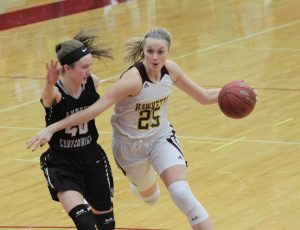 Here are some of the key things to look for during Friday's Jag-Hawk basketball doubleheader at Ankeny:
Girls' game: No. 10 Centennial (3-2) vs. No. 13 Ankeny (4-1)
The Hawkettes are riding a three-game winning streak during which they have outscored their opponents by an average of 37 points. The Jaguars, meanwhile, are coming off a 63-50 loss on Tuesday to Valley, the new No. 1 team in Class 5A.
Ankeny is still seeking its first win ever against Centennial. Five of the last six meetings have been decided by double digits. The lone exception came in last year's game at Ankeny, where Sydney Wycoff scored on a driving layup as time expired to give the Jaguars a 43-41 victory.
This might be the Hawkettes' best chance to end their losing streak in the crosstown rivalry. They will have the best player on the floor in senior forward Sara McCullough, the Northern Iowa recruit who is coming off a 21-point, 17-rebound performance in a win over Des Moines Lincoln on Tuesday. She is averaging 15.8 points and 10.4 rebounds per game.
Ankeny has also gotten strong play from sophomore forward Abby Johnson, the team's second-leading scorer (11.8 ppg). Junior guard Ashley Harrington has provided a spark off the bench (7.8 ppg).
Centennial has relied heavily on the inside trio of Rachel Schon (12.0 ppg), Alexandria Keahna-Harris (10.8 ppg) and Kenna Sauer (9.2 ppg). The Jaguars have not been at full strength, though, as junior guard Meg Burns continues to battle a lingering foot injury.
After averaging 10.3 points in the first three games, Burns sat out the Jaguars' victory at Des Moines Hoover on Nov. 30. She then returned to the court on Tuesday, but saw only limited action and had three points in the loss to Valley.
Will Burns be able to play in the CIML Central Conference opener? And if she does, will she be effective?
Centennial coach Scott DeJong knows that he needs a healthy Burns in order for the Jaguars to reach their potential. Friday's game is important for both teams, but there will be bigger games later in the season. If Burns doesn't play on Friday, it's probably because DeJong is looking at the big picture.
Because of his team's upcoming schedule, Ankeny coach Dru McAnelly may approach the contest with more urgency. The Hawkettes will hit the road for their next five games, traveling to No. 8 Southeast Polk on Tuesday before facing four consecutive Central Conference opponents.
The key for Ankeny will be solving the Jaguars' pressure defense. The Hawkettes have been held to fewer than 30 points in three of the last four meetings against Centennial, but they'll probably need to score at least 40 and possibly 50 points in order to win.
For the Jaguars, it will be crucial to defend McCullough without getting into foul trouble. Both Sauer and Schon fouled out in the fourth quarter of Tuesday's loss to Valley, helping the Tigers to pull away.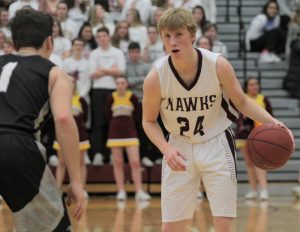 Boys' game: Centennial (1-2) vs. No. 5 Ankeny (3-0)
The undefeated Hawks are flying high after winning their first three games, including a victory over then-No. 2 Des Moines North on Nov. 27. Centennial, meanwhile, is coming off back-to-back losses to two highly-regarded foes, Des Moines Hoover and Valley.
Ankeny might be the favorite, but the road team has dominated this series in recent seasons, winning the last five meetings. Last year, the Jaguars scored the final four points to post a 55-52 victory at Ankeny before the Hawks won the rematch at Centennial, 56-52, despite a 32-point outburst by Hunter Strait, who is now playing for Truman State.
Ankeny boasts one of the quickest teams in the state, often playing as many as four guards at the same time. Junior Jaxon Smith leads the Hawks' balanced attack with an average of 15.7 points per game.
Centennial will try to offset Ankeny's speed with its height advantage, fielding a lineup that includes a pair of 6-foot-7 juniors, Cody McCullough and Micah Johnson. McCullough is averaging a double-double for the Jaguars (16.7 ppg, 11.7 rpg).
Can the Hawks force Centennial into a fast-paced game? They would prefer to get out in transition and score before the Jaguars have an opportunity to set up their half-court defense.
Can the Jaguars slow the pace and force Ankeny into a half-court game? They would like to be patient on offense and pound the ball inside to Johnson and McCullough, letting the duo take advantage of their superior size in the paint.
This will be the first rivalry game for Ankeny guard Braxton Bayless, who sat out last season after transferring from Valley. The junior proved in the season opener, though, that he's ready for the bright lights, pouring in 25 points during the matchup against North and all-state guard Tyreke Locure.
These two teams clearly have different strengths, and the one that can control the pace will likely gain the upper hand. The addition of Bayless could tilt the odds in the Hawks' favor.