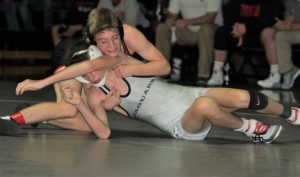 The Ankeny Centennial wrestlers spent more time on the bus Thursday than they did on the wrestling mat.
The Jaguars traveled to Ottumwa for a dual meet against the Bulldogs, and they quickly rolled to a 60-18 victory, racking up nine falls along the way. Four of the pins came in the first period, including three that took less than a minute.
"It wasn't a bad night," said Centennial coach Jay Groth, whose team improved to 2-0 on the season. "We won 11 of the 14 matches, and that's pretty good."
The Jaguars got pins from Jackson Helmkamp at 106 pounds, Jackson Bresson at 113, eighth-ranked Noah Blubaugh at 126, top-ranked Ben Monroe at 138, 10th-ranked Eric Owens at 145, second-ranked Logan Neils at 170, sixth-ranked Nic Leo at 182, Ethan Frazier at 195, and Jackie Wells at 220.
Leo pinned Dylan Skinner in 5 minutes 10 seconds.
"Nic looked really good," Groth said. "He did a lot of good things on his feet and ended up pinning the kid in the third period. He had a great night."
Helmkamp needed just 33 seconds to flatten Chris Luedtke.
"Helmkamp pinned his kid pretty quickly," Groth said. "He's still in the process of managing his weight, but he's looking good for us. He's really aggressive for a freshman, which is awesome."
The Jaguars will host the Centennial Duals on Saturday. They posted a 39-29 victory over Dubuque Hempstead in last year's championship match.
"It's come down to us and Hempstead three of the last four years," Groth said. "It's always been a battle. We came out on top last year, but they're coming back."
Prairie City-Monroe, the No. 1 team in Class 2A, will also be in the field.
"We're looking forward to it," Groth said.
Here are Thursday's match-by-match results:
Centennial 60, Ottumwa 18
106: Helmkamp pinned Luedtke, :33: 113: Bresson pinned Goodwin, 5:14; 120: Grace (O) pinned Janssen, 1:07; 126: Blubaugh pinned Shoemaker, 4:13; 132: Cuppy beat Howard, 6-3; 138: Monroe pinned Jones, :39; 145: Owens pinned Vass, 4:55; 152: Summers (O) pinned Stewart, 2:49; 160: Nehring beat Johnston, 4-2; 170: Neils pinned Messerli, :12; 182: Leo pinned Skinner, 5:10; 195: Frazier pinned Cordova, 3:35; 220: Wells pinned Slack, 1:16; 285: Brownlee (O) pinned Pruisner, :54.