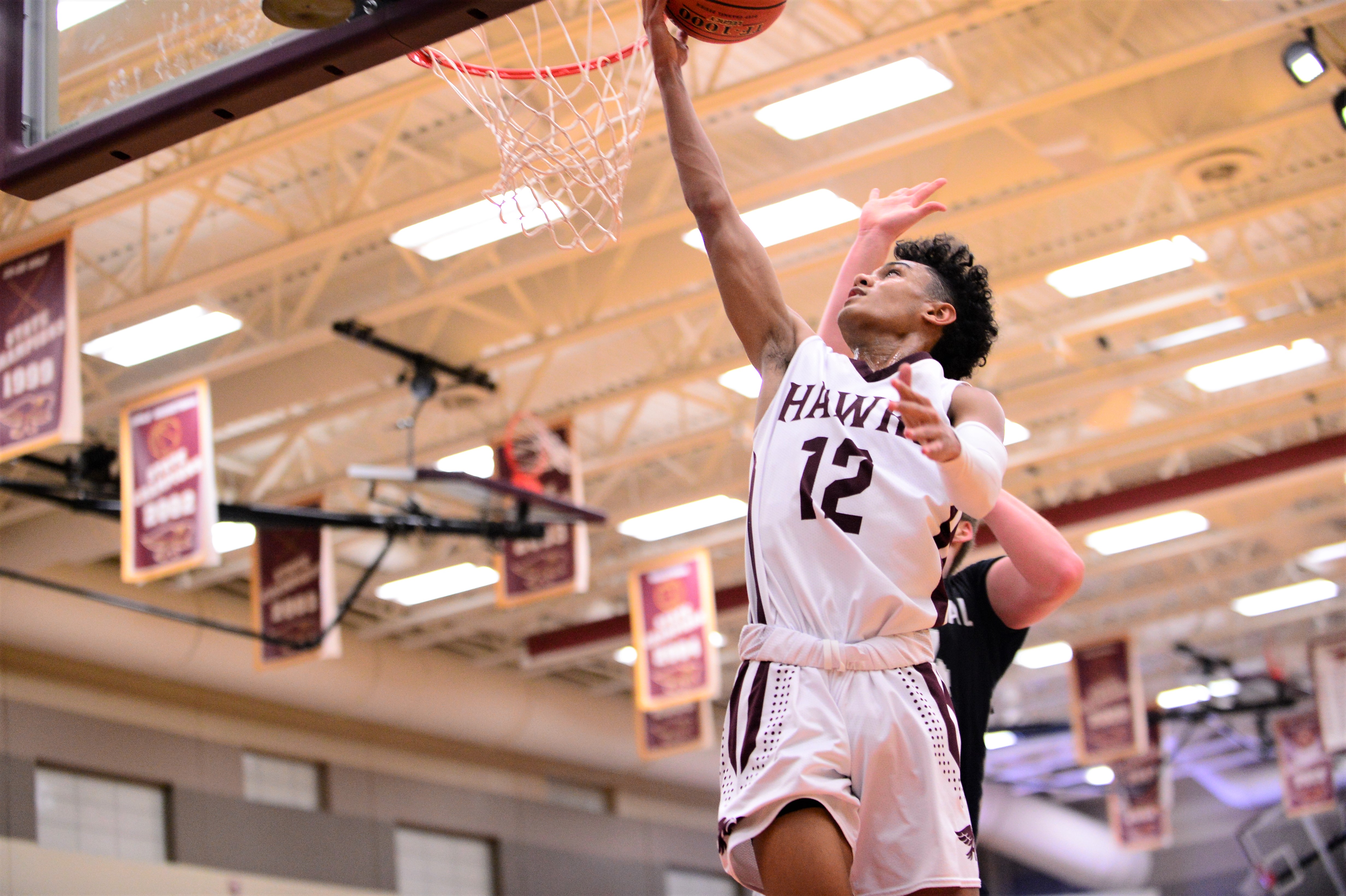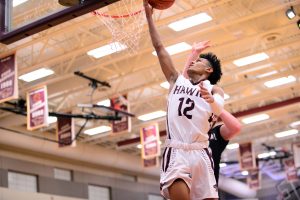 When the Ankeny boys' basketball team is clicking on all cylinders, the Hawks are clearly one of the state's best teams.
They proved that on Friday against crosstown rival Ankeny Centennial, jumping out to a 28-4 lead during the first half of the CIML Central Conference opener at Ankeny.
But coach Brandt Carlson's team also showed that it still has some work to do. The Hawks nearly let their lead slip away before holding on for a 58-50 victory.
"We're always happy with the win," Carlson said. "We knew it was going to be tough. Their post players are so good, and Bob (Fontana) does such a good job coaching (the Jaguars) and getting them ready to play. We knew we couldn't shoot any better than we did in the first half, so we were going to have to grind it (out) a little bit."
Jordan Kumm scored 13 points as Ankeny raised its record to 4-0 on the season. The Hawks, who are ranked fifth in Class 4A by Prep Hoops Iowa, also got 12 points from Jaxon Smith and 10 apiece from Braxton Bayless and Dillon Carlson, who also had seven rebounds and five assists.
Ankeny made five 3-point goals in the first 10 minutes of the game, two of them by Kumm.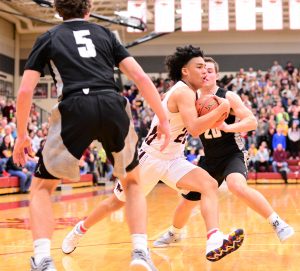 "I'm not surprised," said Kumm, who also had four steals. "We have all scorers on our team, and we know that. A bunch of us had (at least) 10 points in that game."
The early onslaught was too much for Centennial (1-3) to overcome, even though the Jaguars staged a furious rally. They suffered their third consecutive loss.
"We just did a really poor job of getting into our half-court offense in the first quarter, and it just snowballed into some defensive breakdowns on the other end," Fontana said. "I thought we had some poor close-outs at the beginning of the game."
Centennial got another huge game from junior Cody McCullough. He scored a career-high 24 points and grabbed 13 rebounds to record his fourth straight double-double.
McCullough went 10-for-10 from the field, but it wasn't enough to offset his teammates' shooting woes. The Centennial guards were a combined 2-for-26, and the Jaguars went 0-for-18 from behind the arc.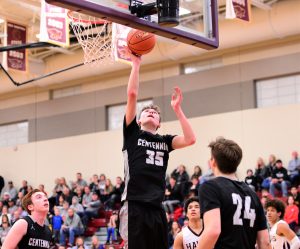 "We just can't put ourselves in that deep of a hole," McCullough said. "We started off in zone and that wasn't working, so we had to go to man and they had a lot of quicker guys so we had to adjust and do whatever we could to not let them score."
McCullough had three consecutive baskets in the second quarter to ignite Centennial's rally. The Jaguars pulled to within 33-15 at halftime, then went on a 15-5 run to end the third quarter to close the gap to 49-38.
Centennial also got a spark from junior guard Keaton Gray, who contributed two points, three assists and two steals off the bench. With .4 seconds left in the third quarter, Gray–the backup quarterback on the football team–fired a long inbounds pass that deflected off the backboard and into the hands of Micah Johnson, who quickly laid the ball into the basket before the buzzer sounded.
Johnson finished with seven points and eight rebounds.
"I told our guys, 'You showed a lot of pride and a lot of guts in battling back,'" Fontana said. "That's what we were looking for–guys who wanted to play with a lot of energy. Keaton's an energy guy, and I might have to start using him more."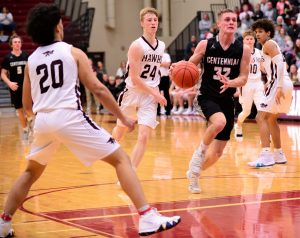 The Jaguars eventually pulled to within 52-48 on a basket by Johnson with 1:42 left. But Bayless drove for a layup 20 seconds later, and the Hawks were able to hang on.
Kumm sealed the victory with another layup in the final minute.
"The only thing going through my mind was to keep moving forward–it's just buckets," Kumm said. "Coach called timeout and he said, 'Who wants this more?' and we all agreed that we wanted it more so we just kept pushing through. And then Braxton got a good layup, and that's what started us on that next run."
The two teams will meet again on Jan. 11 at Centennial. The Jaguars vowed to be ready for the rematch.
"I liked what I saw in the second half," McCullough said. "If we can put that together for a full game, I think we're looking really good for the rest of the season."