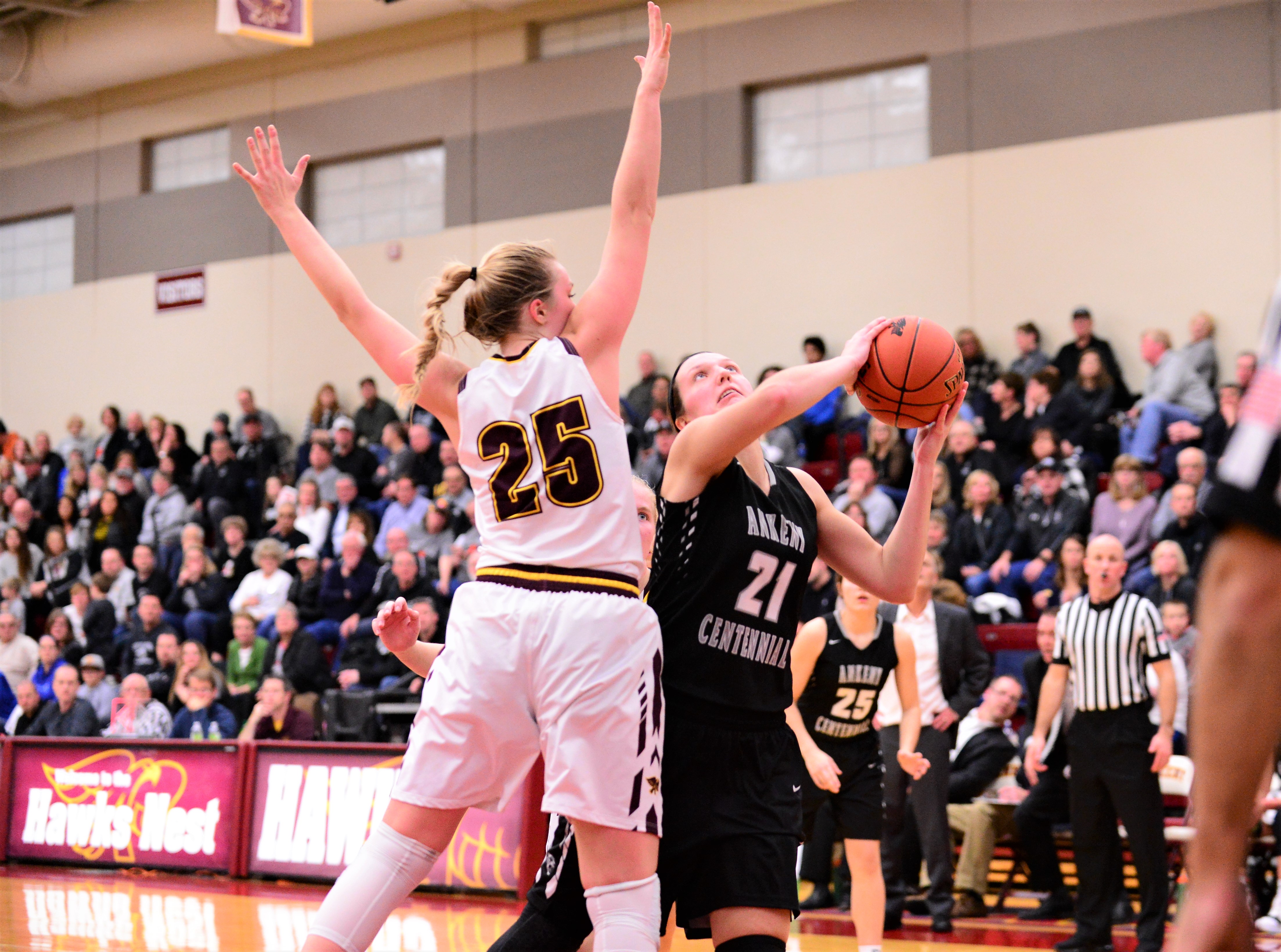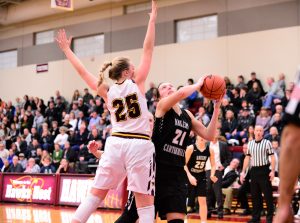 Ankeny Centennial's Rachel Schon has yet to lose a game to Ankeny during her high school basketball career.
She'd like to keep it that way.
Schon scored 16 of her 18 points in the second half as the 10th-ranked Jaguars pulled away on Friday for a 49-27 victory at No. 13 Ankeny. The Jaguars improved to 11-0 all-time in the series.
"It's so fun getting a win just because they're the crosstown rivals. It's super exciting," said Schon, a senior post player. "I'm friends with some of the girls on the team, so it is for bragging rights."
The Jaguars (4-2) turned in another stifling defensive performance in the CIML Central Conference opener for both teams. They held Ankeny (4-2) to fewer than 30 points for the fourth time in the last five meetings.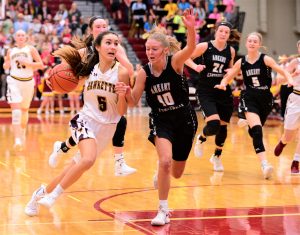 "They're a tough matchup for us from a size and physicality and length standpoint," said Ankeny coach Dru McAnelly. "I thought we battled pretty well defensively. They got some (offensive) boards, but we rebounded pretty solid. Our issue was on the offensive end. And as their defense cranked up then they got their offense going. But we let that happen because of our poor execution on offense."
Meg Burns scored 11 points for the Jaguars and helped hold Ankeny star Sara McCullough to just six points, about 10 below her average. McCullough has scored 6.6 points per game in five career meetings against Centennial.
"I was just trying to take away her drive and take away the 3-pointer because I know she's a really great shooter and she can knock down those open shots," Burns said. "My main goal was just to keep her from driving and keep her in front of me and not give her any open looks."
Ankeny got off to a fast start on its home court, jumping out to an early 7-0 lead. Abby Johnson opened the game with a 3-pointer, then Kayla Pitz followed with a pair of baskets.
Pitz led the Hawkettes with nine points.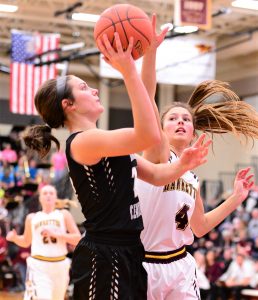 "The girls came out ready to play and we executed well, and we made a couple of shots," McAnelly said.
Centennial coach Scott DeJong was forced to call a timeout to settle his players down. When play resumed, freshman Cleao Murray made a 3-pointer to ignite a 17-3 run that put the Jaguars ahead for good.
"They came out on fire and they looked in rhythm, confident and smooth," DeJong said of the Hawkettes. "But then Murray hit a 3 and that stopped their run, and it kind of got us going. Then I thought we locked down on defense the rest of the game."
Murray later scored off a rebound to give Centennial a 19-15 lead at halftime. The Hawkettes were still within striking distance at the break, but things quickly unraveled for them in the second half.
"We were feeling pretty good at halftime," McAnelly said. "Defensively, for the most part, I was pretty pleased. Offensively, we just let their pressure and their physicality get the best of us. We started playing a little timid, and kind of became robots instead of being basketball players. Hopefully, we can learn and grow from this and move forward. It's Game 6, so the big picture is still wide open. A lot of goals left to be accomplished. The season is definitely far from over."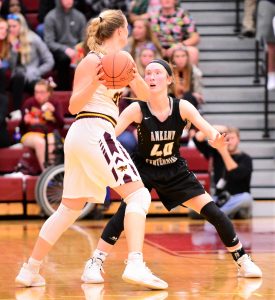 Schon opened the second half with a 3-pointer. She had eight more points in the third quarter as Centennial extended its lead to 33-24 after three periods.
The Jaguars then outscored Ankeny, 16-3, in the fourth quarter. Alexandria Keahna-Harris had seven of her nine points in the period, including a 3-pointer.
"We were really pounding the boards," DeJong said. "I think we had 10 offensive rebounds the first half, and Rachel was huge on the boards, and so was Kenna (Sauer) and so was Alex. And then we went inside and out, and I just thought we really grinded it out."
After its early run, Ankeny was held to just 20 points over the final 29 1/2 minutes.
"I think we just looked at each other and said, 'Hey, it's go time. Let's execute what we practiced,' and then we went out and did it," Schon said. "I'm really proud of us for coming back like that."