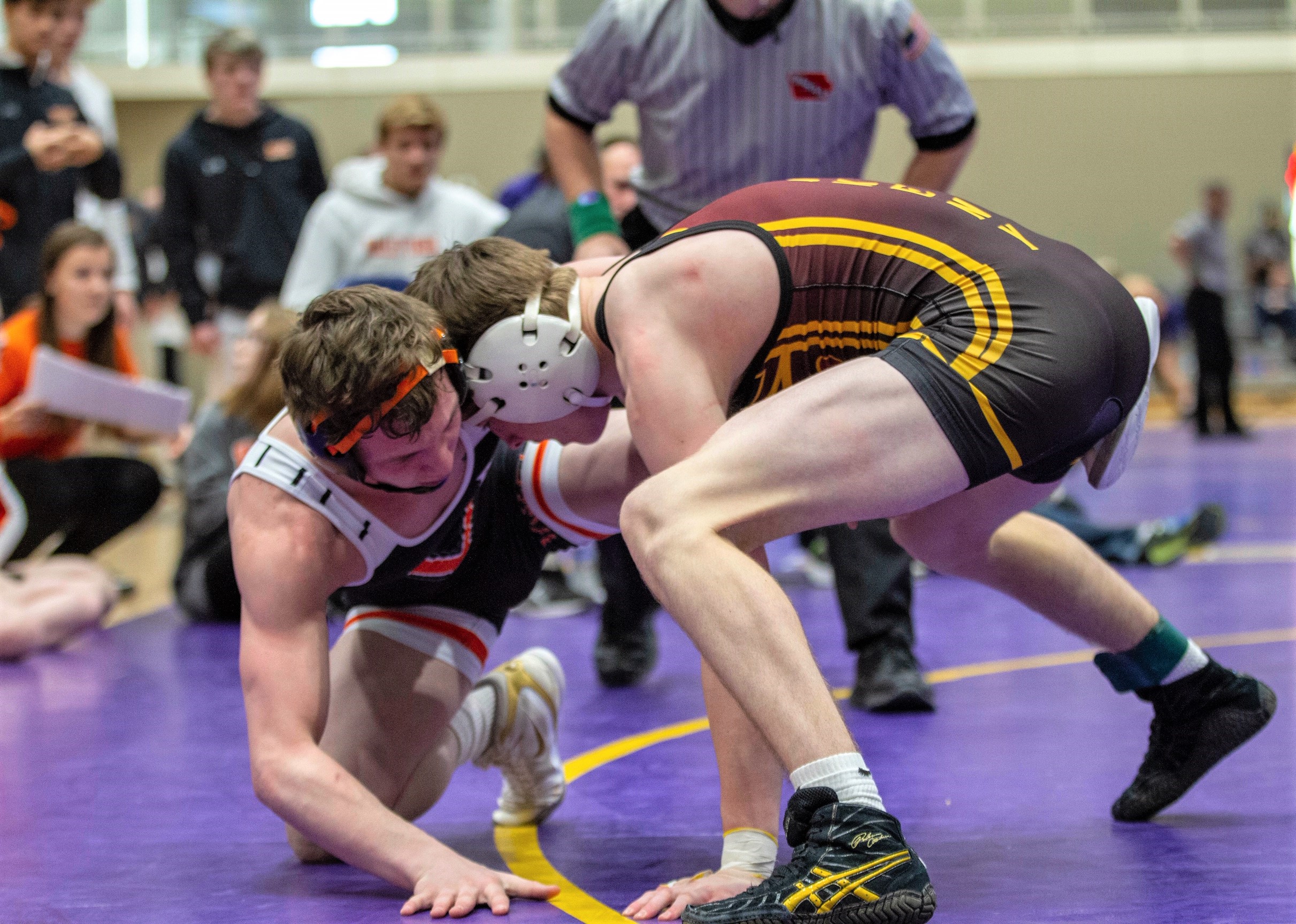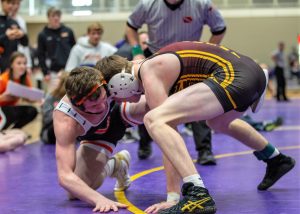 Caleb Rathjen wasn't completely healthy the last time he wrestled Valley's Nick Oldham.
On Saturday, the Ankeny sophomore showed what he could do when he's 100 percent.
The second-ranked Rathjen posted a 3-1 decision over the top-ranked Oldham in the 126-pound championship match at the Johnston/Valley Invitational. He avenged a 10-8 loss to Oldham in last year's Class 3A title match at 113.
"You know, last year I was coming off an injury and probably wasn't wrestling 100 percent," Rathjen said. "But I've had plenty of time to heal now and feeling really good. I just stuck to my attacks and stayed on my offense and didn't let him breathe."
Rathjen got the only takedown of the match late in the first period. He escaped in the second period to build a 3-0 lead and then held off Oldham, who escaped in the third period but was unable to get a tying takedown.
Rathjen, who was coming off a loss to Lisbon's Cael Happel in the Cliff Keen Invitational on Dec. 1 at Independence, improved to 9-1 on the season.
"It feels really good," Rathjen said. "It was nice to get that win after losing last week and nice to come back and avenge that loss (to Oldham)."
Ankeny coach Jack Wignall called it an important victory for Rathjen, who also reached the finals of the Fargo Nationals last summer before coming up short of his ultimate goal.
"I knew it was going to be a good match, and it didn't disappoint for sure," Wignall said. "Caleb needed a good win over a good guy like that. He's lost some huge matches in the last 15 months or so, and I think this one got him over the hump."
Rathjen and Oldham appear to have a friendly rivalry. Oldham tweeted afterwards, "Great match with @rathjen_caleb. Can't wait for round two." He also tweeted, "Nothing better than letting it fly with the nation's best."
Rathjen replied, "You too man! Should be a couple more of these matches this year!"
Rathjen was one of three individual champions for Ankeny, which placed second in the 12-team field with 178 points. Fifth-ranked Valley won the tournament with 211.5 points.
"We had a good day, considering we had three backups in (the lineup) and we had a couple other guys who weren't able to compete," Wignall said. "Our 220-pounder (Mason Thomas) passed out in the stands and had to go to the hospital, and Wyatt Carl had a rib injury after his first match (at 138) and was unable to continue."
Ankeny's other champions were eighth-ranked Trever Anderson at 106 and Cael Cox at 113. Placing second for the Hawks were Sam Kallem at 132, Nick Scherle at 182, ninth-ranked Cole Rathjen at 195 and seventh-ranked Romello Gray at 285.
Anderson posted a 6-2 decision over fifth-ranked Rheiner Stahlbaum of Johnston to raise his record to 11-1.
"Trever not only beat a ranked kid, but he had a fever so he was sick while doing it," Wignall said. "He's really good and fun to watch."
Anderson said he got some help from Cox, who wrestled Stahlbaum a year ago.
"I had never wrestled him before, but Cael had and he gave me a few tips," Anderson said. "The main key was the first takedown. That's my goal in every match is to always get the first takedown. That really sets the tone."
Cox competed in a round-robin bracket because there were only six wrestlers at his weight. He won all five of his matches, capped off by a fall over Reuben Smith of Interstate 35 (Truro) that was a de facto title match.
"Cael wrestled really, really well," Wignall said. "He had been struggling a little bit, but we changed up his technique on Friday and I think it really paid some dividends for him."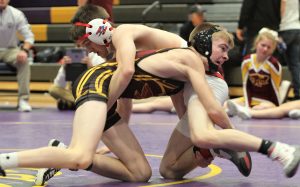 Scherle also competed in a round-robin bracket. He was pinned by Indianola's Miles Berg in his opening match, but then rebounded with three consecutive victories.
Kallem, Cole Rathjen and Gray each lost to a ranked opponent in the finals. All three were pinned.
Kallem lost to sixth-ranked Caleb Helgeson of Johnston, while Rathjen lost to Dalton Chipp of Hampton-Dumont–who is ranked fifth in Class 2A. Gray lost to Beau Lombardi of Valley, who is ranked second at 220.
"Romello's match was 0-0 in the second period when he tried a roll and Beau caught him on his back, and that was it," Wignall said. "He told me afterwards that he should have just got his (escape). It was a learning experience for him."
The Hawks will travel across town to face Ankeny Centennial in their CIML Central Conference opener on Thursday. The Jaguars, who are ranked ninth in Class 3A, won a pair of dual meets against Ankeny last year.
"We're definitely going to have some guys out, but we're pretty balanced as far as our depth goes," Wignall said. "I think we'll go out there and compete hard."