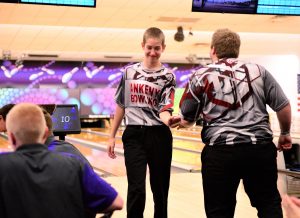 The Ankeny bowling teams enjoyed some highlights while losing to Urbandale in their CIML Central Conference opener on Tuesday at Merle Hay Lanes.
"We lost by a slim 150 pins for both boys and girls," said Ankeny coach Hannah Munson. "Gage Payton shot a nice 251 game! And the ladies shot an amazing 231 (bakers) game, the highest score in Ankeny girls' bowling history!"
Urbandale won the boys' meet by a score of 2,758 to 2,602, and the J-Hawks captured the girls' meet by a score of 2,426 to 2,267. Both Ankeny teams dropped to 0-4 on the season.
The Hawks remained consistent, surpassing 2,600 pins for the third straight meet. Payton led the team with a season-high series of 413.
Bryce Follett bowled a 367, Blake Schumacher had a 354, Brandon Schumacher rolled a 350, Easton Becker had a 305, and Josh Meador added a 283.
Isabel Tetmeyer led the Hawkettes with a 358 series. She was the team's top scorer for the fourth consecutive meet.
Cynthia Angran bowled a season-high series of 316. Christina Angran had a 290, Zoe Baker rolled a 285, Emma Harris had a 238, and Alyssa Smith added a 209.
"Our next match against (Des Moines) North on Monday is back at our home center (Great Escape)," Munson said. "I love seeing improvement from everyone!"