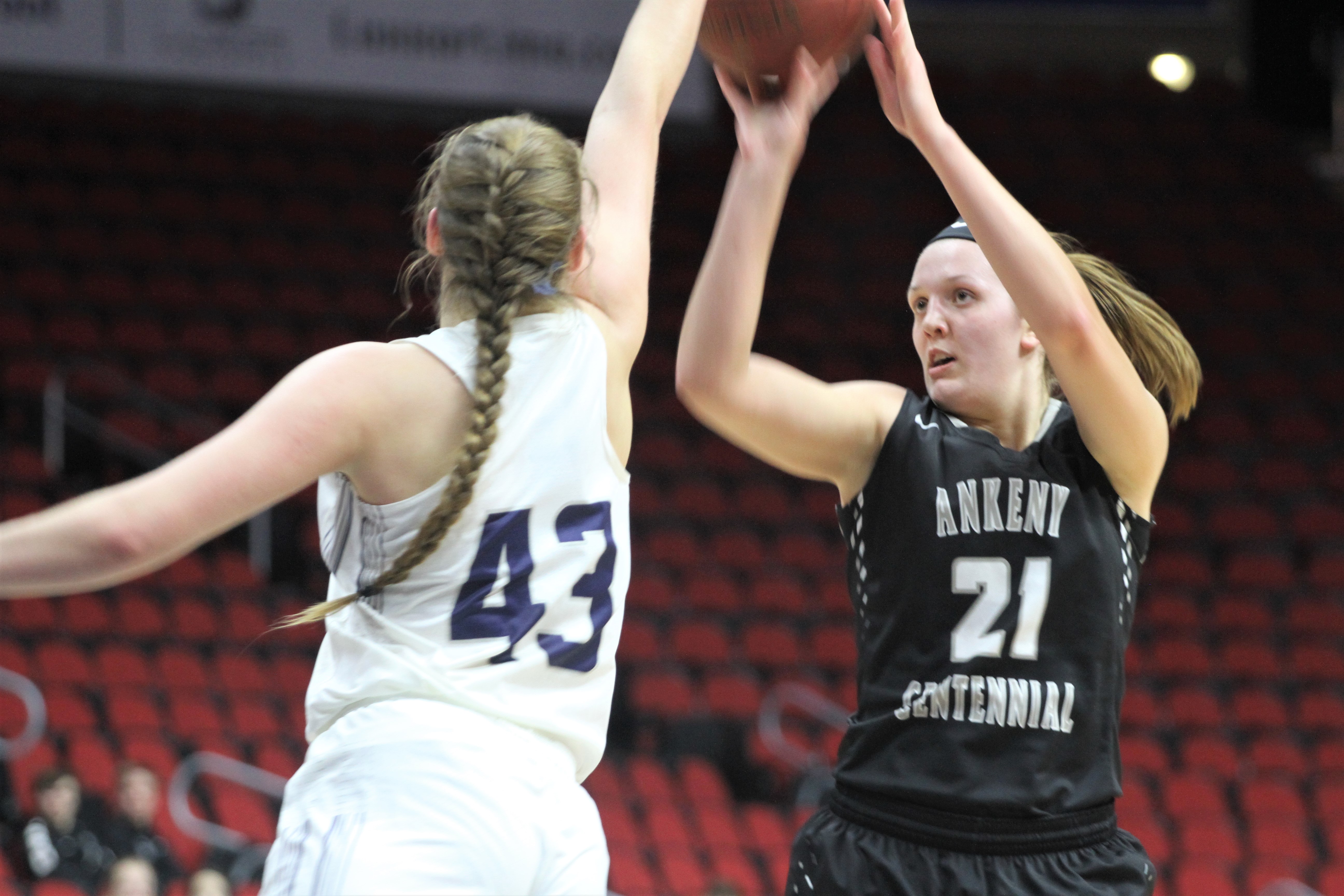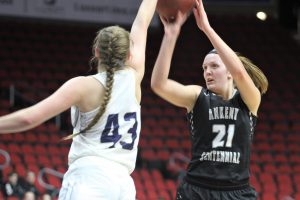 Cleao Murray was a sixth grader back in 2016 when the Ankeny Centennial girls' basketball team captured the Class 5A state championship.
"It's always been a dream of mine to make it to state and to play here at Wells Fargo Arena," Murray said.
On Tuesday, Murray got a chance to play on the state tournament court for the first time. The freshman guard scored a career-high 12 points and had three steals to lead the 10th-ranked Jaguars to a 57-26 victory over Des Moines Roosevelt.
It was a home game for the Roughriders, who made the decision to move it to Wells Fargo Arena.
"It was a really good experience," Murray said. "It's definitely one of our goals to be back here in March."
Rachel Schon had nine points and 13 rebounds as Centennial improved its record to 5-2. Both Schon and fellow senior Kenna Sauer played on the Jaguars' championship team as freshmen.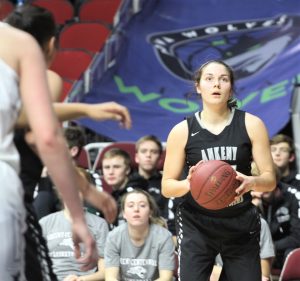 "It gives you those jitters," Schon said of playing at Wells Fargo Arena. "It reminds you of state and how fun state is with all the competition. Getting here and getting a glimpse of that makes us all the more hungrier to get back here at the end of the season."
The Jaguars held Roosevelt scoreless for the first 10 minutes of the game while building a 15-0 lead. The Roughriders (1-5) didn't reach double digits until Amaya Davison made a free throw with 2:11 left in the third quarter.
"I thought our ball pressure was really good," said Centennial coach Scott DeJong. "They have a point guard that's good and she picked up two fouls right away, and I think a lot of that was because we were aggressive. We were kind of disruptive and had a lot of deflections the whole game."
Alexandria Keahna-Harris had nine points in the win. She scored at the buzzer to give Centennial a 25-9 lead at halftime.
That basket ignited a 13-0 run by the Jaguars that included 3-point goals by Meg Burns and Murray. Burns had two of the team's six 3-pointers and finished with eight points.
Taylor Runchey dished out six assists.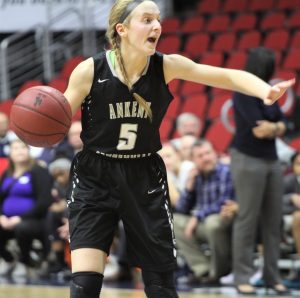 "It was super exciting," Schon said. "This is always a really fun environment. Being at Wells Fargo is a great time."
Centennial is seeking its first trip to the state tournament since its championship season. The Jaguars lost in a regional final in both 2017 and 2018.
"It was fun to come here," DeJong said. "No. 1, your goal is to get to the state tournament and if we can happen to get there, it's a great experience to play here. I'm real happy that Roosevelt did that and that (Centennial Activities Director) Scott Garvis agreed to do it."
The Jaguars will host a CIML Central Conference game against No. 14 Ames (4-3) on Friday. The Little Cyclones are led by sophomore guard Caroline Waite, who had 29 points in a win at Des Moines Lincoln on Tuesday and is now averaging 22.0 points.