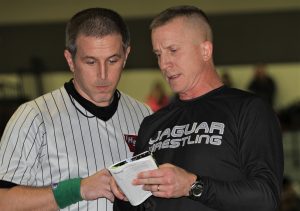 Last Friday, Ankeny and Ankeny Centennial collided on the basketball court at Ankeny, where the Jaguars pulled away to win the girls' game before the Hawks used a fast start to win the boys' matchup.
On Thursday, the crosstown rivalry will move to the wrestling mat. Ninth-ranked Centennial (7-0) will host Ankeny (2-1) in the CIML Central Conference opener for both teams.
The Jaguars won a pair of meetings at Ankeny last season. They posted a 43-25 victory on Jan. 18, then defeated the Hawks again two days later, 32-31, at the Dave Ewing Duals.
Centennial already owns a 33-32 win over No. 4 Fort Dodge, the defending Class 3A state champion. The Jaguars have defeated their other six foes by at least 21 points.
Ankeny, meanwhile, will be facing a ranked opponent for the third time. The Hawks opened their season on Nov. 29 with a 61-17 victory over No. 6 Mason City, but then fell to No. 1 Southeast Polk, 54-14, on Dec. 6 at Des Moines Lincoln.
So who has the edge in this year's Jag-Hawk matchup? Let's take a closer look.
Both teams are a little banged up after suffering a few injuries. The biggest blow for the Hawks came on Dec. 1 in the Cliff Keen Invitational at Independence, where fifth-ranked 138-pounder Derek Anderson broke his thumb and was forced to undergo surgery.
The loss of Anderson, who could return later this season, is a big one for Ankeny coach Jack Wignall. Last year, Anderson twice defeated Centennial standout Ben Monroe–a two-time state runner-up–before Monroe later avenged those losses.
Monroe, who is currently ranked No. 1 at 132, is one of five ranked wrestlers for the Jaguars. The others are No. 8 Noah Blubaugh at 120, No. 10 Eric Owens at 145, No. 2 Logan Neils at 170 and No. 6 Nic Leo at 182.
Ankeny will have four ranked wrestlers in its lineup. They are No. 8 Trever Anderson at 106, No. 2 Caleb Rathjen at 126, No. 9 Cole Rathjen at 195 and No. 7 Romello Gray at 285.
Caleb Rathjen is coming off a 3-1 victory over top-ranked Nick Oldham of Valley in the championship match of the Johnston/Valley Invitational on Saturday. He avenged a 10-8 loss to Oldham in last year's Class 3A title match at 113.
Trever Anderson also won a championship at the Johnston/Valley tournament, and so did 113-pounder Cael Cox. However, the Hawks lost two other wrestlers to injury or illness, Wyatt Carl at 138 and Mason Thomas at 220, during the tournament.
It is unknown if Carl and Thomas will be able to wrestle on Thursday. If they're available, and can wrestle well, that would be a huge lift for the Hawks.
On paper, it appears that Centennial will be favored to win five matches, and so will Ankeny. That leaves four toss-up matches at 113, 152, 160 and 220 that could determine the outcome of the meet.
It's also possible that Wignall and Centennial coach Jay Groth could make some lineup moves in an effort to score more points. Monroe has been wrestling at 138, but is expected to get down to 132 at some point. If he makes the drop now, he would likely face Ankeny's Sam Kallem in a crucial match.
Of course, bonus points will be important for both teams. In last year's conference dual, Centennial won eight of the 14 matches and also had six pins, which allowed the Jaguars to post a convincing victory.
It should be a good one. Buckle up.