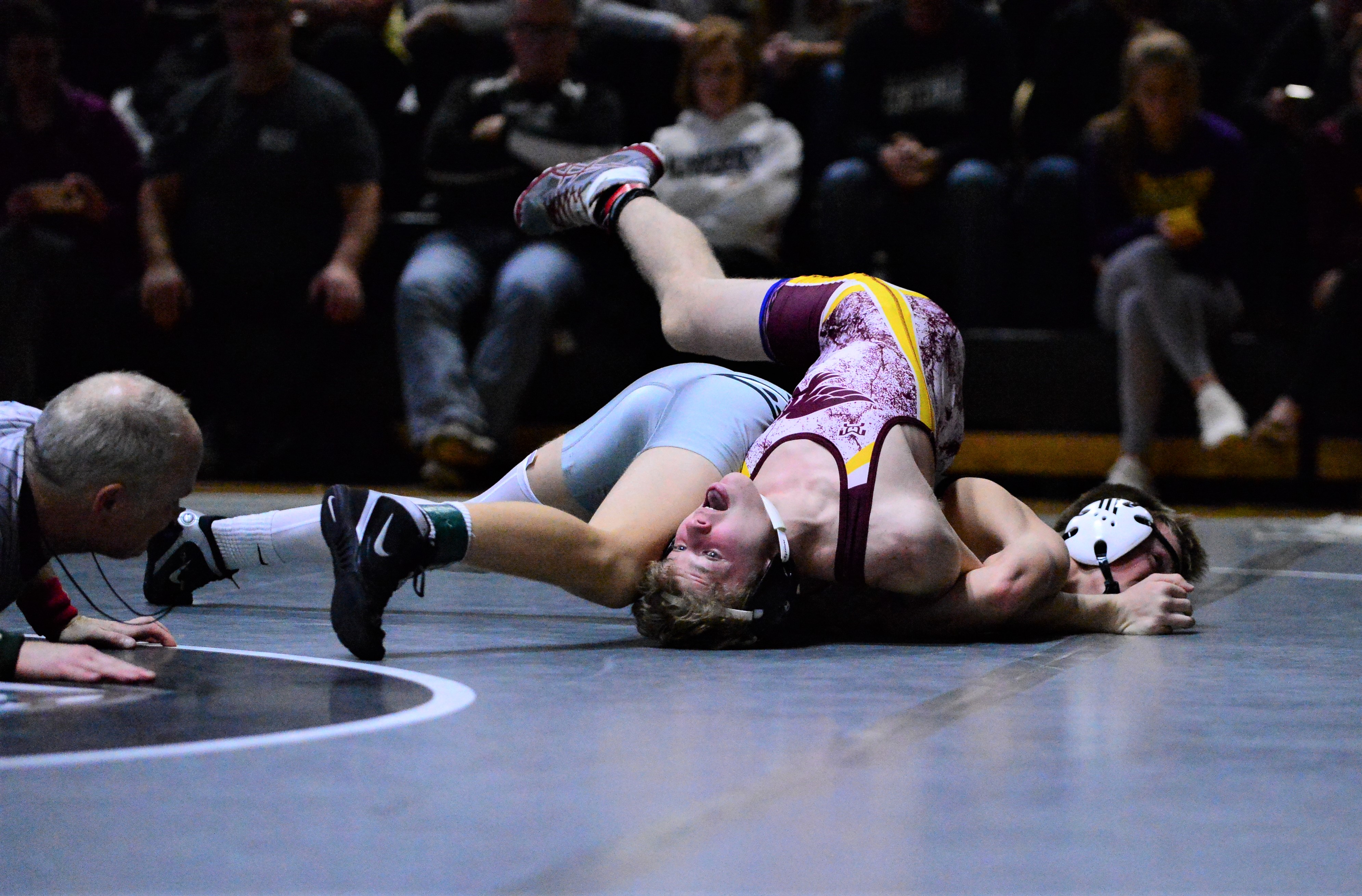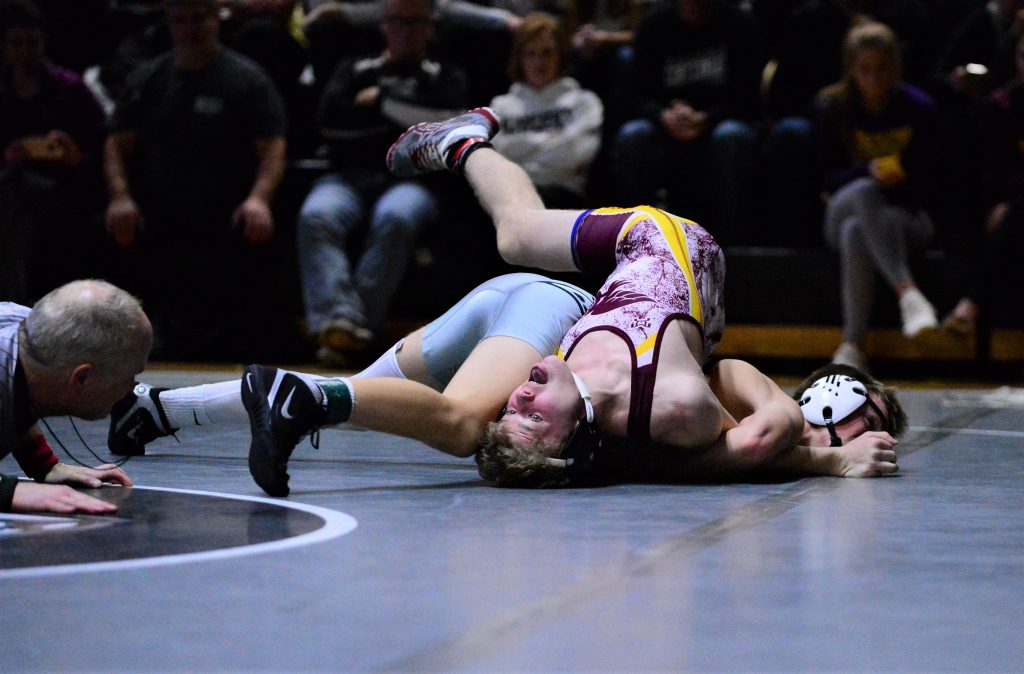 A few months ago, Logan Neils helped the Ankeny Centennial football team to a 20-0 victory over Ankeny.
On Thursday, Neils sparked the Jaguars to another win over their crosstown rival–this time on the wrestling mat. He recorded a technical fall in the opening match at 160 pounds and ninth-ranked Centennial went on to post a 48-25 triumph over the Hawks.
"It's always nice to be able to rub it in their faces," Neils said.
Centennial improved its record to 8-0 by winning nine of the 14 matches. The Jaguars had six falls on the night, including one by fifth-ranked Nic Leo at 182.
Leo pinned Michael Karns in 1 minute 56 seconds to give Centennial an early 14-0 lead after the first three matches.
"A couple of years ago the only reason we lost (to Ankeny) was (because) we gave up too many bonus points and we didn't get enough, so I think it's just real important that we got some tonight," Leo said.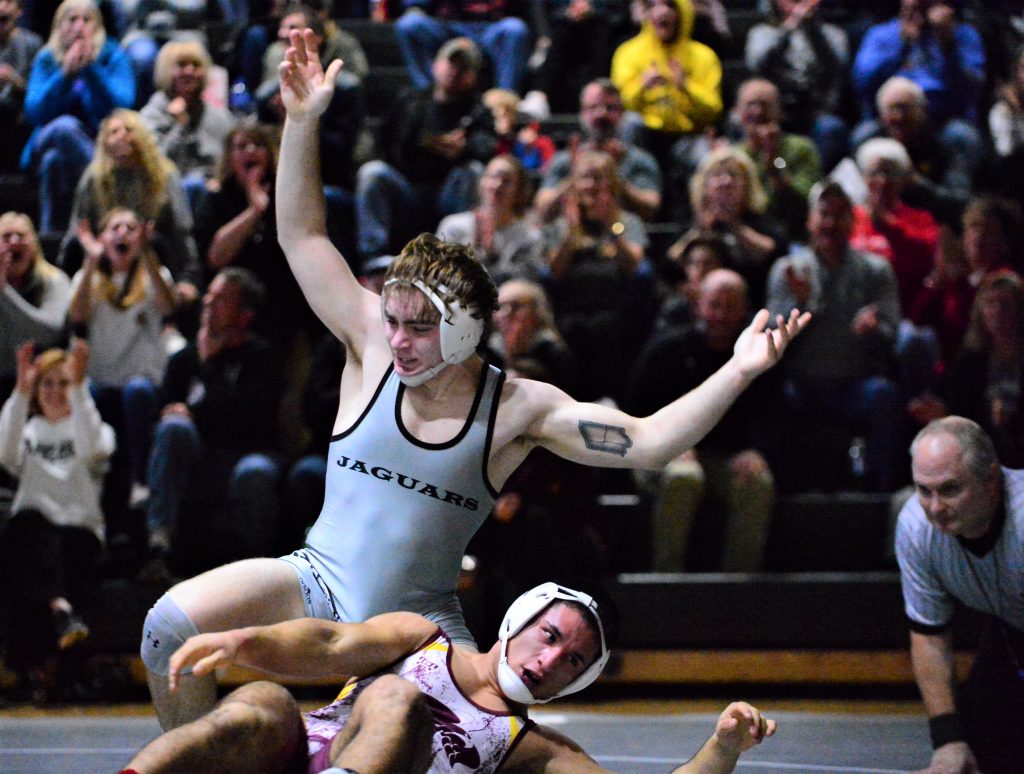 The Jaguars also got a huge fall from heavyweight Lane Pruisner. He pinned ninth-ranked Romello Gray in 5:28 to put Centennial ahead, 20-9, after the Hawks had closed the gap to five points.
"I had not wrestled Romello (before), but I watched him wrestle last year," Pruisner said. "My key was just to not get rolled, because usually heavyweights like to roll a lot. And to fight through the first two periods, because I know I can last a lot longer than most heavyweights."
Ankeny got a pin from fifth-ranked Trever Anderson at 106 and a major decision from Cael Cox at 113 to pull within 20-19, but that was as close as the Hawks could get. Centennial then won five of the last six matches, four of them by fall.
"I thought our boys wrestled well," said Centennial coach Jay Groth. "They stepped up to the challenge that we set up for them for tonight's meet, so I was pleased with that."
Noah Blubaugh at 120, Joey Mayer at 126, ninth-ranked Eric Owens at 145 and Carter Cahill at 152 had the Jaguars' other pins. Owens sealed the victory by pinning Cole Lansing in 4:59.
"It means a lot to me," Pruisner said of the win. "Beating Ankeny is always an accomplishment. Crosstown rivalry is going to be really jacked up, so it's a lot of fun winning them."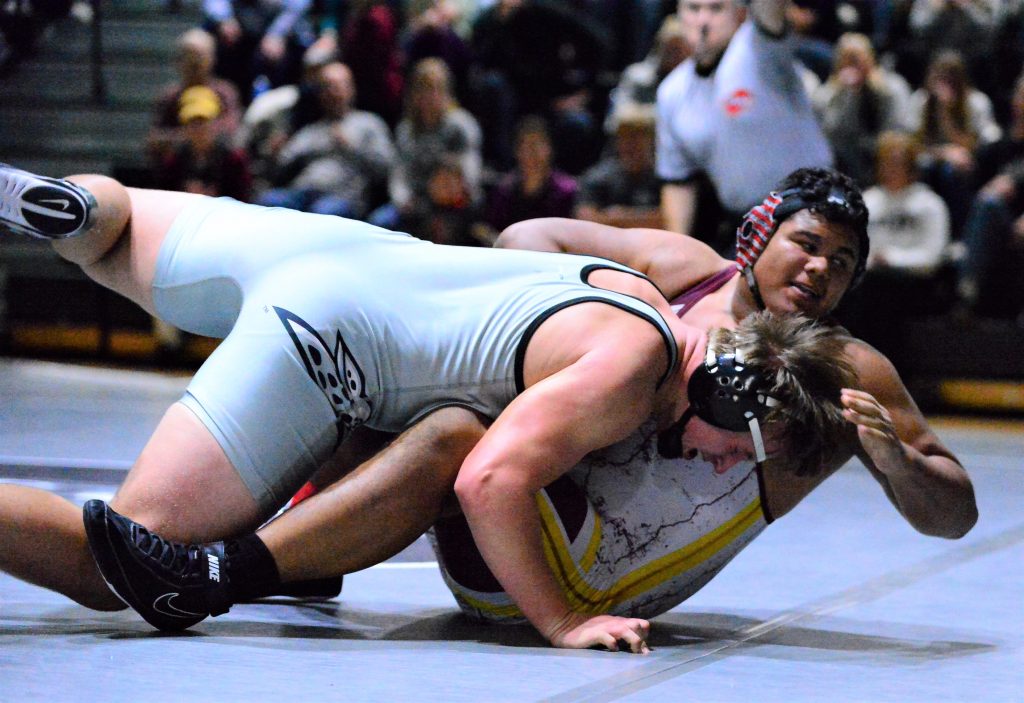 Ben Monroe, who is ranked No. 1 at 132, posted a major decision at 138 for the Jaguars. Scott Doup had Centennial's other win at 170.
Both teams made some adjustments to their lineup in an effort to score more points.
"Centennial wrestled well," said Ankeny coach Jack Wignall, whose team dropped to 2-2. "We tried to do some things where we could put some guys in the lineup and move them around a little bit, and it didn't pan out for us. There were a couple weights we didn't expect to lose, and we did. In the long run that's probably the thing that hurt us a little bit."
The Hawks got pins from Colby Bales at 220 and Caleb Rathjen at 132. Rathjen, who is ranked No. 1 at 126, moved up a weight and pinned Jacob Cuppy in 2:33.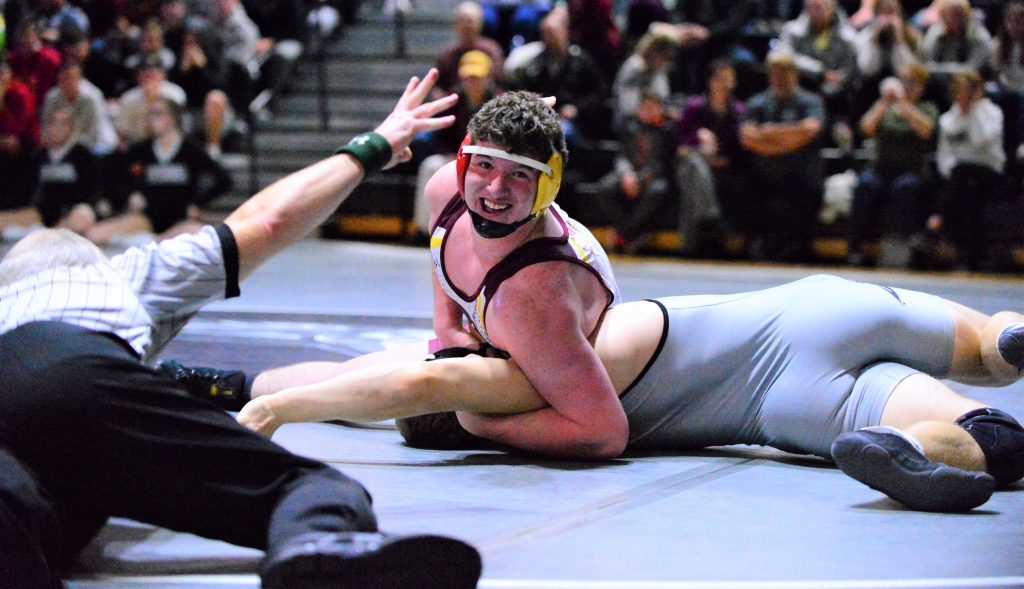 "We had quite a few injuries," said Rathjen, whose brother, Cole, did not wrestle for the Hawks. "We had to put JV (guys in) or bump around our weights. Tonight wasn't our night, but tonight also wasn't our best lineup."

Ankeny's Mason Thomas moved down to 195 and posted a 3-1 decision over Ethan Frazier, but that was one of the few moves that worked out for the Hawks.
"We knew that bonus points were going to win this dual, and they had a lot more bonus points than we did," Wignall said. "We gave up falls when we shouldn't have, and that just can't happen if you want to compete in duals. It just can't happen, especially against a team like Centennial."
The Jaguars were prepared for most of Ankeny's strategic moves. Neils, who is ranked third at 170, made the cut to 160 for the first time this season.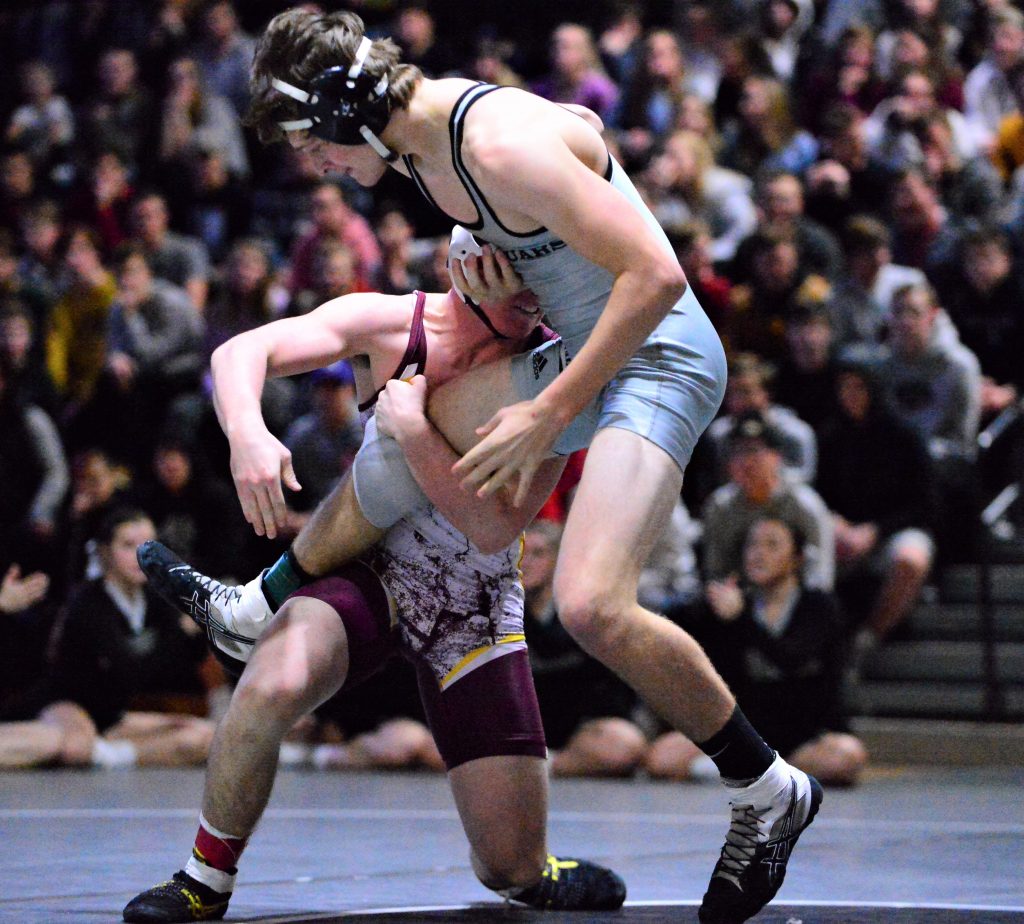 "We knew we wanted to do it once before Christmas," Neils said. "That way, if I wanted to go down and take my two pounds after, I could. Tonight, (coach Groth) said they'd probably move some guys around and he wanted to have flexibility to do it too, so we agreed that this would be a great week to do it. I like 170 obviously–it's a little bit easier to maintain for me–but if I think I have a better shot at 160, I'll drop down."
Both teams will be back in action this weekend. The Jaguars will compete in the Fort Dodge Invitational on Saturday.
Ankeny, meanwhile, is headed to the Battle of Waterloo on Friday and Saturday. The tournament could feature some outstanding individual matchups.
"I think I could have another shot at (Valley's Nick) Oldham and another shot at (Lisbon's Cael) Happel. I'm excited," Rathjen said. "It's a dual tournament, so I'm not really focused on those matches. I'm focused on the team. It should be a fun weekend."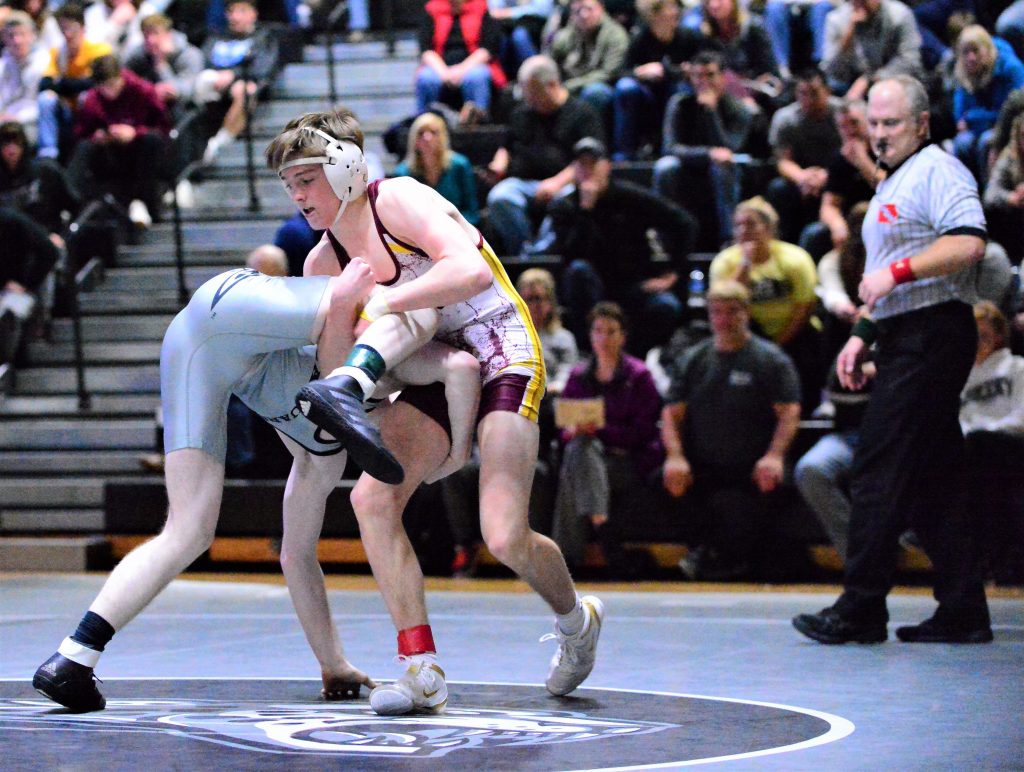 Here are the match-by-match results from Thursday's meet:
Centennial 48, Ankeny 25
160: Neils (AC) won by technical fall over Watson, 18-3; 170: Doup (AC) beat Scherle, 11-6; 182: Leo (AC) pinned Karns, 1:56; 195: Thomas (A) beat Frazier, 3-1; 220: C. Bales (A) pinned Cooper, 2:23; 285: Pruisner (AC) pinned Gray, 5:28; 106: T. Anderson (A) pinned Helmkamp, 5:45; 113: Cox (A) beat Bresson, 13-5; 120: Blubaugh (AC) pinned Faeth, :58; 126: Mayer (AC) pinned Hill, 2:09; 132: Ca. Rathjen (A) pinned Cuppy, 2:33; 138: Monroe (AC) beat Kallem, 18-7; 145: Owens (AC) pinned Lansing, 4:59; 152: Cahill (AC) pinned Rose, 3:15.