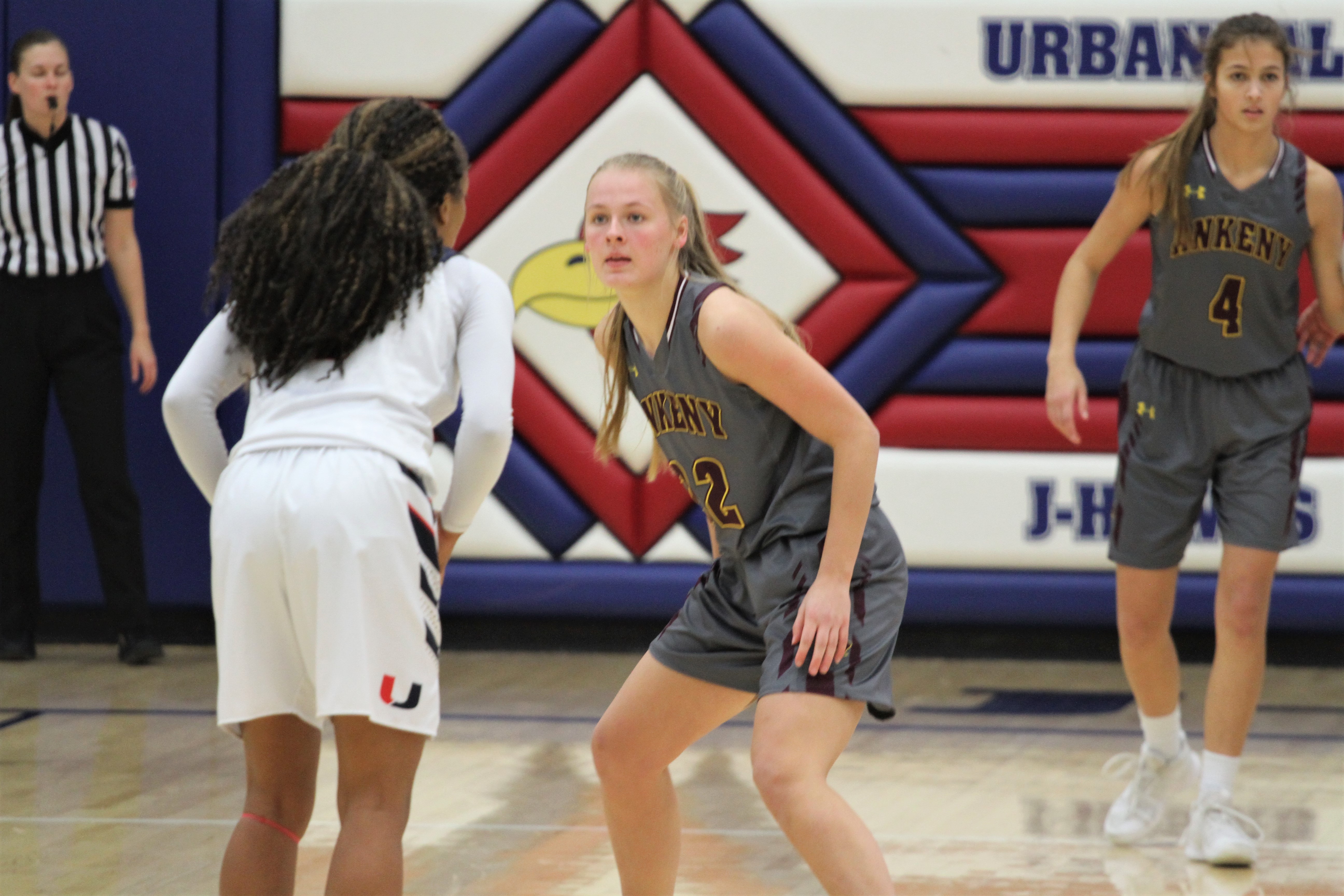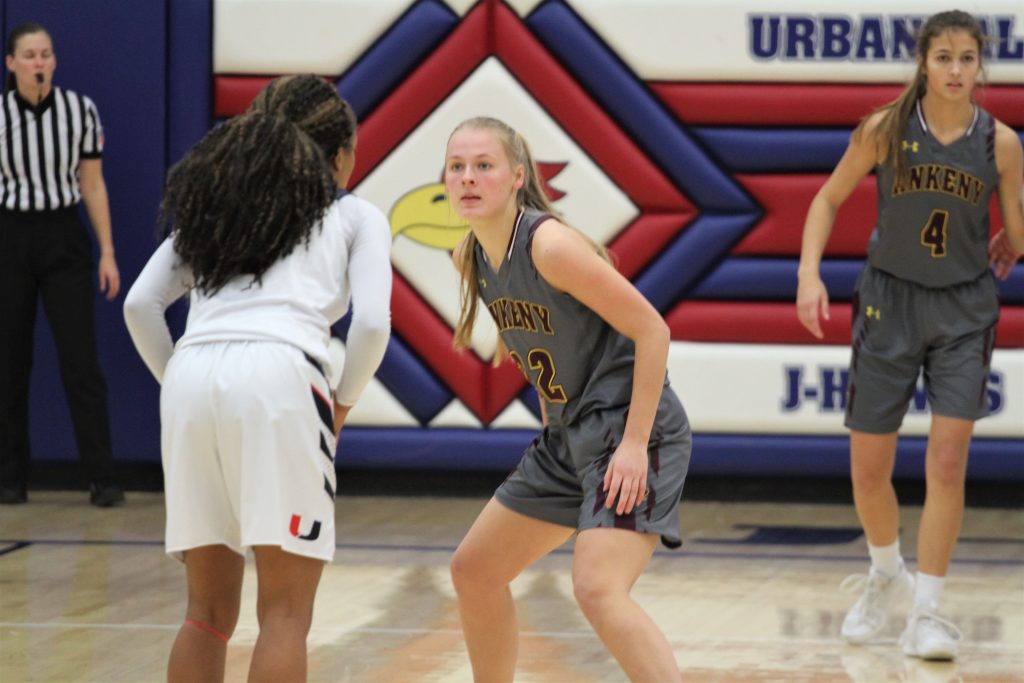 Ankeny's Kayla Pitz stood at the charity stripe and ignored the chants from the rowdy Urbandale student section.
The junior guard made four consecutive free throws in the final 40 seconds to seal the Hawkettes' 46-40 victory in a CIML Central Conference girls' basketball game on Friday. She went 7-of-8 from the line and had nine of her 11 points in the fourth quarter.
"We do free throws every single day in practice, so it's just routine now," said Pitz.
Ankeny closed out the game with a 14-5 run to snap a two-game losing skid. The Hawkettes improved to 1-1 in the conference and 5-3 overall, while Urbandale's records dropped to 0-2 and 3-4.
The J-Hawks have now lost four straight games after a 3-0 start.
"Our girls just battled," said Ankeny coach Dru McAnelly. "We had some high times, and we also had some dark valleys. But we talk about playing through the bad times, and that's what we did. We didn't hang our heads. We just found ways to come out with the 'W' tonight."
Ankeny played the final minute of the game without sophomore forward Abby Johnson, who led the Hawkettes with 16 points. Johnson injured her ankle as her team was trying to milk the clock and had to be helped off the court during a timeout.
"I was pushed or tripped, and my foot kind of turned but hopefully it'll be fine," Johnson said. "It's probably a sprain."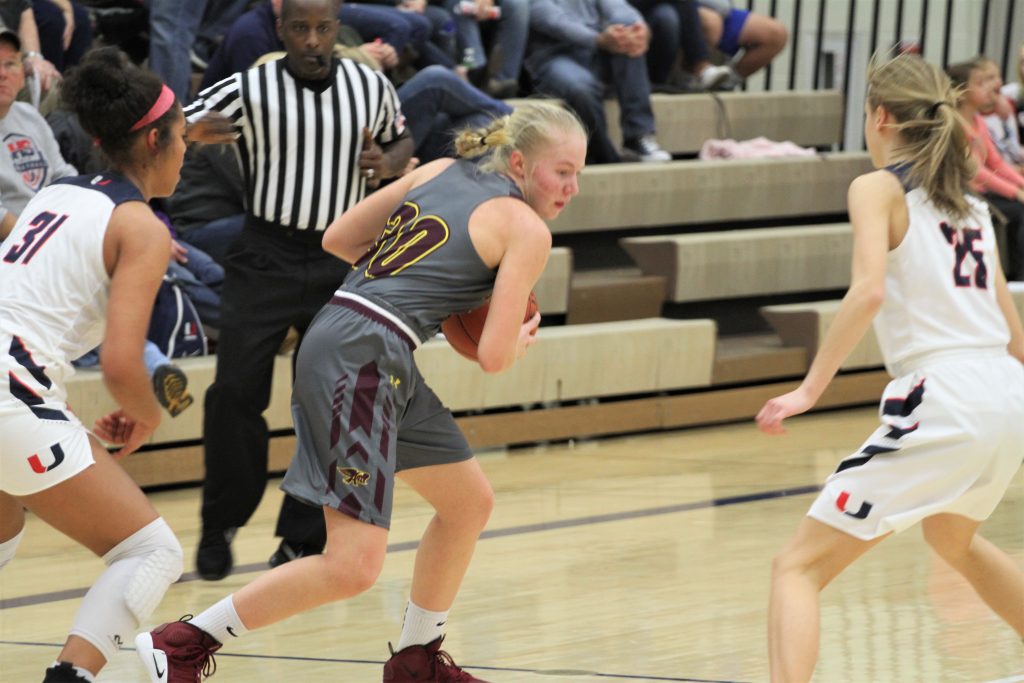 Johnson scored eight of her points in the first quarter as Ankeny jumped out to a 13-8 lead. Ashley Harrington had the Hawkettes' other five points.
After Urbandale rallied to tie the game at 19-19 at halftime, Johnson scored the first seven points of the third quarter. She had two of her four 3-point goals during that stretch as Ankeny built a 26-19 advantage.
"It was definitely different from the last few games," Johnson said. "Things just hadn't gone as well, but tonight I was feeling it a little more. The team played faster, and that really helped too."
Pitz followed with her first basket of the game to give the Hawkettes a 28-19 lead, but Urbandale then rallied again. The J-Hawks responded with a 16-4 run that included 10 straight points by senior guard Dee Dee Pryor.
Pryor, a Creighton recruit, hit a pull-up jumper to cap the run, giving Urbandale a 35-32 lead with 6:27 left to play. She finished with 18 points, but was held scoreless the rest of the way.
"Our main goal was to keep her out of the lane, and I think we executed it well," Pitz said.
Ankeny took the lead for good, 38-37, on a basket by Sara McCullough with 4:42 remaining. She had 11 points.
Pitz then scored on a drive to make it 40-37 with 4:16 to go. After Urbandale pulled to within 42-40 with 1:32 left, Pitz made a pair of free throws with 39.7 seconds remaining, then hit two more following a steal by Harrington.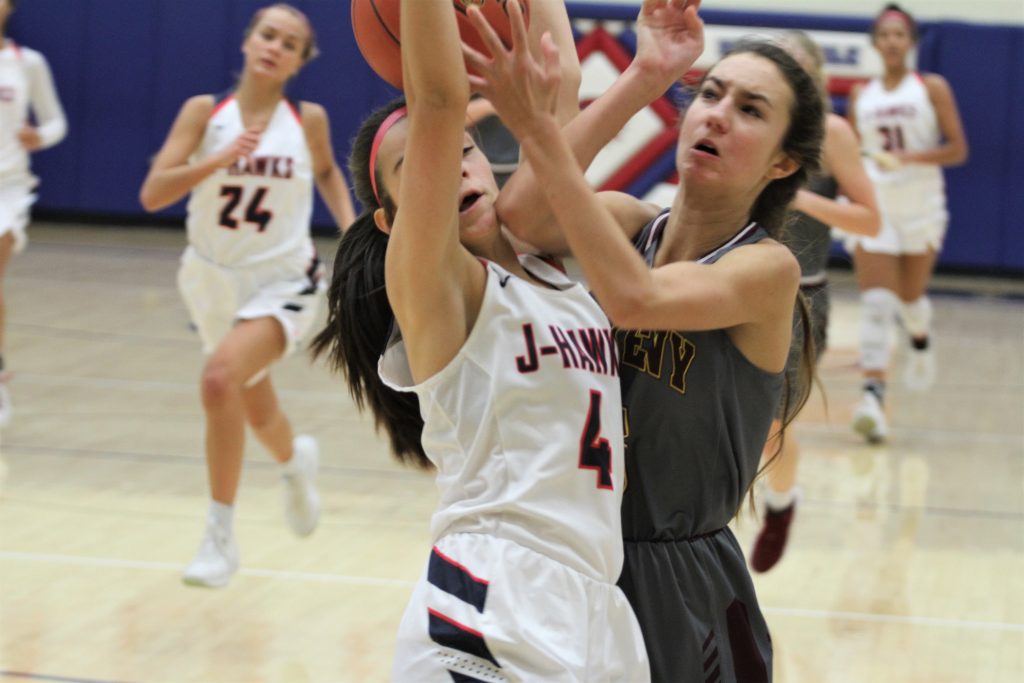 "It feels really good," Pitz said. "We've put a lot of hard work in at practice."
The Hawkettes made 16-of-20 free throws overall.
"This was a big one," McAnelly said. "We dropped two (games) in a row there, and obviously they were to really tough teams. I told the girls after the Southeast Polk game (on Tuesday) that this one tonight was a 50/50 game–you could draw a line right down the middle of the board. The team that came out with the most energy and played the hardest for 32 minutes was going to win, because us two (teams) are very evenly matched.
"We outscored them something like 13-0 or 14-0 to start the first and third quarters, and that was the difference in the game," he added.
Ankeny will stay on the road this week for a pair of conference games. The Hawkettes will travel to No. 14 Ames on Tuesday before playing at No. 3 Johnston, the league leader, on Friday.
Johnson is hoping to be back on the court for Tuesday's game against the Little Cyclones (1-1, 5-3), who are coming off a victory at No. 10 Ankeny Centennial.
"She's going to ice (her ankle) all weekend," McAnelly said.