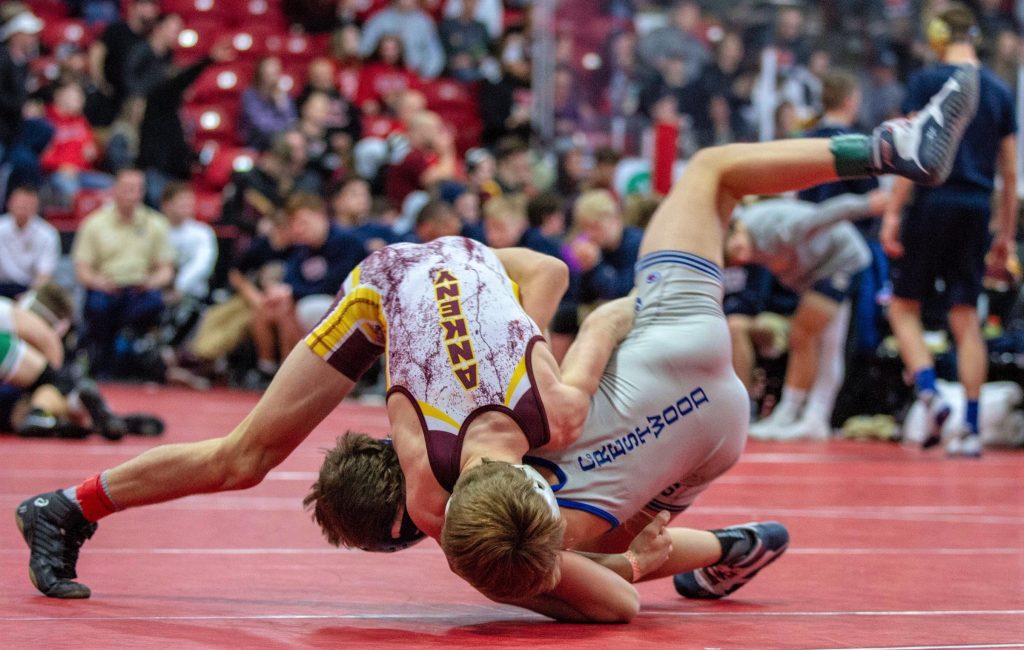 The Battle of Waterloo provided an opportunity for the Ankeny wrestlers to see some of the state's top teams.
For Ankeny freshman Trever Anderson, the prestigious event also gave him a chance to get a monkey off his back.
Anderson, who is ranked fifth at 106 pounds in Class 3A, had one of the biggest wins in the two-day tournament with a 4-3 decision over Carter Fousek of Crestwood on Saturday at Young Arena. Fousek, who is ranked third in Class 2A, held a 3-2 lead before Anderson scored a reversal in the final seconds of the match.
It was Anderson's first win ever against Fousek.
"We know each other pretty well," Anderson said. "We were roommates at Fargo, and this is the fourth time we've wrestled in the past year. The kid is an unbelievable wrestler who has accomplished a lot in his career, so that was a huge weight off my shoulders because I was tired of losing to him."
Anderson's only loss this season came to Fousek in the Cliff Keen Invitational on Dec. 1 at Independence.
"(Fousek) was the only Iowa kid that Trever has lost to in two years," said Ankeny coach Jack Wignall. "Trever could just never get over the hump. I bet he's wrestled him half a dozen times, and Trever could just never get the best of him."
In Saturday's match, Fousek was in position to win again. He was trying to ride Anderson out at the end of the third period when the match was halted with 6 seconds left.
"The ref stopped it because (Fousek) put Trever in a potentially dangerous hold," Wignall said. "All he had to do was ride Trever out for 6 seconds to win the match, but the re-start was all Trever needed. He was able to get a reversal and get over that hump. It was so gratifying and so exciting for Trever to beat him."
Anderson said he wasn't exactly confident about his chances prior to the re-start.
"To be honest some thoughts weren't positive when I looked at the clock as I went back to the center, but I told myself I've got to find a way to get out," he said. "Finally getting over the hump was really emotional for me and coach Wignall. But there's nothing but respect between me and (Fousek), and there will be many more matches to come."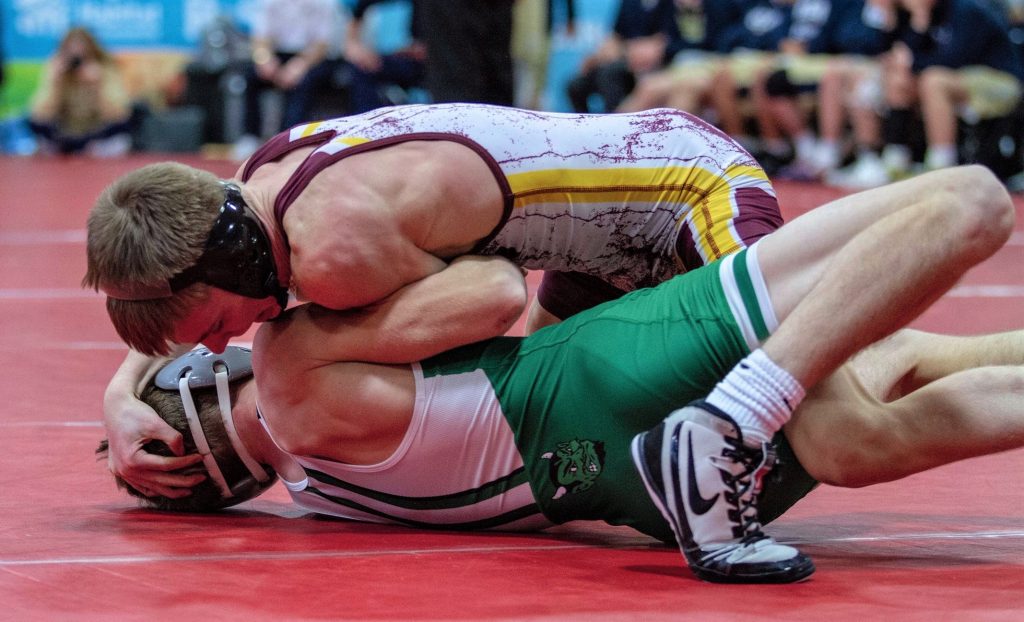 The Hawks finished the dual tournament with a 3-3 record. They placed 13th overall among the 32 teams in the field.
"What a phenomenal event," said Wignall, whose team is now 5-5 on the season. "I was so impressed with how it was set up and the teams that were there, and how well it was ran. It was just a great experience for our kids."
Ankeny went 2-1 on Saturday to win Pool Four. The Hawks posted a 36-34 victory over Sioux City Heelan and a 39-29 triumph over Osage.
Ankeny dropped a 37-28 decision to Crestwood in its other match, but still won the pool on a tiebreaker because Crestwood lost to Osage and Sioux City Heelan.
"We wrestled a lot better Saturday than we did on Friday," Wignall said. "The teams that we wrestled on Saturday also got fourth in their pools on Friday, so almost every dual on Saturday was pretty close because the teams were so well matched. It was just a really neat tournament to get into."
On Friday, Ankeny went 1-2 in the Bunning-Love Bracket during the preliminary portion of the tournament. The Hawks rolled to a 58-18 victory over Pleasant Valley, dropped a 47-27 decision to Davenport Assumption, and then suffered a 51-28 loss to Lake Mills in the consolation final.
Assumption, the No. 8 team in Class 2A, went on to place seventh overall.
"When you're in a dual tournament, bonus points are huge," Wignall said. "I felt like the Ankeny Centennial meet on Thursday got away from us, and so did the meet on Friday against Davenport Assumption and especially Lake Mills. We kind of struggled in those three duals, but I think on Saturday the kids finally got the message that we sent and performed much better."
Anderson went 6-0 in the tournament. Teammates Cael Cox at 113 and top-ranked Caleb Rathjen at 126 also went 6-0.
Sam Kallem posted a 5-1 record at 138. Ninth-ranked Romello Gray went 4-2 at 285.
Ankeny will host a CIML Central Conference dual against Ames on Tuesday.