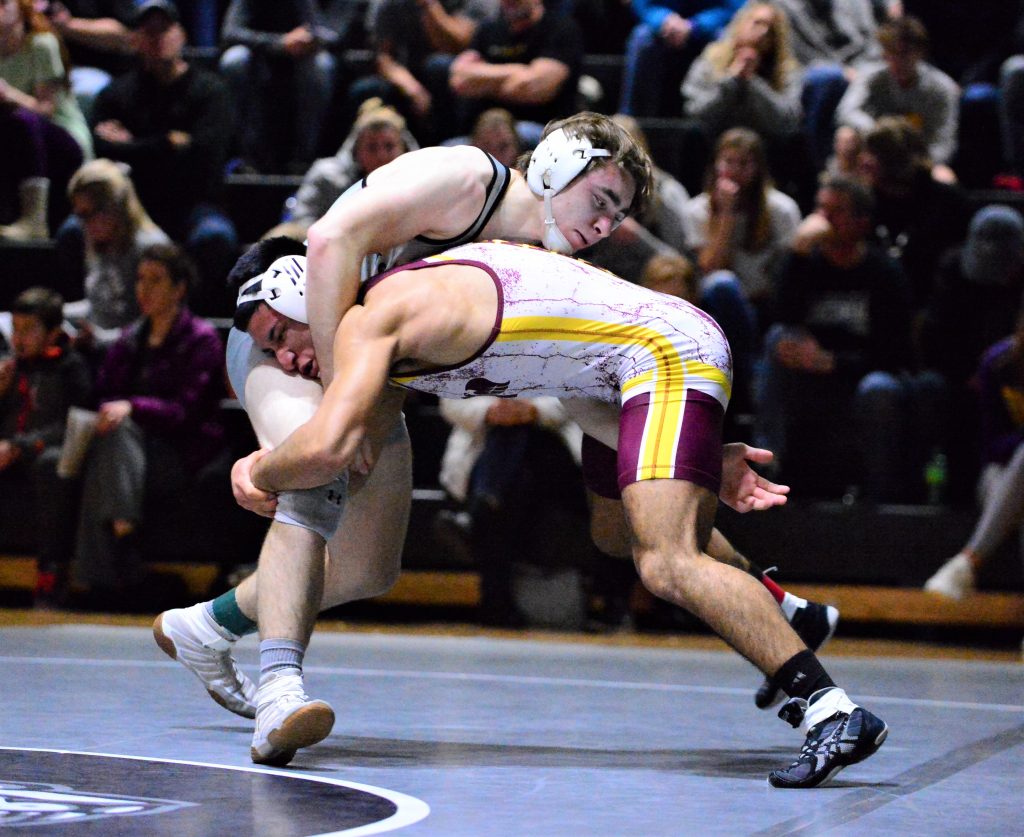 Senior Nic Leo captured an individual title at 182 pounds to help the Ankeny Centennial wrestlers to a runner-up finish in the Don Miller Invitational on Saturday at Fort Dodge. The fifth-ranked Leo raised his record to 16-1 with an 8-1 decision over fourth-ranked Zach Needham of Dallas Center-Grimes.
Leo also helped the ninth-ranked Jaguars to a 48-25 victory over visiting Ankeny on Thursday. He recorded a fall over Michael Karns in 1 minute 56 seconds for one of Centennial's six pins.
Leo posted a 20-11 mark last year as a junior. He was a state qualifier at 170.
Here is some inside info on Leo:
Congratulations on the win over Ankeny. Was your team pretty confident going into the meet?
We were. We treated it just like any other duel and we knew we had the better team.
What did you think of your team's performance at the Fort Dodge tournament?
Overall, we wrestled pretty well. We ended up second behind Fort Dodge, and they're the defending state champs. We brought a couple JV guys to help fill the brackets, and they wrestled really well, too.
Were you happy with the way you wrestled?
Yes. I finished first over the fourth-ranked kid in 3A and a few other ranked guys.
Do you have a signature move on the wrestling mat?
I think I can hit a crotch lift better than anyone else in the state.
Have you been able to manage your weight pretty well this season?
The initial drop was pretty rough, but since the first weigh-in it hasn't been too bad.
Will it be difficult for you to keep the pounds off over the holidays? Is there anything in particular that you'd like to eat, but you can't?
It will be difficult, but we still practice most days so It shouldn't be all that bad. I usually eat a lot of pasta at my family Christmases so I might have to cut back on that a bit.
You told me on Thursday that this could be Centennial's best team ever. What are your goals for this season?
Right now we're just going meet-by-meet trying to win everything we can, but we'd like to qualify for state duals for the first time ever and send more of our guys to individual state than we ever have before.
You were able to make it to the state tournament last year. What did you learn from the experience?
You really have to wrestle to the whistle. When someone's season is on the line, they'll fight for the whole match.
Would you like to wrestle in college? Have you looked at any schools?
I've talked to a few coaches but right now I'm not sure.
What do you want to study?
Biology or Chemistry.
I know you come from an athletic family. Were there any other wrestlers in your family?
Some of my cousins wrestle, my uncle did in high school, and some other family members did, too.
When did you first start wrestling? What do you like about the sport?
I started in eighth grade. I like that you're the only person responsible for your match and although we have a great team, you don't necessarily need one to do well individually.