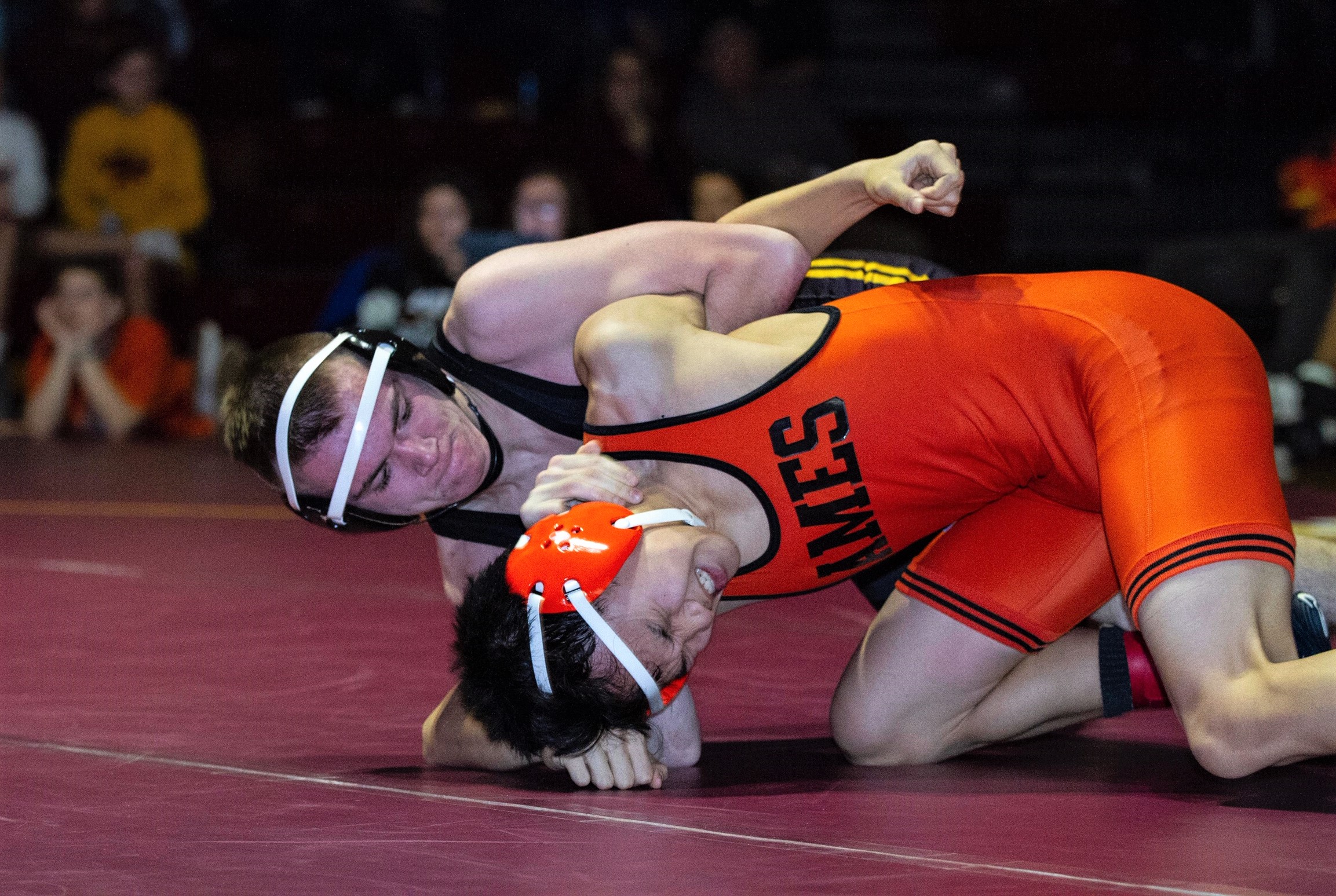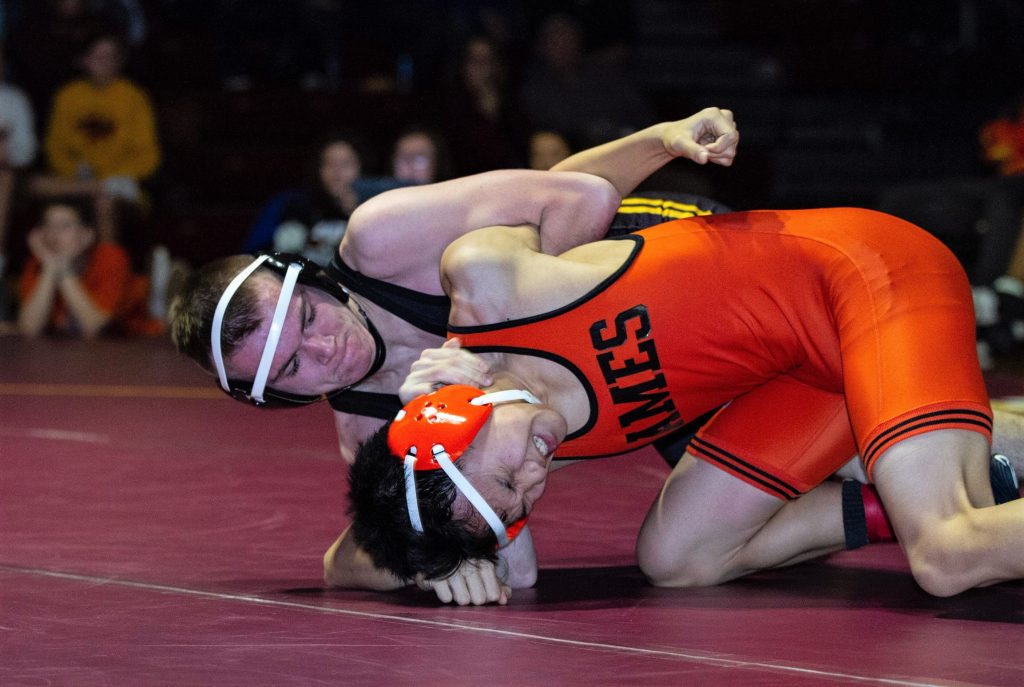 Despite having several starters out of the lineup, the Ankeny wrestling team still rolled to an impressive victory on Tuesday.
The Hawks recorded six pins and easily defeated visiting Ames, 55-18, in a CIML Central Conference dual meet. They improved to 1-1 in the league and 6-5 overall heading into the holiday break.
"It was great to see some other guys step up," said Ankeny coach Jack Wignall. "This is where the depth of our team comes in. We need to have guys who can step in and win, and that's exactly what happened."
Ankeny got falls from Cael Cox at 113 pounds, Nike Coulthard at 126, top-ranked Caleb Rathjen at 132, Cole Lansing at 145, Caleb Goldner at 160 and Cole Pomrenke at 182. It was the first varsity match for Pomrenke, who usually wrestles at 170.
"We bumped a JV 70-pounder up to 82 and he got a pin," Wignall said. "I told him before he went out, 'No excuses. I don't care if I'm bumping you up and you've never wrestled varsity before.' And he came through for us."
Coulthard needed only 59 seconds to pin Henry Tang. The junior has been battling an injury, but was still able to compete.
"Nike has a bad shoulder and has an MRI coming up," Wignall said. "We're guessing it's a torn labrum, but he went out there and got a pin for us, which was great to see."
The Hawks got a technical fall from fifth-ranked Trever Anderson at 106. Wyatt Carl at 138 and Michael Karns at 195 both posted major decisions.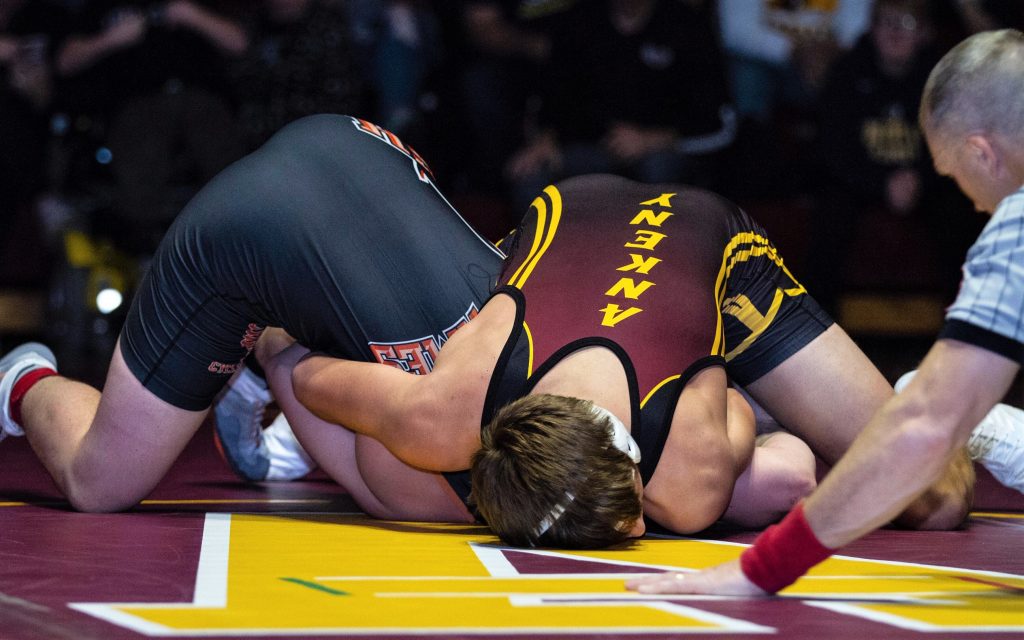 "Karns has wrestled wherever we've asked him to," Wignall said. "I was really proud of him."
Ankeny's other victories were provided by Riley Faeth at 120 and Mo Watson at 170. The Hawks' only losses came at 152, 220 and 285.
"We've got some sickness and some injuries and some skin issues, so we had six or seven starters sitting out," Wignall said. "We're ready for a break, that's for sure."
Ankeny has had a grueling schedule in the first month of the season. The Hawks competed in a pair of two-day tournaments, the Cliff Keen Invitational at Independence and the Battle of Waterloo.
"There was a reason behind that," Wignall said. "We know it's a given that we're going to have a tough district every single year, and we have to do something different to get over the hump of just having one or two state qualifiers. That's why we wrestled the schedule that we have. It's important to have a schedule that challenges you to get you ready for the postseason."
Here are the match-by-match results:
Ankeny 55, Ames 18
106: T. Anderson won by technical fall over Arce-Matos, 17-2; 113: Cox pinned Knox, 1:41; 120: Faeth beat Corrieri, 2-0; 126: Coulthard pinned Tang, :59; 132: Ca. Rathjen pinned Johnson, 1:19; 138: Carl beat Barker, 14-6; 145: Lansing pinned Burkheimer, 2:49; 152: Townsend (Am) pinned Rose, 3:45; 160: Goldner pinned Bollhoefer, 5:01; 170: Watson beat Nicolas, 7-3; 182: Pomrenke pinned Wernau, 3:17; 195: Karns beat Tapia, 13-2; 220: Greenlee (Am) pinned Bales, :34; 285: Smith (Am) pinned Gray, 3:10.