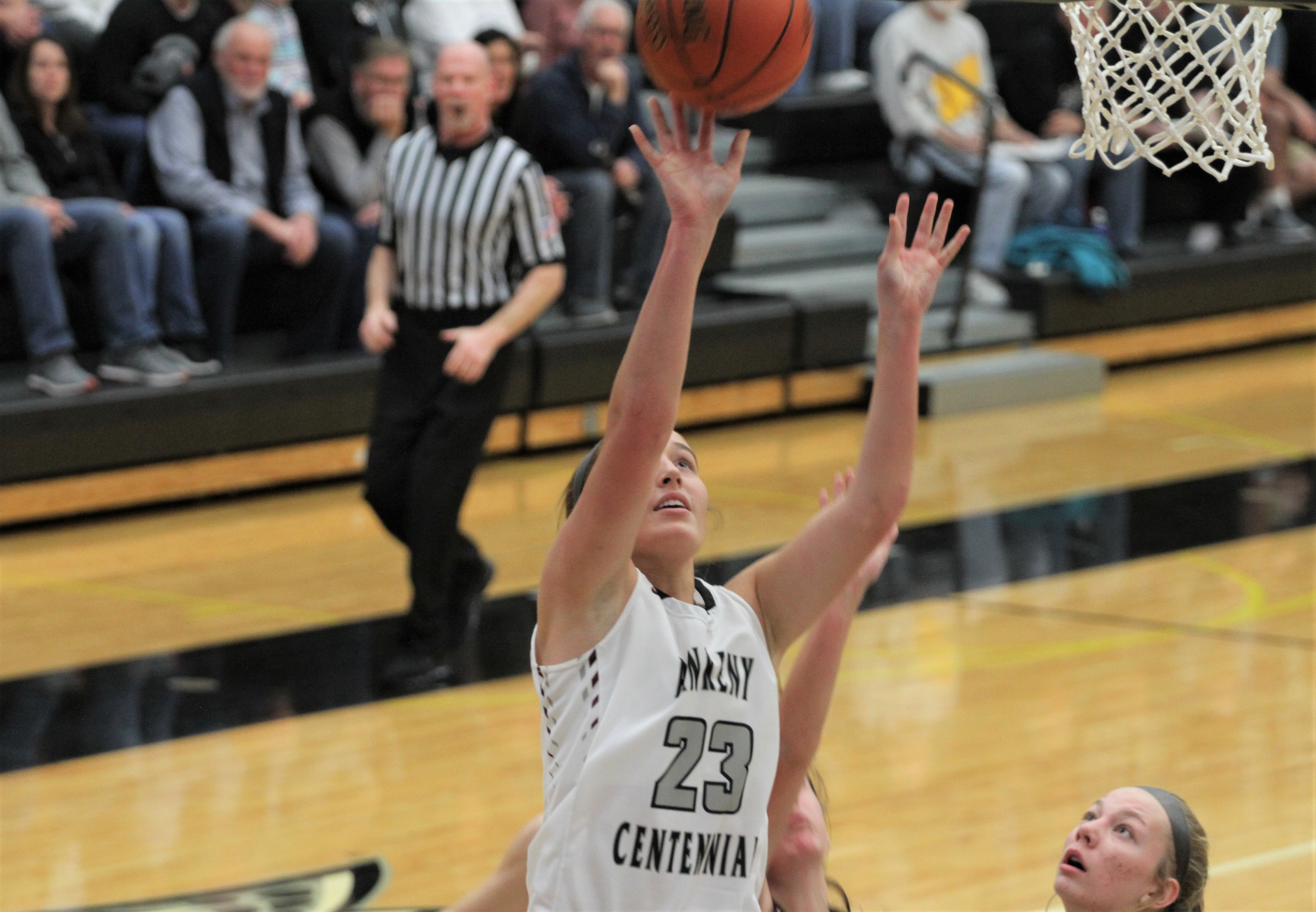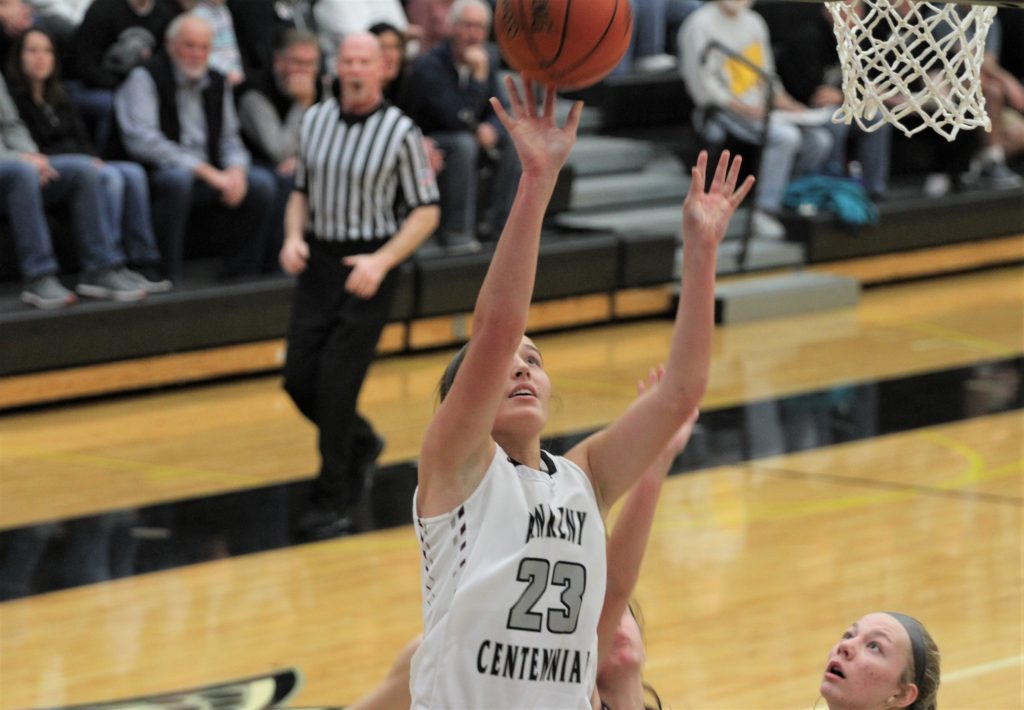 If there was one play that summed up the Ankeny Centennial girls' basketball team's victory over visiting Dowling Catholic on Tuesday, it came in the final minute of the game.
The 10th-ranked Jaguars were already ahead by 20 points when senior Rachel Schon stepped to the free-throw line for a bonus opportunity. Her first attempt bounced off the back of the rim, but Schon hustled forward and grabbed the rebound, then put the ball in the basket to score the final points in Centennial's 62-40 victory over the No. 6 Maroons.
Schon finished with 10 points and 19 rebounds, 13 of them at the offensive end.
"As soon as it left my hand the shot felt a little long, so as soon as it hit the rim I went after it," said Schon. "I am really proud of the way our team played. I think everyone wanted it and played really hard, and it was a good win for us."
The victory allowed Centennial to remain one game behind No. 3 Johnston in the CIML Central Conference standings. The Jaguars, who were coming off a loss to No. 14 Ames on Friday, improved to 2-1 in the league and 6-3 overall.
Dowling's records dropped to 1-2 and 4-4.
"I thought it was a good team effort," said Centennial coach Scott DeJong. "We just played with a real edge, and I thought our confidence–for whatever reason–was a little higher. And as we played better, the confidence rose."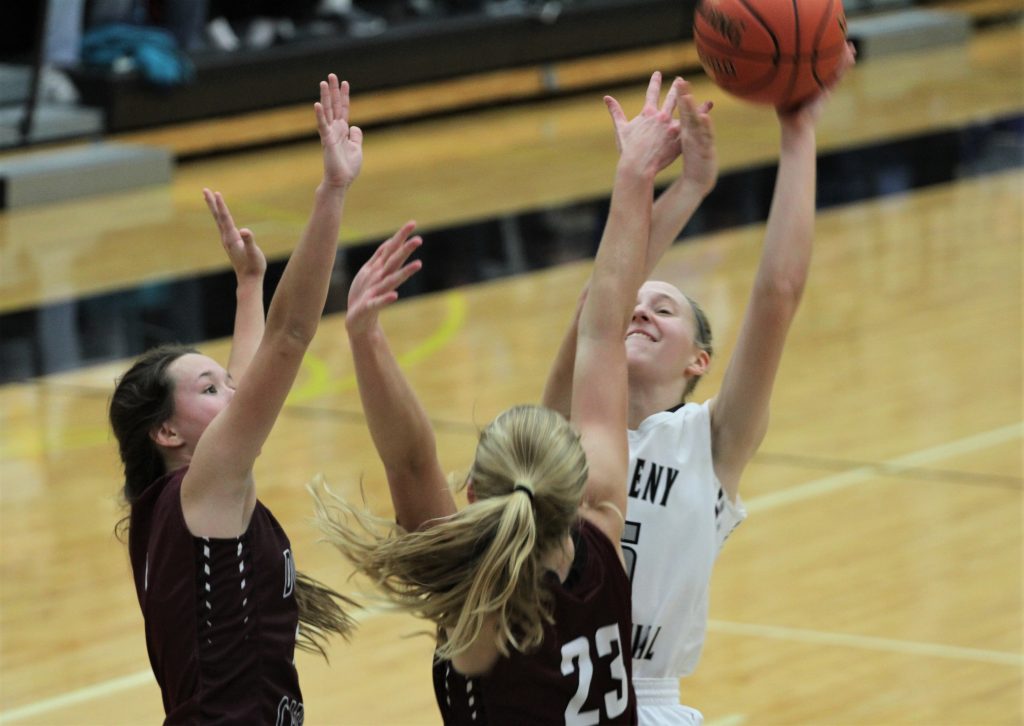 Junior guard Meg Burns played a huge role on both ends of the court. She made 3-of-8 3-pointers and scored a season-high 13 points while dishing out five assists.
On defense, Burns was the primary defender on Dowling star Caitlin Clark, who entered the game with a 29.1 average. Clark finished with 18 points, but had just three in the second half as the Jaguars pulled away.
"She's a great player, and we all knew that," Burns said. "I was just trying to do my part, keep her in front of me. But I knew the whole game that I had the rest of my team behind me if she got past me, so that was really good to know that I had my team there with me."
Kenna Sauer had 11 points and 11 rebounds in the win. Alexandria Keahna-Harris and Cleao Murray each added eight points.
Murray had two of Centennial's seven 3-pointers.
"We do have shooters–we just haven't shot well," DeJong said. "But we've really worked at it, and I'm glad that it carried over (to the game). I don't think it's a surprise that it's coming around."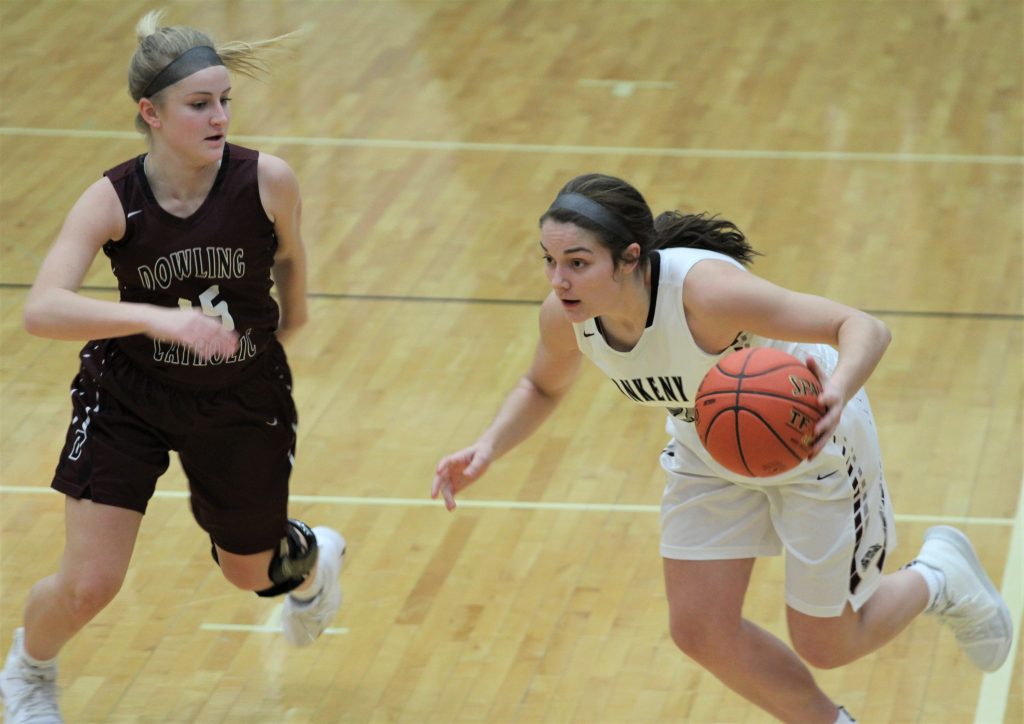 Murray opened the game with a 3-pointer, then Schon and Sauer each scored off a rebound as Centennial jumped out to a 7-0 lead. But Clark then erupted for 13 points as the Maroons answered with a 22-7 run to build their biggest lead of the game.
The Jaguars responded, however, with a 15-2 run of their own. Burns started the rally with a 3-pointer, then later hit another one to give Centennial a 29-24 lead in the final minute of the half.
"We started off fast, and that was one of our goals because we've been starting off slow," Burns said. "So that was good for us to come out strong, and then in the second half we wanted to do the same thing."
The Jaguars outscored Dowling in the third quarter, 17-7, to build a 46-33 lead. Taylor Runchey closed out the period with a 3-pointer.
Burns and Bella Robben then hit two more 3-pointers in the fourth quarter as the margin grew to 56-34.
"I thought we had some great play off the bench, and that probably helped with wearing Dowling down a little bit," DeJong said.
The Jaguars will play another conference game at Urbandale (0-3, 4-5) on Friday.