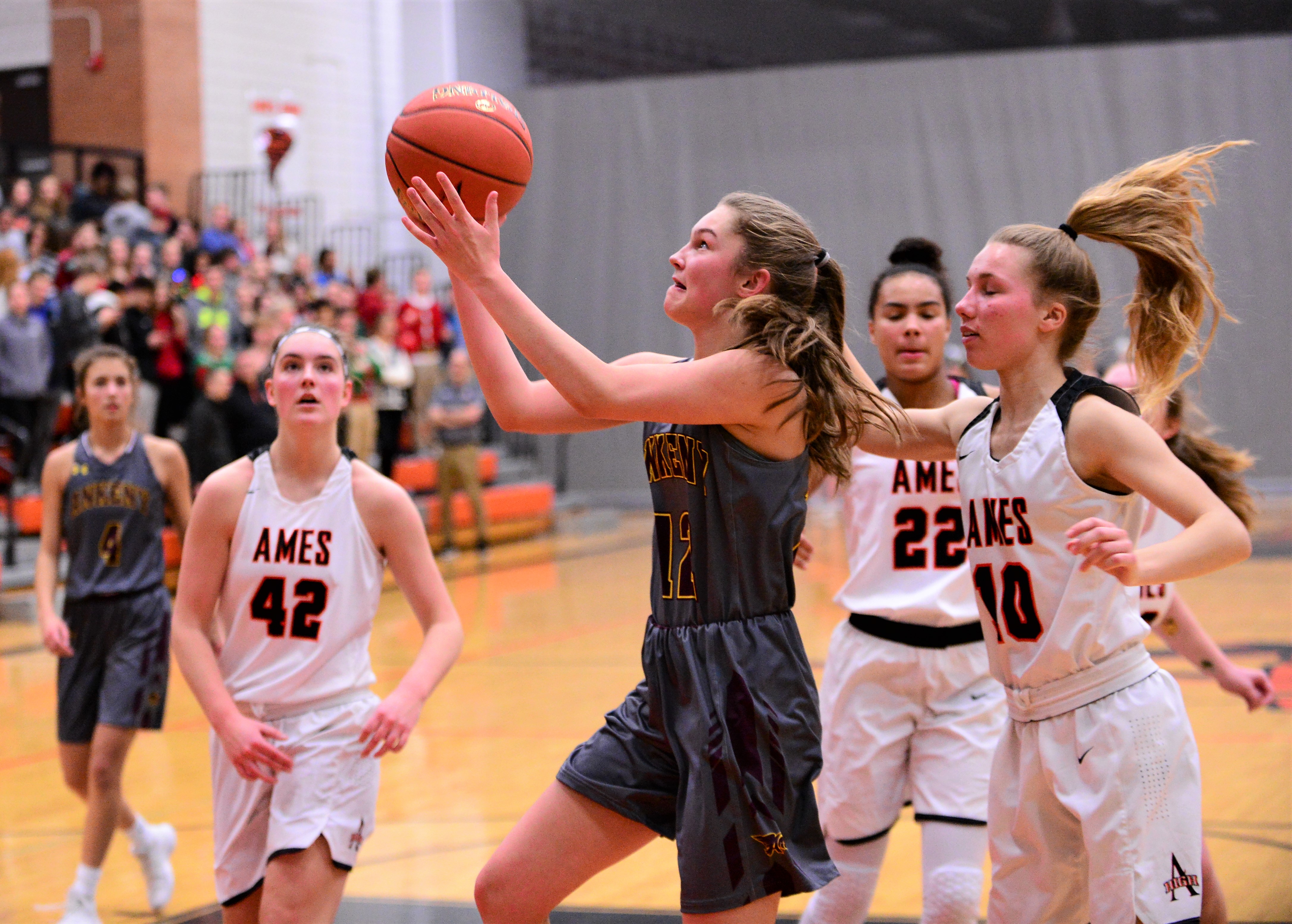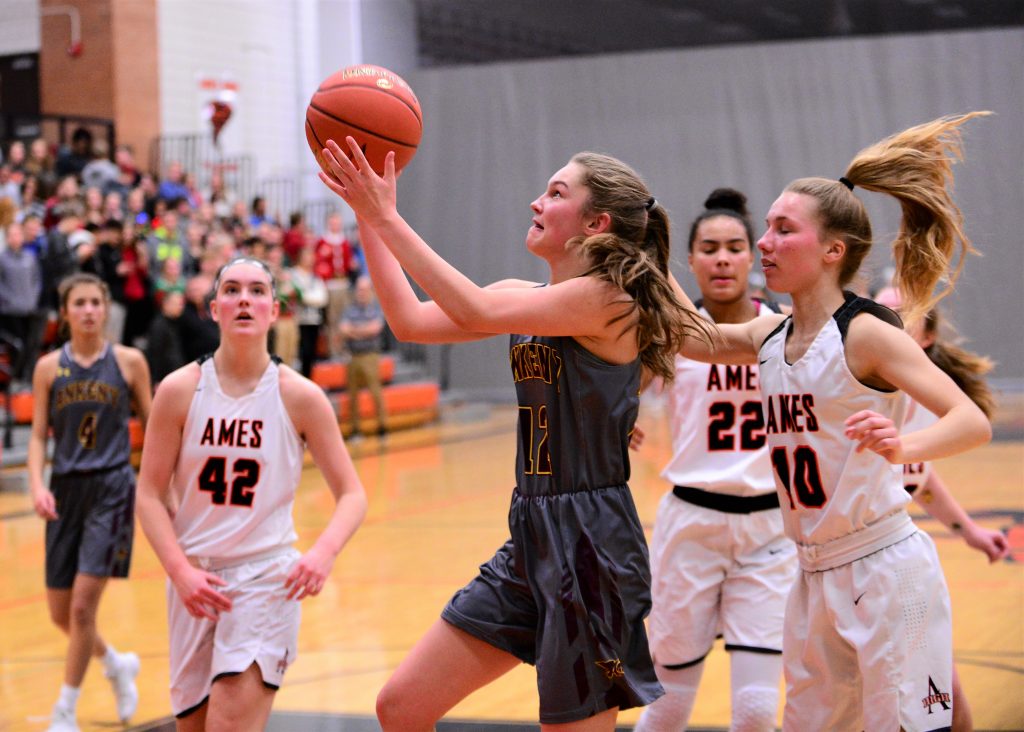 The odds were against the Ankeny girls' basketball team before Tuesday's game at 14th-ranked Ames even tipped off.
The Hawkettes took the court without their top two scorers and rebounders, Sara McCullough and Abby Johnson. McCullough was out with an illness, while Johnson tore some tendons on the top of her foot during Friday's game at Urbandale and will likely be sidelined for six weeks.
"I couldn't be more proud of a group of young ladies," Ankeny coach Dru McAnelly said after his team suffered a 65-45 loss. "They left their heart and soul out there without Sara and Abby. Obviously, we left a lot at home against a really good Ames team that is really tough on their court."
Johnson, a sophomore forward, was averaging 10.6 points and led the team with 10 3-pointers. McCullough, a senior post player, was averaging a team-high 14.0 points and 8.8 rebounds.
Without them, Ankeny was forced to go to a smaller lineup.
"Sara is just really sick. I'd say it's 50/50 whether she can even play on Friday (at Johnston)," McAnelly said. "And losing Abby was a huge blow to us. There's nothing you can do about it, but I guess it's better that it happened now and not later in the season."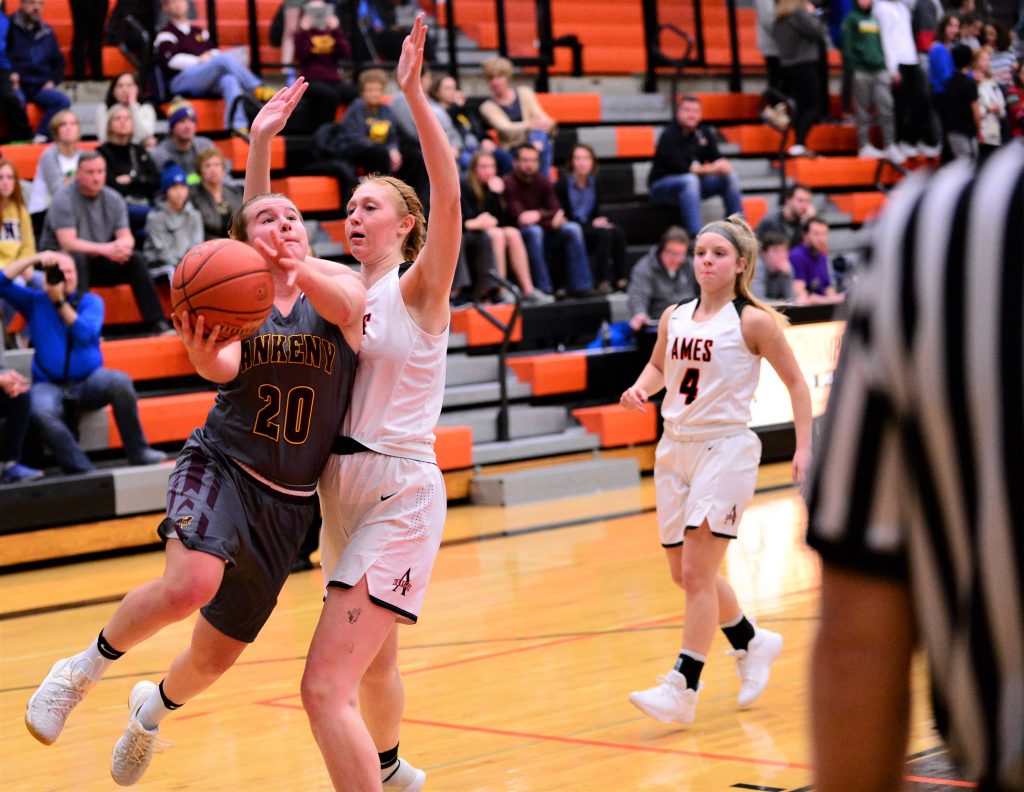 Ankeny put up a strong fight without the duo, jumping out to a 9-0 lead on a trio of 3-pointers. But the Little Cyclones responded with some 3-pointers of their own.
In the game's first 11 minutes, neither team made a 2-point basket. Ames eventually finished with 13 3-pointers, while the Hawkettes had eight.
"We just played a 2-3 zone for the most part," McAnelly said. "We got in a little foul trouble and just had to roll with the punches."
Ankeny held a 23-20 lead late in the second quarter before Ames' Caroline Waite stole the ball, sprinted up the court and swished a 27-foot shot as time expired to tie the score at halftime.
"I just said, 'That's Caroline.' Because she practices that shot regularly," Little Cyclones coach Joel Sullivan told the Ames Tribune. "It was a good shot. It gave us a little shot in the arm, gave our kids a lot of excitement going into the locker room, which I think then carried over to start the third quarter."
Ames used a 16-2 run in the second half to pull away. Waite, a 5-foot-3 sophomore who leads Class 5A in made 3-pointers, had seven treys and finished with 23 points and five assists.
"Waite kind of took over–she's a really good player," McAnelly said. "But the score was not indicative of our effort and performance."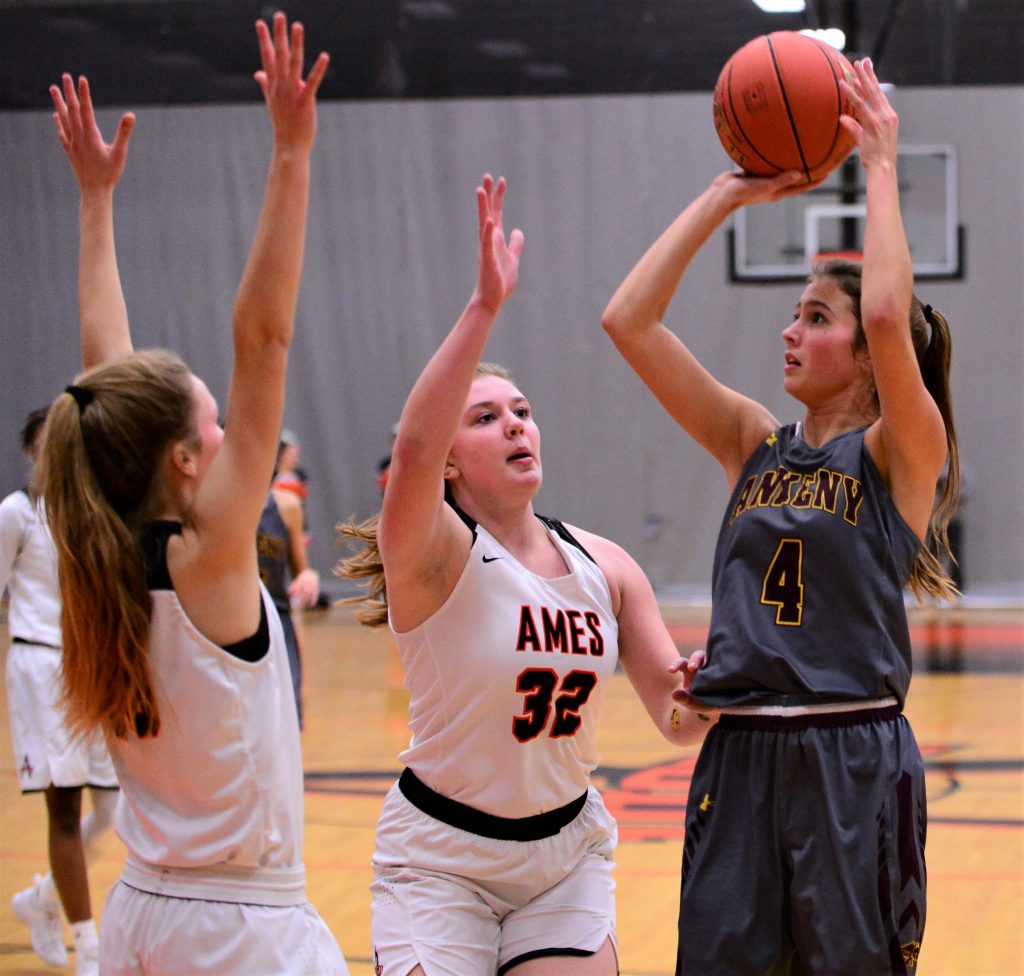 Teagan Lipsey had 11 points for the Little Cyclones, who improved to 2-1 in the CIML Central Conference and 6-3 overall. Ashley Iiams had a double-double with 10 points and 11 rebounds.
After starting 0-2, Ames has won six of its last seven games, including back-to-back wins over both Ankeny schools.
"It feels great," Waite told the Tribune. "We're all happy and excited and we just have a lot of positive energy right now."
Ellie Maschoff scored a season-high 14 points to lead Ankeny, which dropped to 1-2 in the league and 5-4 overall. She had four 3-pointers.
Holly Trimble chipped in nine points, and Kayla Pitz added eight.
"We are definitely limping into the break, but all in all I feel really good about the team," McAnelly said.