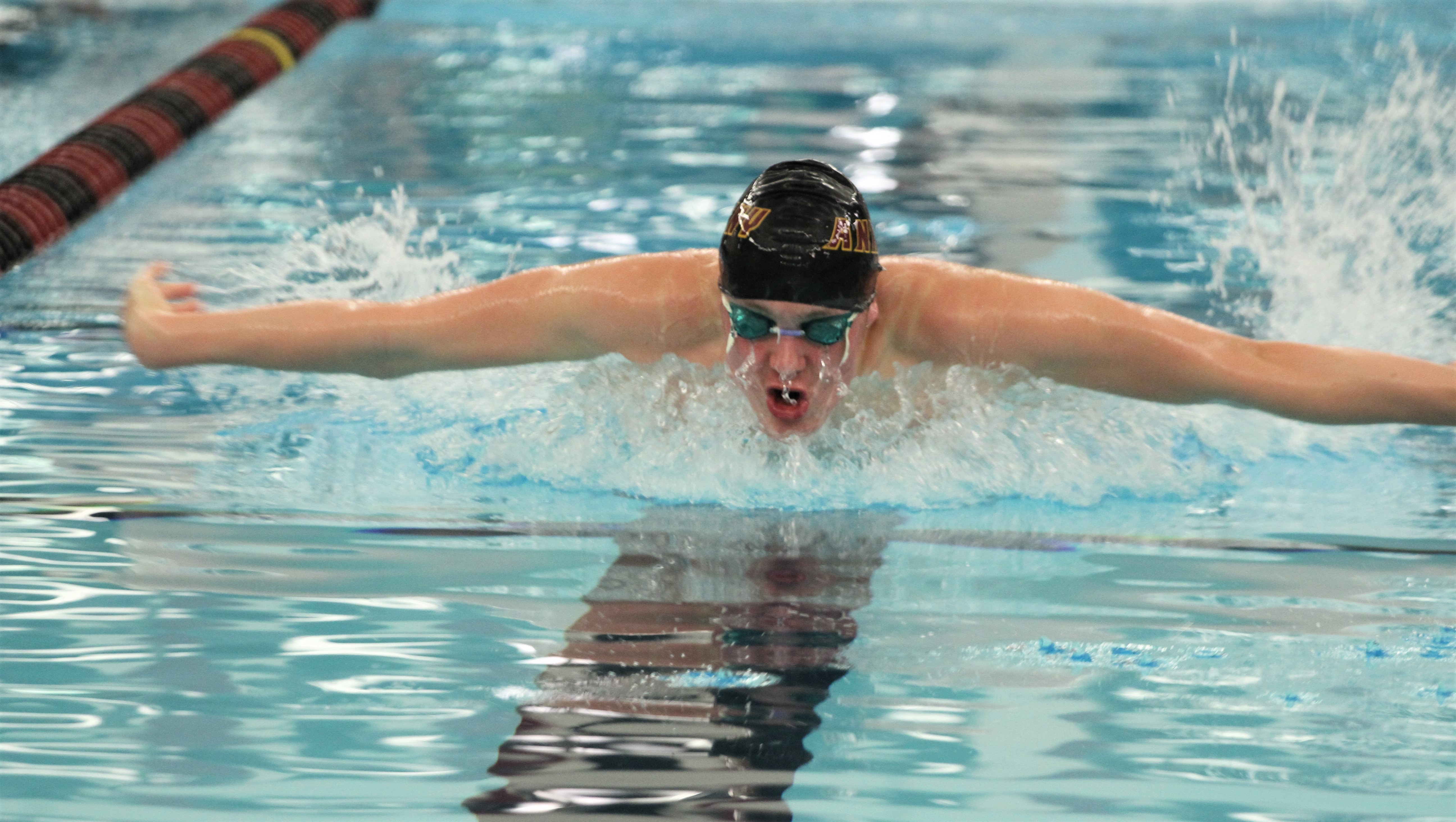 Even when the Ankeny boys' swimming team isn't at the top of its game, the Hawks have rarely been challenged this season.
That was the case again on Thursday, when top-ranked Ankeny won nine of the 11 events and rolled to a 131-39 triumph at Fort Dodge. The Hawks raised their record to 4-0-1 and have now posted an average margin of victory of nearly 82 points in wins over Des Moines Roosevelt, Indianola, Des Moines Hoover/North and Fort Dodge.
"We had a lot of good swims, but we also have some areas for growth," said Ankeny coach Justin Crouch, whose team's only close meet resulted in an 85-85 tie at No. 8 Dowling Catholic on Dec. 6. "It is hard trying to manage the long trip up to Fort Dodge. I felt like we swam ok, but it is difficult to be up when there is such a disparity in the score. We need to continue to strive for excellence, and we were less than perfect in this meet. It may not reflect in the team score, and it gets me excited for the end of the year when we will be all in."
Ankeny's winners included Trent Frandson, who captured the 100 backstroke. The sophomore currently leads the state in the 100, 200 and 500 freestyle events.
"We've seen some good teams this year, but nobody like Ankeny," Dodgers coach Ashley Beaumont told the Fort Dodge Messenger. "They are the No. 1 team in the state for a reason with plenty of strong swimmers and depth. But I thought it was good for our guys to see a team like this and swim against a team like this because that is who we want to become."
Cole Pearson provided both of Fort Dodge's first-place finishes with a pair of season-best performances. The South Dakota recruit won the 200 freestyle in a time of 1:49.46, then later edged Ankeny's Max Martin to win the 100 freestyle in 48.90 seconds.
"I think there are some things that are correctable, and I'm glad that we have three weeks to get it corrected," Crouch said. "We will have to be at our best after winter break with meets against Johnston, Linn-Mar (Marion) and Ames. I am hoping that we are able to get healthy and get some strong training in over break. I think that we are showing promise, but we are far from perfect right now.
"We're definitely a work in progress," he added.