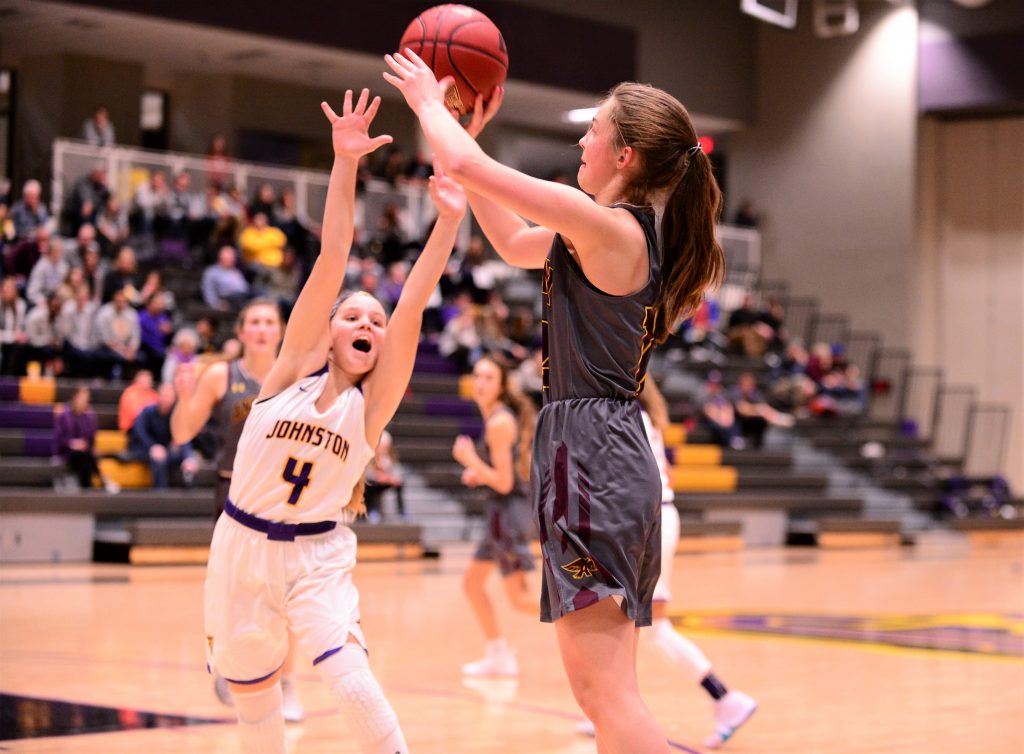 Johnston remained atop the CIML Central Conference boys' and girls' basketball standings with a pair of narrow victories over Ankeny on Friday.
The second-ranked Dragons now own a two-game lead in the girls' race after extending their winning streak to nine games. No. 9 Dowling Catholic knocked off No. 13 Ames and has moved into a second-place tie with the Little Cyclones and No. 12 Ankeny Centennial, which fell to Urbandale.
The Johnston boys' team is also unbeaten in conference play. The Dragons own a one-game lead over Ames by virtue of their 43-42 victory over the Little Cyclones on Dec. 7.
Here are the standings heading into the holiday break:
Boys
Johnston 4-0, 6-2
Ames 3-1, 7-1
Ankeny 2-2, 6-2
Dowling Catholic 2-2, 3-5
Ankeny Centennial 1-3, 3-5
Urbandale 0-4, 2-5
Friday's games
Ames 63, Dowling Catholic 42
Ankeny Centennial 64, Urbandale 37
Johnston 63, Ankeny 60
Girls
Johnston 4-0, 10-1
Ames 2-2, 6-4
Ankeny Centennial 2-2, 6-4
Dowling Catholic 2-2, 5-4
Ankeny 1-3, 5-5
Urbandale 1-3, 5-5
Friday's games
Dowling Catholic 55, Ames 48
Johnston 66, Ankeny 64
Urbandale 51, Ankeny Centennial 50