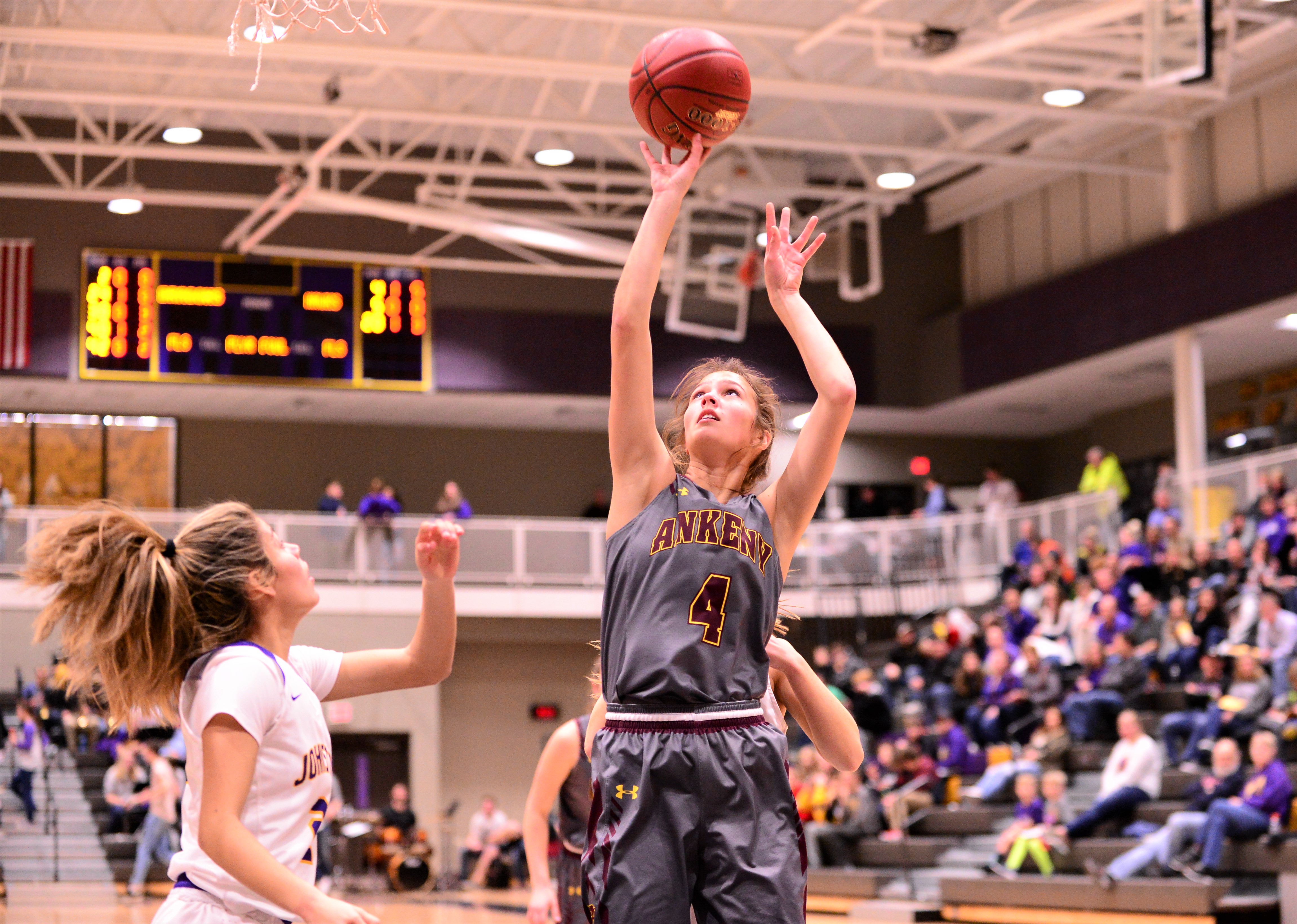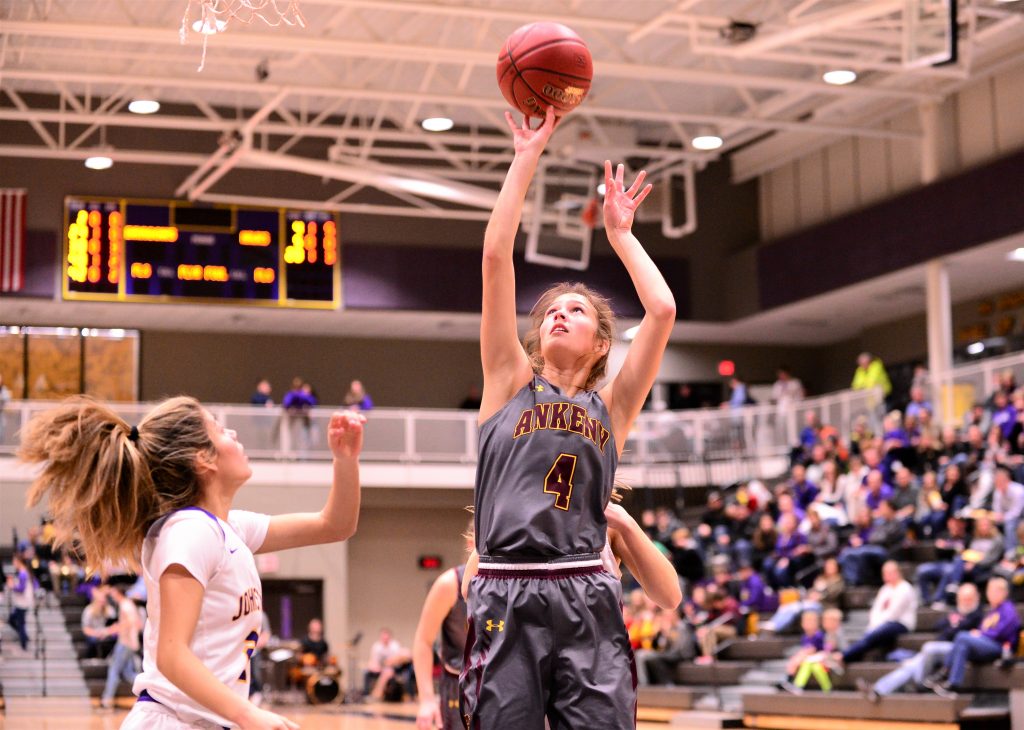 The Ankeny girls' basketball team nearly pulled off a monumental upset on Friday.
Instead, the Hawkettes had to settle for a moral victory.
"I couldn't be more proud of a group of girls," Ankeny coach Dru McAnelly said after his team led most of the way before dropping a 66-64 decision at second-ranked Johnston. "Coming in to play the No. 2 team in the state in their house and putting forth the effort that we did under some real tough circumstances, it was just unbelievable."
Ankeny played its second straight game without sophomore forward Abby Johnson, who will undergo an MRI on Thursday to determine the extent of a foot injury that she suffered during the Hawkettes' win at Urbandale on Dec. 14. She could be out 4-6 weeks or possibly 3-4 months.
Senior post player Sara McCullough returned to Ankeny's lineup after sitting out Tuesday's loss at Ames due to an illness, but the Northern Iowa recruit did not practice all week.
"It was difficult because I've been so sick, but I felt like I needed to play," McCullough said. "Especially against a really good team like Johnston."
McCullough scored 10 points in the loss.
"We weren't sure how Sara would respond, but she played great," McAnelly said. "And some of our other kids really stepped up for us."
Ankeny got a career-high 20 points from junior guard Ashley Harrington and a career-high 17 points from junior forward Holly Trimble. That duo had been averaging 6.2 and 3.2 points, respectively.
"Ashley was incredible," McAnelly said. "She put us on her back in the fourth quarter, when I think she scored on three straight possessions. Our guard play has definitely been better, and that's a key."
Junior guard Maya McDermott led Johnston with 26 points, including five 3-point goals. McCullough's future Northern Iowa teammate also had five assists and two steals.
"We focused on our scouting report a lot," Trimble said. "We had to make sure that we got back on defense and that we shut down McDermott."
Johnston, which improved to 4-0 in the CIML Central Conference and 10-1 overall, posted its ninth consecutive victory. The Dragons are averaging 65.1 points per game.
"I think we only gave up six points in transition, where they've been averaging 14-20 points on layups in transition," said McAnelly, whose team dropped to 1-3 in the league and 5-5 overall. "We did a really good job of getting back and making them earn everything."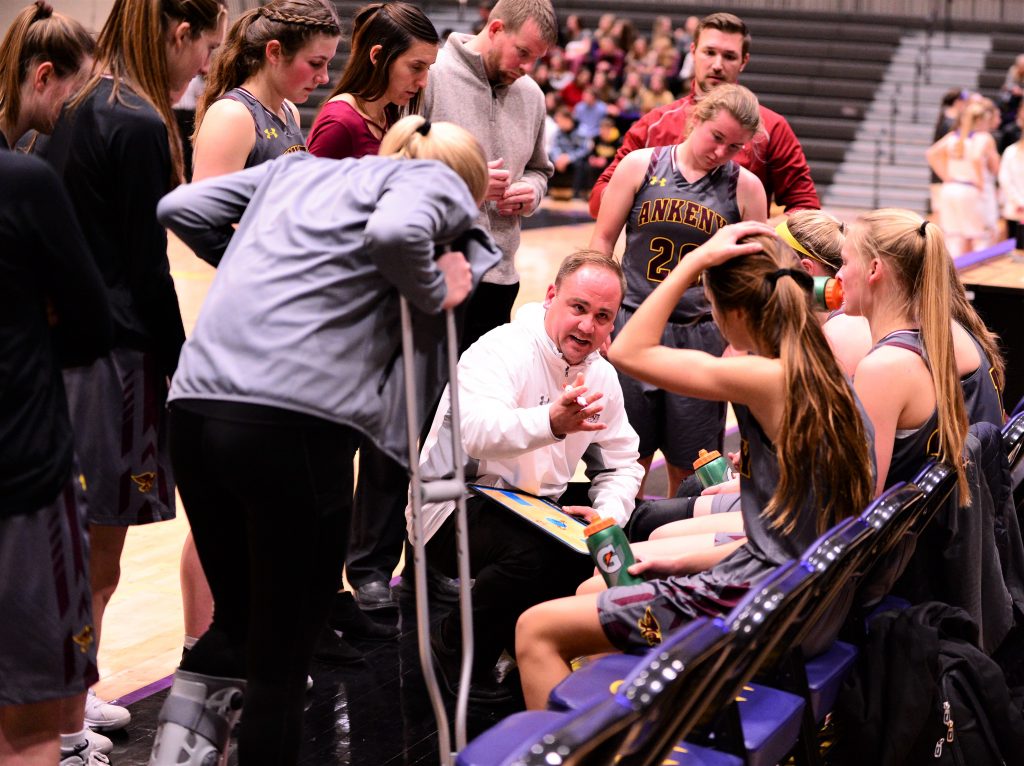 Ankeny got off to a fast start, jumping out to a 19-7 lead in the first quarter. The Hawkettes held a 42-29 advantage at halftime.
"We attacked off the dribble and made some shots," McAnelly said.
The Dragons rallied behind McDermott to take the lead in the third quarter before Ankeny answered with a 6-0 run to end the period. The Hawkettes led, 50-45, after three quarters.
"I really enjoy playing against Maya," McCullough said. "Once she started hitting shots, that's when the game turned into a good, close game. We get along well, and she's an amazing person/player. I can't wait to play alongside her in two years."
Johnston then outscored Ankeny, 21-14, in the final period. The Hawkettes had the ball with 2.3 seconds left and a chance for a desperation shot, but committed a turnover.
"It's like I told the girls, 'No one remembers what you do in November and December,'" McAnelly said. "It's all about January and February. Let's rest up and heal up and make some noise the second half of the season."
Regan Nesheim had 13 points for Johnston. Kendall Nead added 12 points and 10 rebounds.
"We made some tweaks to our zone and really jammed things up and shaded McDermott," McAnelly said. "She had a great night, but we made her work for everything she got. I think we got some of the other girls out of rhythm, and that was huge for us."