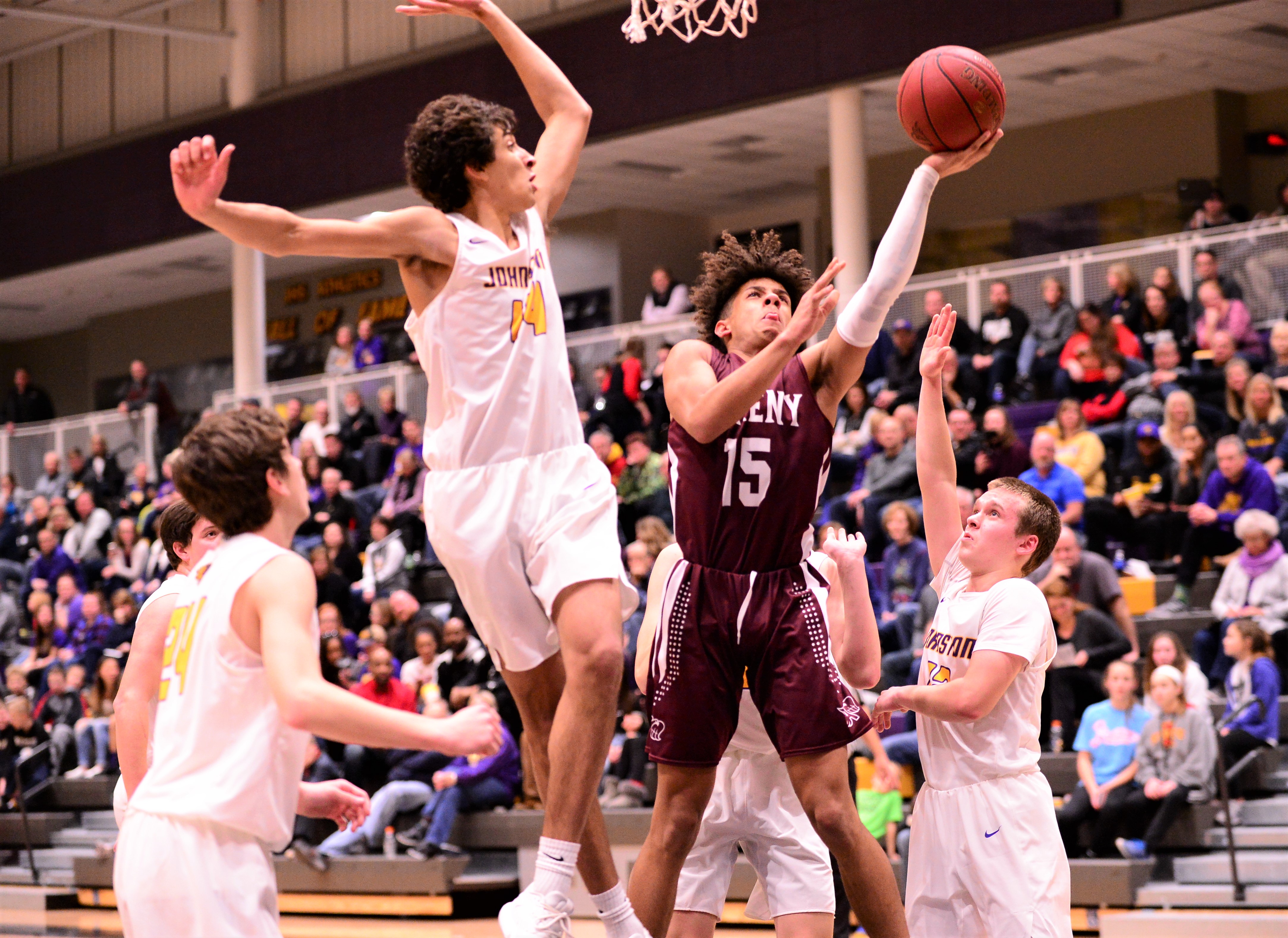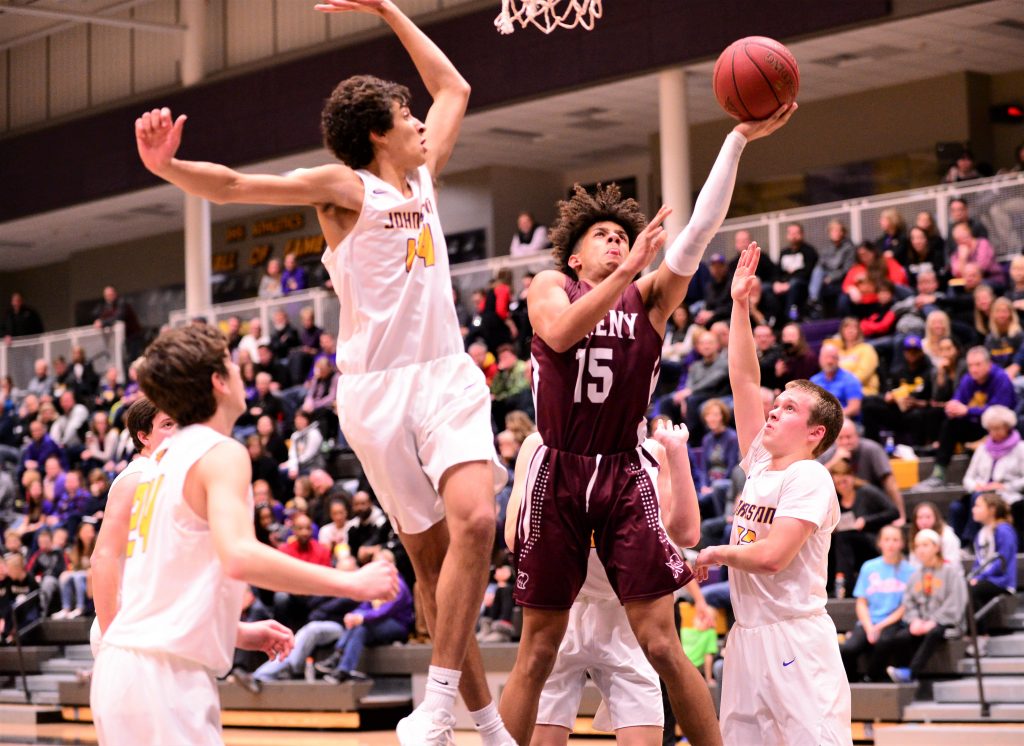 Friday's game at Johnston gave the Ankeny boys' basketball team a chance to move into a first-place tie in the CIML Central Conference.
Unfortunately, the third-ranked Hawks let the opportunity slip away.
The Dragons blew a nine-point lead in the fourth quarter before closing the game on a 10-2 run to post a 63-60 victory. They improved to 4-0 in the conference and 6-2 overall, while Ankeny's records dropped to 2-2 and 6-2.
"It's one of those things in this league that I think you're going to face," Ankeny coach Brandt Carlson said of the topsy-turvy fourth quarter. "I think our guys are learning some tough lessons with how to play with leads."
The second half featured three huge runs, two of them by Johnston. Ankeny held a 34-28 lead midway through the third quarter before the Dragons went on a 17-3 run to build a 45-37 advantage.
Johnston later took its biggest lead, 53-44, on a pair of free throws by Peyton Williams early in the final period. The Hawks, who were playing without their primary big man (Nolan Otten) due to an illness, appeared to be on the ropes.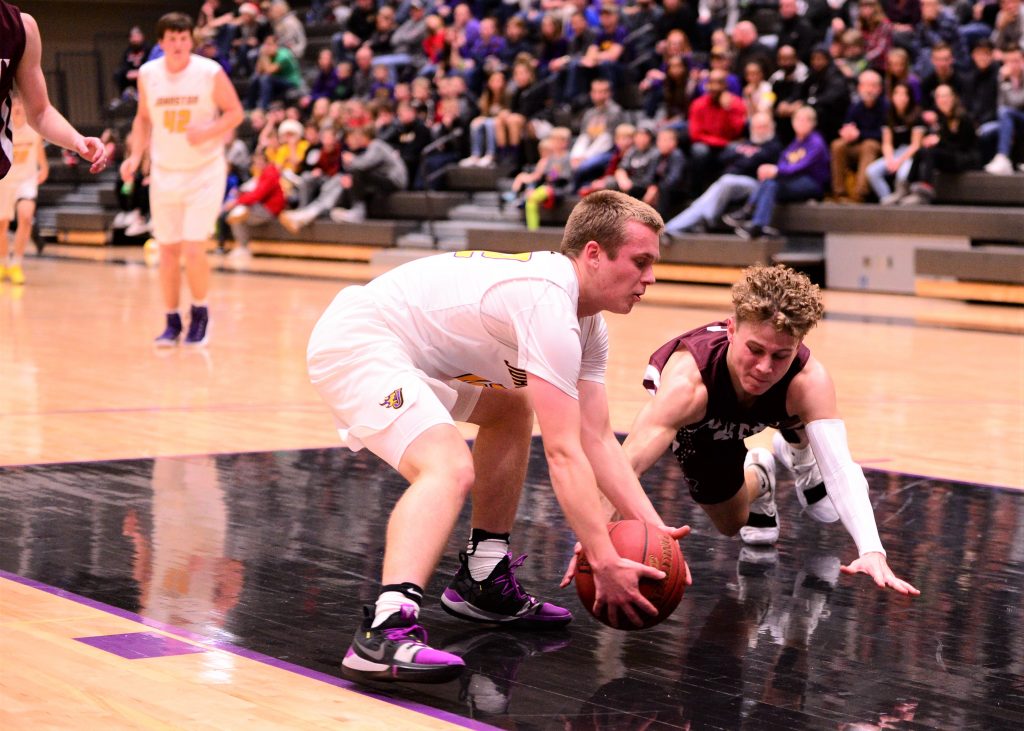 However, Ankeny then found another gear. The Hawks rattled off 14 consecutive points in a flurry that included a technical foul against Johnston coach Bobby Sandquist.
Jaxon Smith converted a traditional 3-point play with 3 minutes 25 seconds left to tie the game at 53. Sandquist was then called for a technical as his team brought the ball up the court, which resulted in a loss of possession.
After Dillon Carlson made the second of two free throws to put Ankeny ahead, Jaron Crews added two more free throws on the ensuing possession. Smith then banked in a shot with 2:30 remaining to give the Hawks a 58-53 lead.
"I'm so proud of them," Carlson said. "We worked so hard–we were behind and then we came back to get the lead. It was very similar to the Ames game (on Tuesday). You have the lead in the fourth quarter and you'd like to put it away, but a couple of plays down the stretch didn't help us."
Johnston got a pair of baskets from Brees Proctor to pull within 58-57. After a 5-second call against Ankeny, Reid Grant then buried a 3-pointer from the top of the key to put the Dragons ahead, 60-58, with 1:04 remaining.
"They had a guy (Proctor) make some plays at the elbow–he hit some shots," Carlson said. "And then they got the big 3 to get the lead back when we were probably just a little out of position. You've got to give them credit."
Johnston held on for its fifth straight win despite missing 4-of-5 free throws in the final 24 seconds. The Dragons held a 62-60 lead when Lute Woodley missed a bonus opportunity, but Ankeny's Braxton Bayless was then called for a charging foul with 18 seconds left.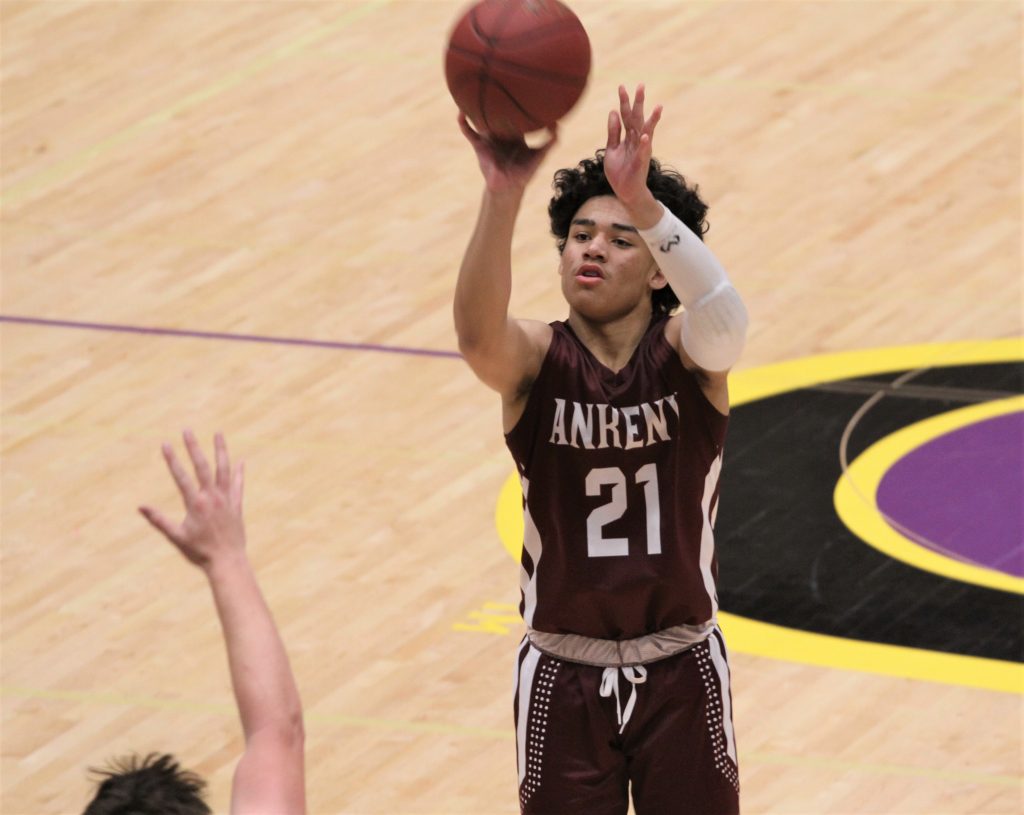 Grant missed a pair of free throws with 7.3 seconds to go, but Johnston rebounded the second miss and was able to call a timeout with 4 seconds left. Williams then made the second of two free throws with 2.7 seconds remaining to produce the final margin.
After a timeout, Dillon Carlson missed a desperation 3-pointer from half court at the buzzer.
"I think at the end of the day we've still got a good team," coach Carlson said. "We were without Nolan, and so that was hard with their bigs. We've just got to move on and try to get better."
Carlson and Crews each scored 14 points to lead Ankeny's balanced attack, while Bayless and Smith each added 13. Bayless also grabbed seven rebounds, while Carlson added three assists and four steals.
The Hawks will host a rematch against Johnston in their conference finale on Feb. 8.
"The nice thing is that we get both Johnston and Ames at home later in the season," Carlson said. "Hopefully, we can be ready then."