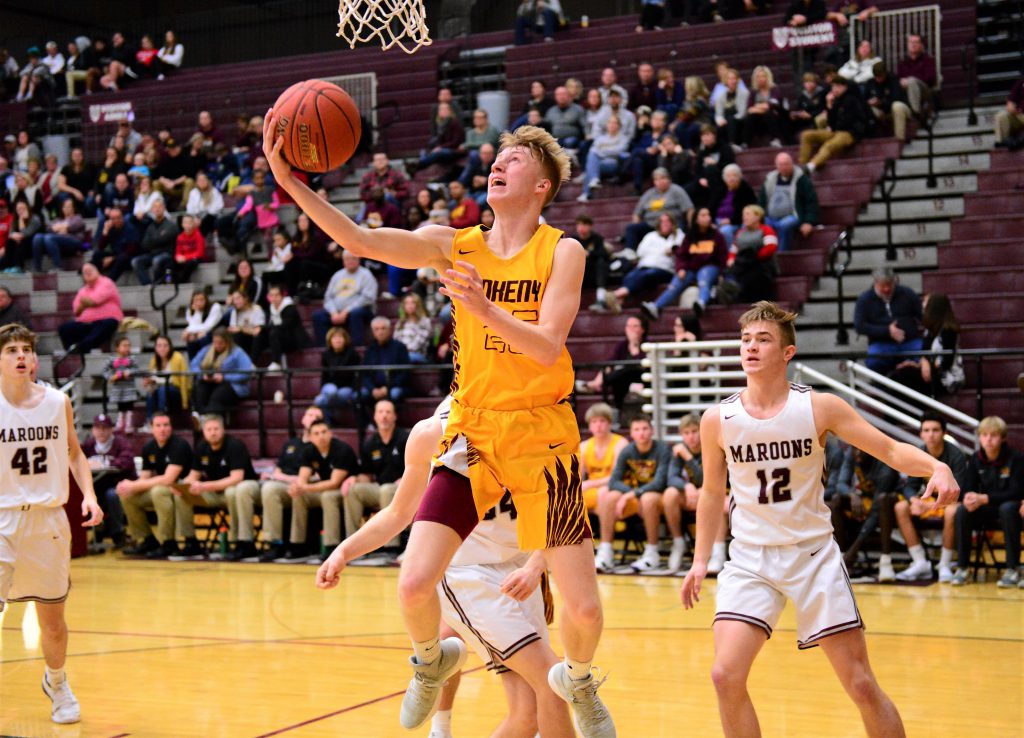 The Ankeny boys' basketball team couldn't overcome a huge disparity at the free-throw line and suffered its third consecutive road loss on Friday.
The Hawks attempted just one free throw in a 58-51 loss at Dowling Catholic. The Maroons, meanwhile, went 13-of-19 at the line.
"We attack the basket as hard as any team in the state, and evidently we didn't get fouled hard enough," said Ankeny coach Brandt Carlson. "Our guys were trying–we had guys on the floor all night–and it just wasn't there."
Dowling held a 47-37 lead after three quarters. The Hawks closed to within 51-49 in the final period, but could not get any closer.
"We had our chances to take leads, and we just couldn't get it done," Carlson said. "We had two shots to tie it or take the lead, but we missed those opportunities."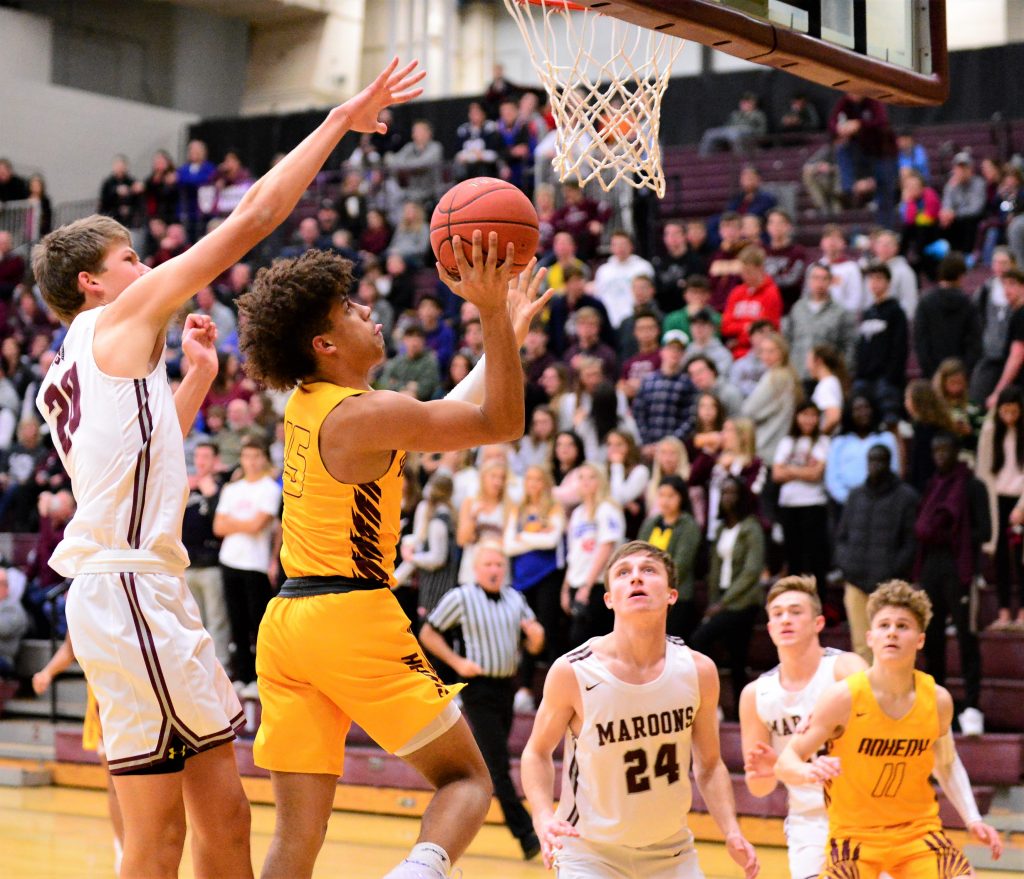 Dillon Carlson scored a season-high 23 points to lead Ankeny, which dropped to 2-3 in the CIML Central Conference and 6-3 overall. Braxton Bayless added 12 points.
The Hawks connected on just 6-of-24 attempts from 3-point range.
"We had some good looks, but the ball just wasn't going down for us," Carlson said. "We struggled to score in the half-court, and it was mostly a half-court game until the fourth quarter, when we finally got rolling a little bit. We're just going through a rough stretch right now."
Jack Keough scored 13 points before fouling out to lead Dowling's balanced attack. Andrew Lentsch had 12 points and seven rebounds.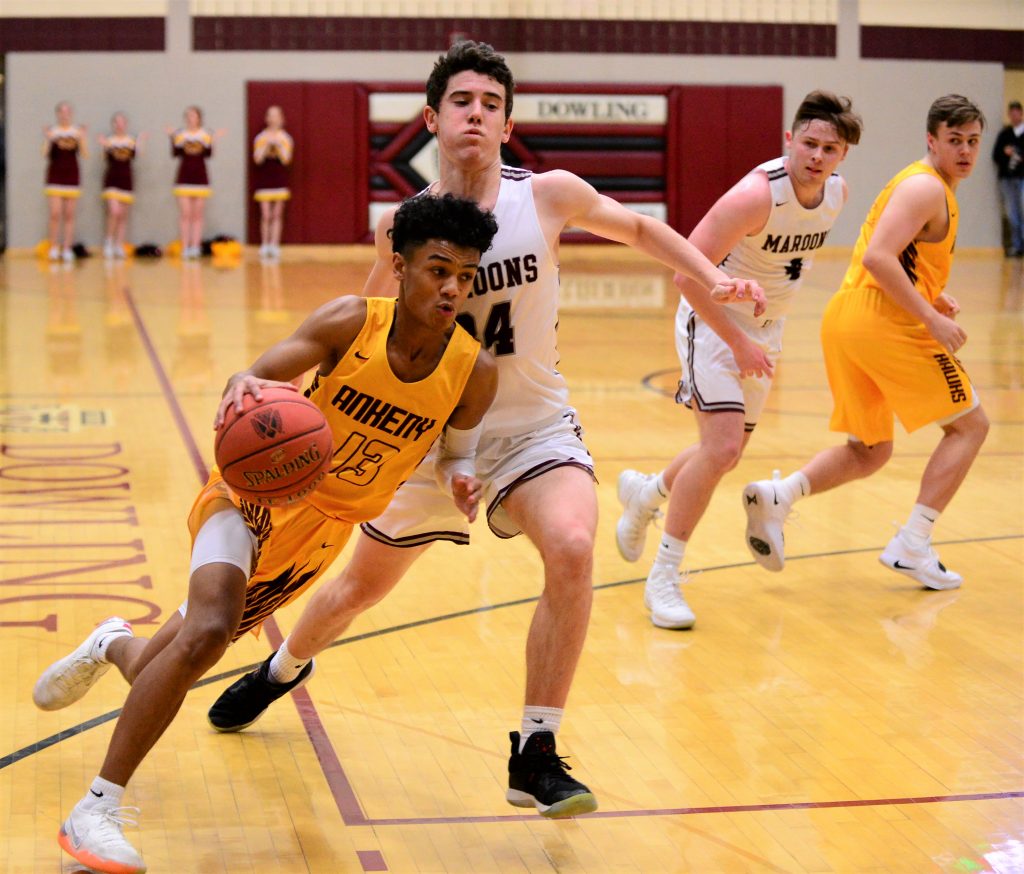 Matt Stilwill contributed four assists, three steals and two blocks for the Maroons, who moved into sole possession of third place in the conference. They are now 3-2 in the league and 4-5 overall.
"I think teams are doing a good job of adjusting to what we like to do, and we've got to find some way to combat that," Carlson said. "It's frustrating to lose three in a row, but the reality is that we're still 6-3 and we've just got to find a way to get some momentum on the road."
Ankeny won't play at home again until Jan. 18, when it hosts Urbandale. The Hawks will play Ottumwa (3-7) on Tuesday at Wells Fargo Arena, then will travel to Ankeny Centennial and Valley for their next two games.
"It'll be awesome to play on the state tournament court," Carlson said of Tuesday's 7:45 p.m. contest. "That'll be a great experience for our guys, and hopefully it'll give them a glimpse of what it's like if things work out for us later on and we're fortunate enough to get back there for state."