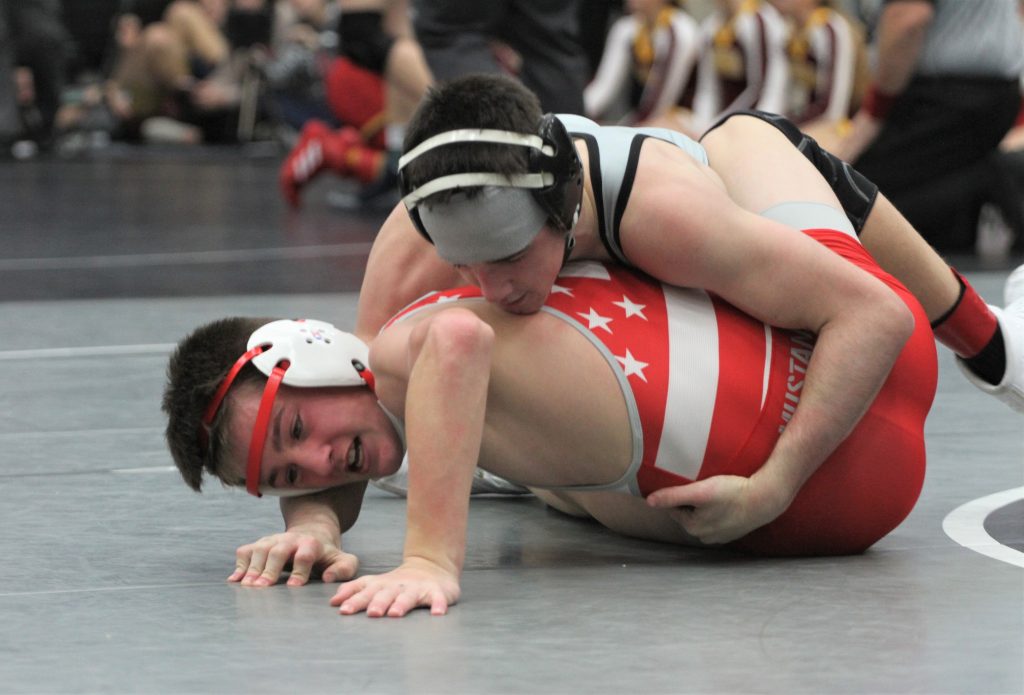 Ankeny Centennial's Ben Monroe doesn't show a lot of emotion on the wrestling mat.
That didn't change on Saturday when Monroe earned his 100th career victory while helping the Jaguars to the championship of the Linn-Mar Duals.
"To me, that milestone is just another number," Monroe said. "My real goal is to improve and work as hard as I can each and every day so I can be a state champion. Winning 100 matches is great, but the real goal is having fun and getting better. That's how I measure success."
Monroe, who is ranked No. 1 in Class 3A at 132 pounds, is a two-time state runner-up. The junior is on pace to break John Ware's school record of 140 career wins.
"If he stays healthy–knock on wood–he's definitely going to set a new mark for the most wins ever," Centennial coach Jay Groth said of Monroe. "He works hard every day in practice, after practice, in the offseason, in the weightroom and in the classroom. He's a 4.1 student, and I think he got a 30 on his ACT. He just does everything full speed and competes in everything he does."
Centennial defeated all five of its opponents on Saturday to improve its record to 15-0 on the season. The fourth-ranked Jaguars posted a 42-30 victory over Western Dubuque (Epworth) in the championship match, avenging a 48-25 loss in last year's final.
Centennial opened the tournament with a 48-23 win over Linn-Mar. The Jaguars also posted victories over Canton (Ill.), 72-6; Cedar Rapids Xavier, 70-12; and Clear Creek-Amana, 73-6.
"We wrestled pretty well," Groth said. "That's the first time we've won that tournament since we started going to it."
Monroe was one of seven Centennial wrestlers who went a perfect 5-0 on the day. The others were Jackson Bresson at 106, Noah Blubaugh at 120, sixth-ranked Eric Owens at 145, third-ranked Logan Neils at 170, Ethan Frazier at 195 and Lane Pruisner at 285.
Neils defeated two ranked opponents, while Blubaugh pinned 10th-ranked Bryce Parke of Linn-Mar. Owens knocked off third-ranked Andrew Rohret of Clear Creek-Amana in a matchup of rated foes.
"It was a good day for us," Groth said.
The Jaguars will host a CIML Central Conference dual meet against Ames on Thursday.