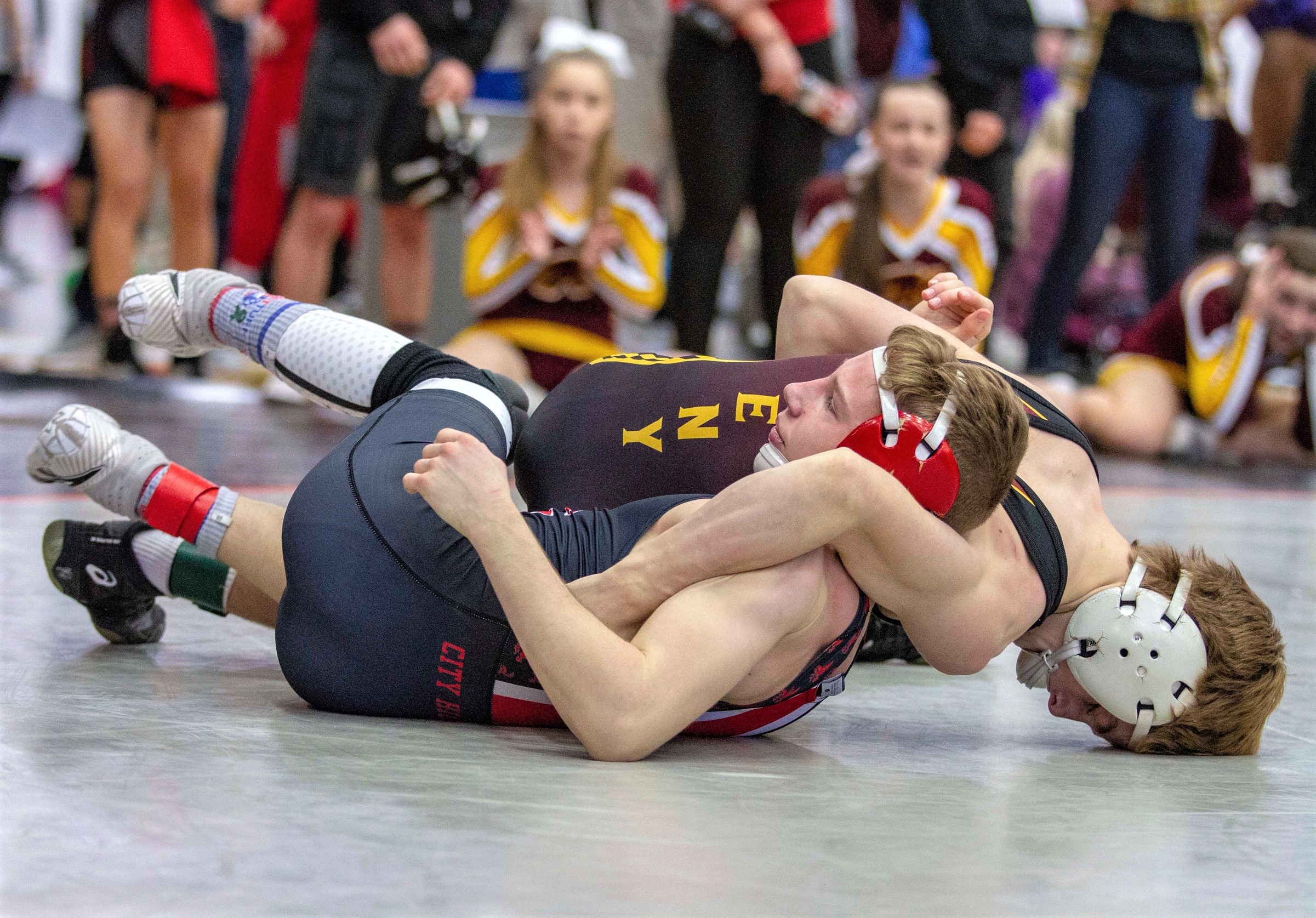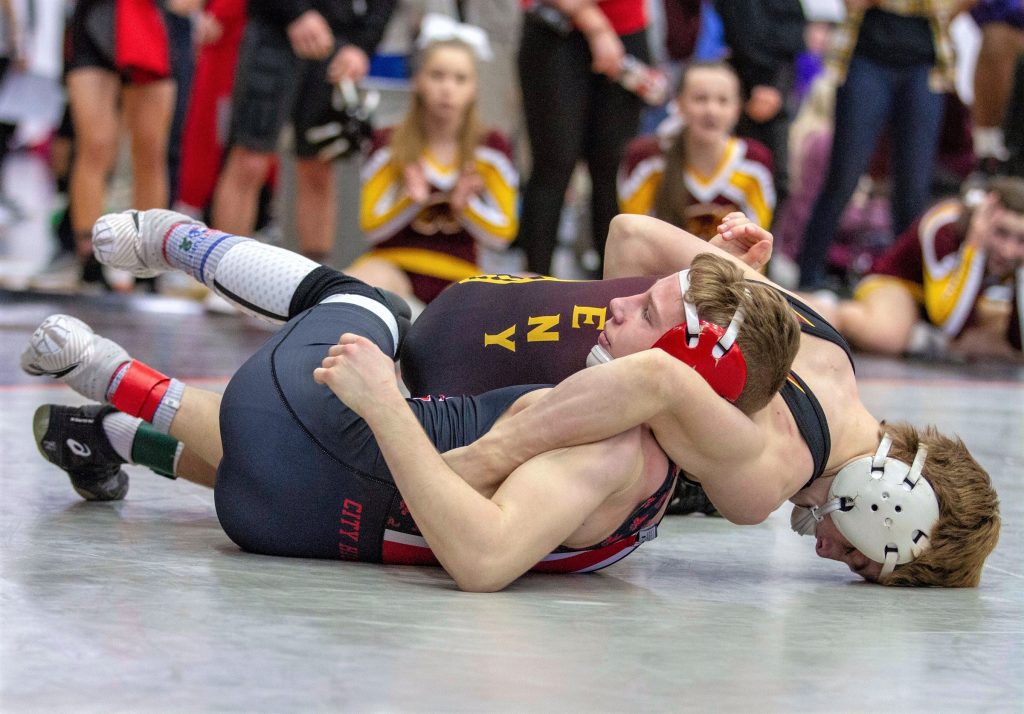 Ankeny's Caleb Rathjen made another huge statement during the Jack Mendenhall Invitational on Saturday at Ames.
Trever Anderson made one of his own for the Hawks.
Rathjen and Anderson each captured an individual title to lead the eighth-ranked Ankeny wrestlers to a runner-up finish in the 18-team tournament. The Hawks racked up 158 points, finishing 23 points behind No. 3 Valley.
"We had a good day, but we had four kids who didn't score a single point for us," said Ankeny coach Jack Wignall. "As good as our results were, they came from 10 kids and not 14. We need production out of all 14 kids if we want to win them all. But that being said, I was very happy with the way our kids wrestled."
The top-ranked Rathjen (23-1) posted a 7-4 decision over second-ranked Nick Oldham of Valley (19-2) in the 126-pound final. The sophomore has now won both meetings this season after dropping a 10-8 decision to Oldham in last year's Class 3A title match at 113.
"I tried to be more offensive this match and get a few more scores to widen the gap," said Rathjen, who posted a 3-1 decision over Oldham at the Johnston/Valley Invitational on Dec. 8. "The win a few weeks ago definitely was a confidence-booster going into this match."
Rathjen scored two takedowns in the first period and another one in the third. Oldham nearly got a takedown midway through the second period when he trailed 4-3, but Rathjen broke free.
"What we're seeing now is Caleb at 100 percent," Wignall said. "Nothing surprises me at what he can do. I've known for years now that he had that kind of talent. I don't think he's peaking yet, but he's just wrestling really well. He's starting to distance himself right now from some other kids, and that's what we wanted him to do."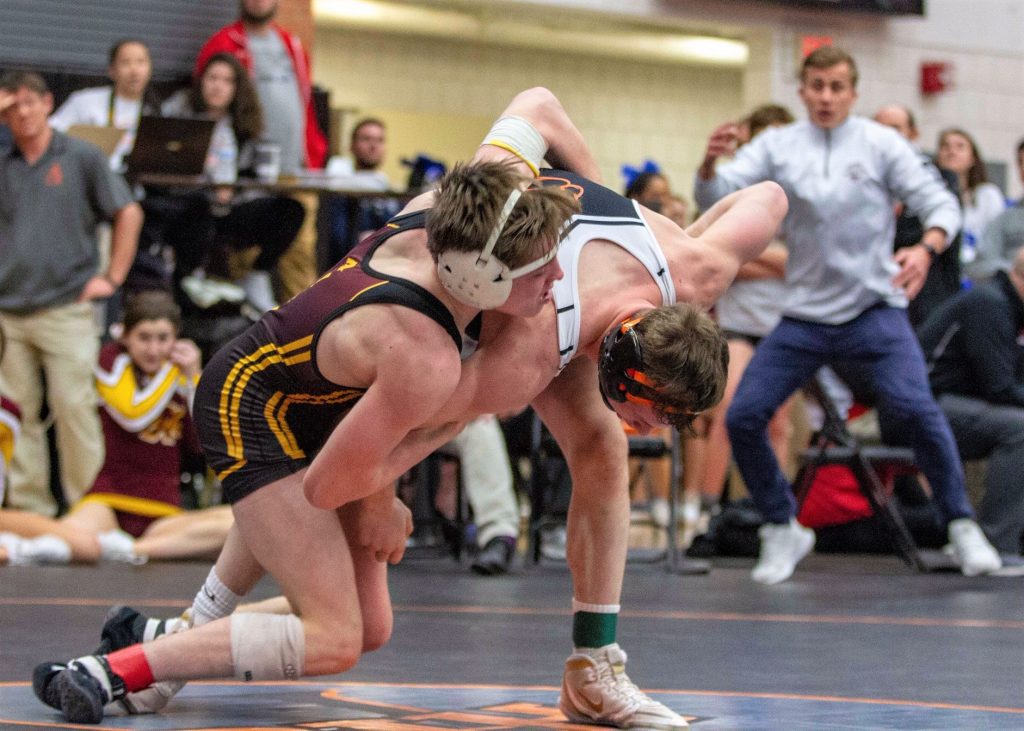 The second-ranked Anderson (24-1) rolled to a 12-4 major decision over Jacob Mielke of Pocahontas Area to win the 106-pound title. Mielke is ranked fourth in Class 2A.
In the semifinals, Anderson recorded a fall in 5 minutes 12 seconds over top-ranked Ethan Wood-Finley of Iowa City High (16-1), who suffered his first loss of the season.
"I knew (Wood-Finley) was very strong, but wasn't very quick on his feet," Anderson said. "The key for me was to not let my wrists get tied up and to keep putting points on the board. I was trying to go to my go behind in the front headlock, but he continued to hold my wrists. I pinned him in a move I've been using since last year–sort of an off-brand cow catcher I guess you could say–and it's been working, so I hit it when I needed to."
Anderson, a freshman, is a different breed of wrestler, Wignall said.
"I've never really been around anyone like Trever," he said. "In both of his last two matches, those two kids shot on him like crazy and they couldn't score on him. I'm not going to say he's a defensive wrestler, but his defense is really, really good and he can score when he wants. He's just something else to watch, and I'm amazed at what he can do."
Ankeny got a second-place finish from eighth-ranked Cael Cox at 113. Cox (22-4) was pinned by fifth-ranked Austin Kegley of Cedar Rapids Prairie in 1:49.
Placing third for the Hawks were 10th-ranked Sam Kallem at 132, Mason Thomas at 195 and Colby Bales at 220. Romello Gray finished fifth at 285.
Kallem dropped an 8-7 decision in the semifinals to third-ranked Conrad Braswell of Cedar Rapids Prairie.
"Sam was seeded fifth and had a tough draw in the semifinals, but he wrestled a fantastic match," Wignall said. "He was just a point short, but he came back and got third. I just thought he wrestled incredibly well."
Ankeny edged Clarion-Goldfield-Dows by three points for second place. Cedar Rapids Kennedy was fourth with 144 points.
"It's the first time we've been to that tournament, and what a great tournament," Wignall said. "I really enjoyed it."
The Hawks will travel to Johnston on Thursday for a CIML Central Conference dual meet against the Dragons. They will then host the Bob Sharp Invitational on Saturday.